Hi Lycian!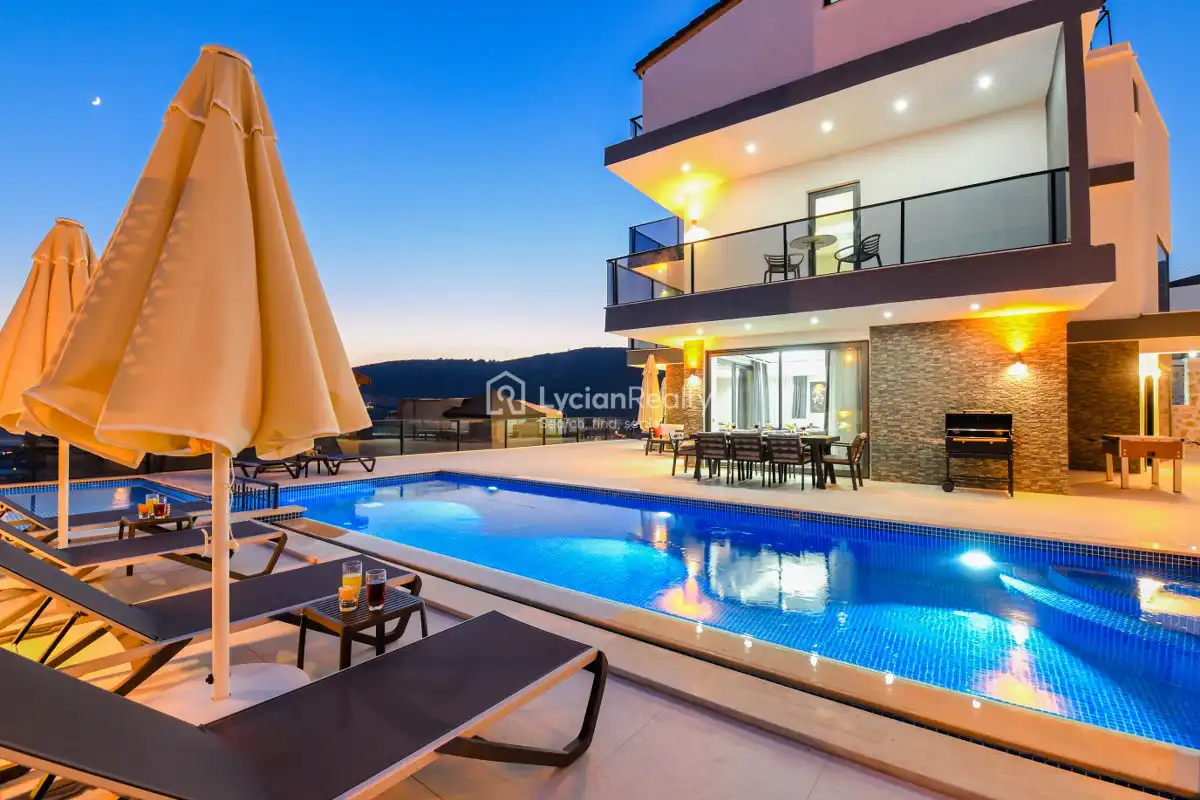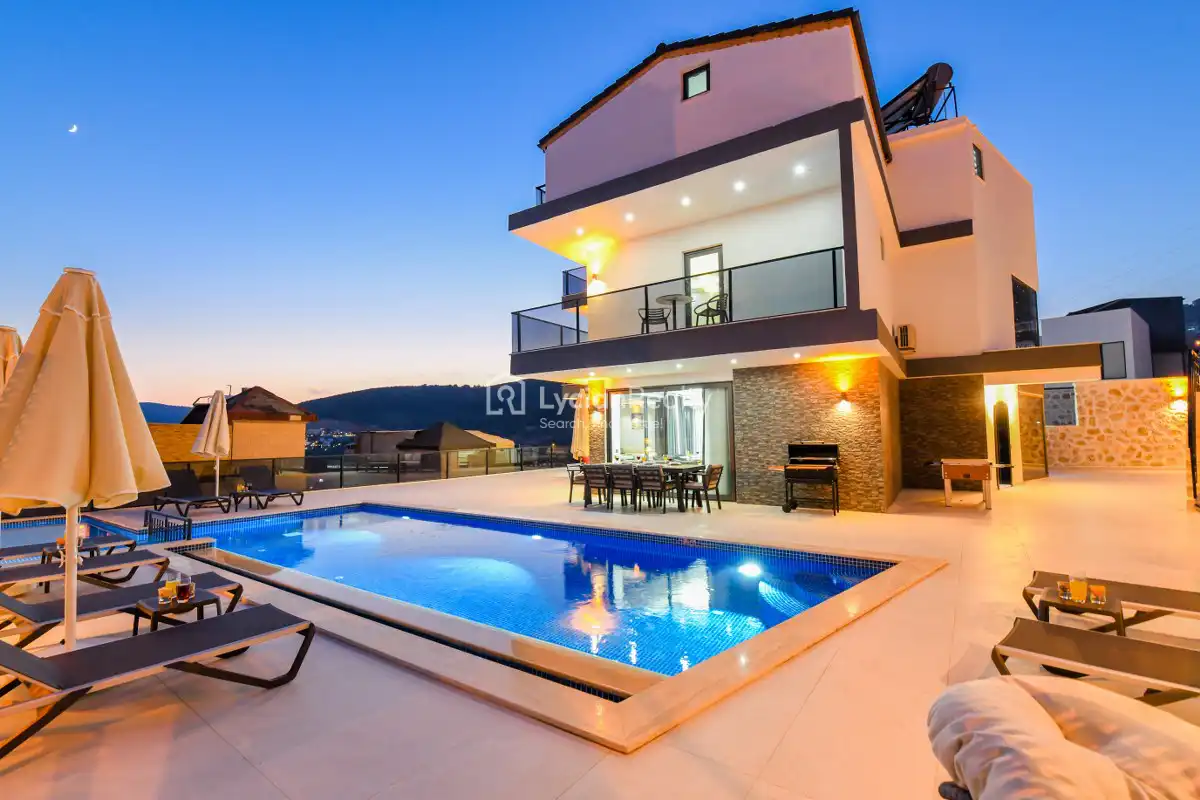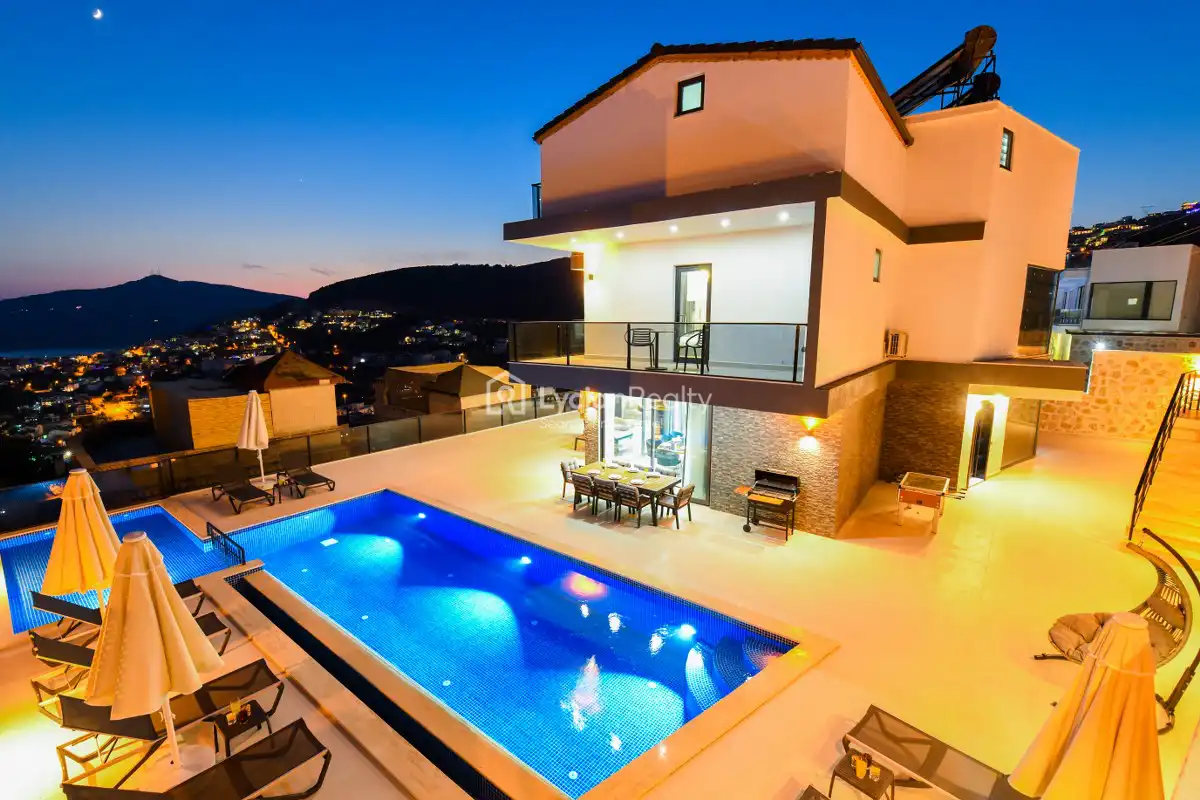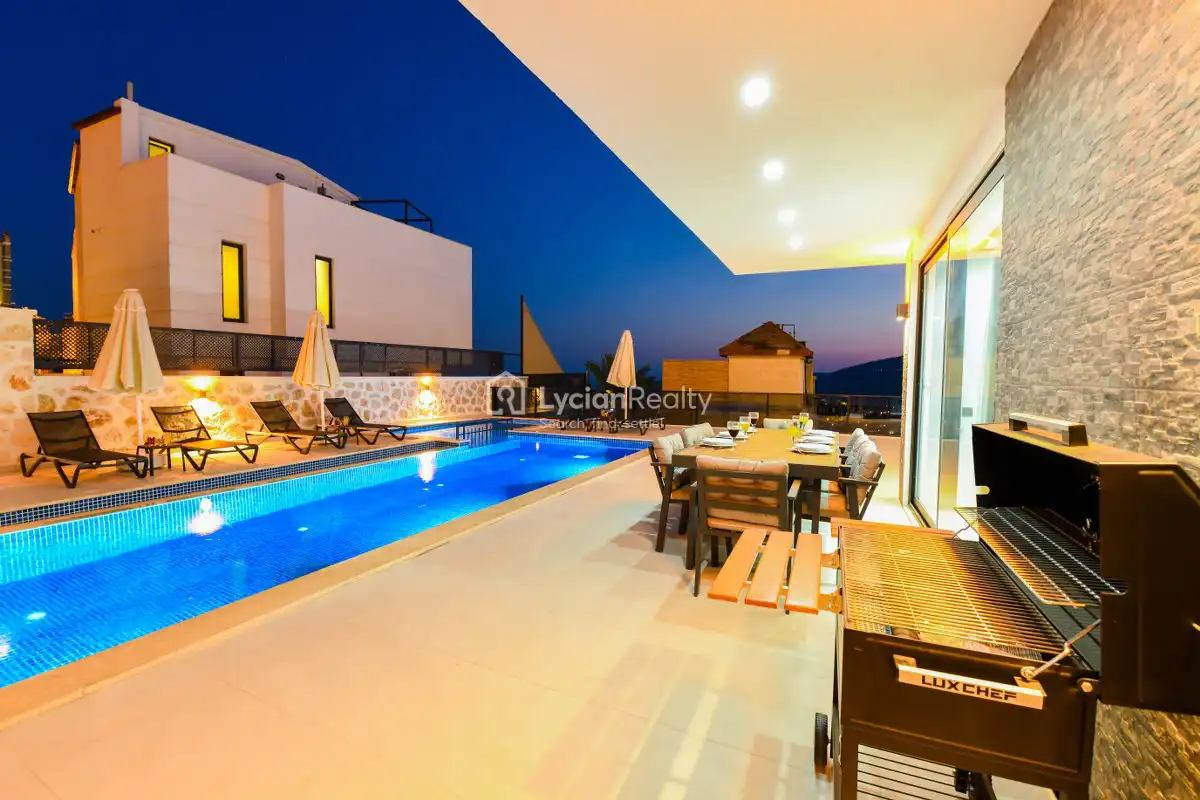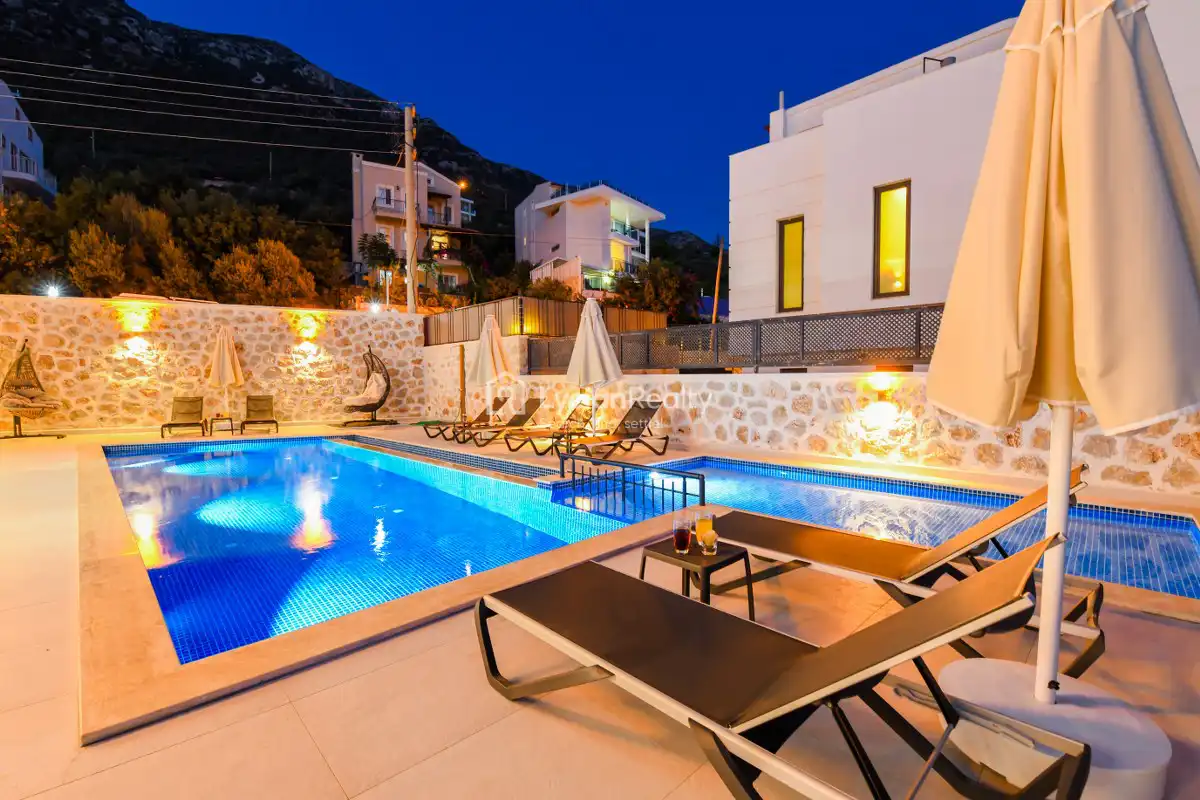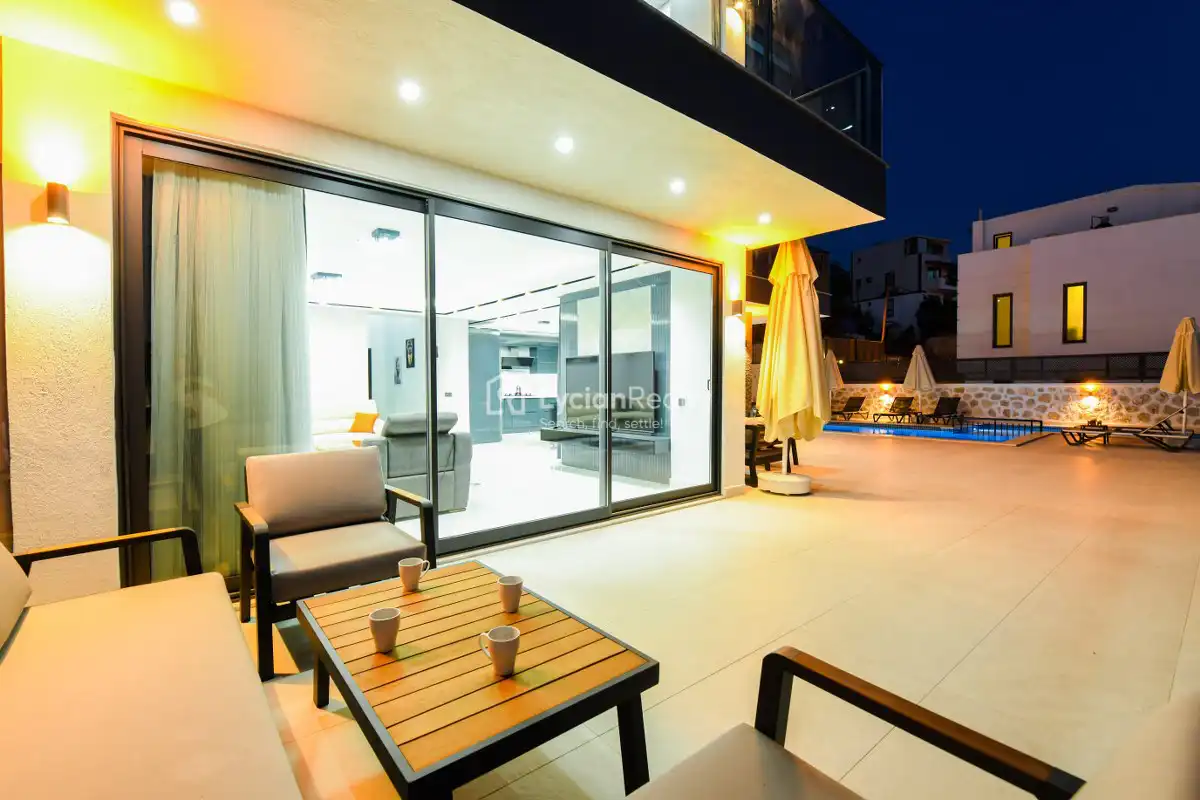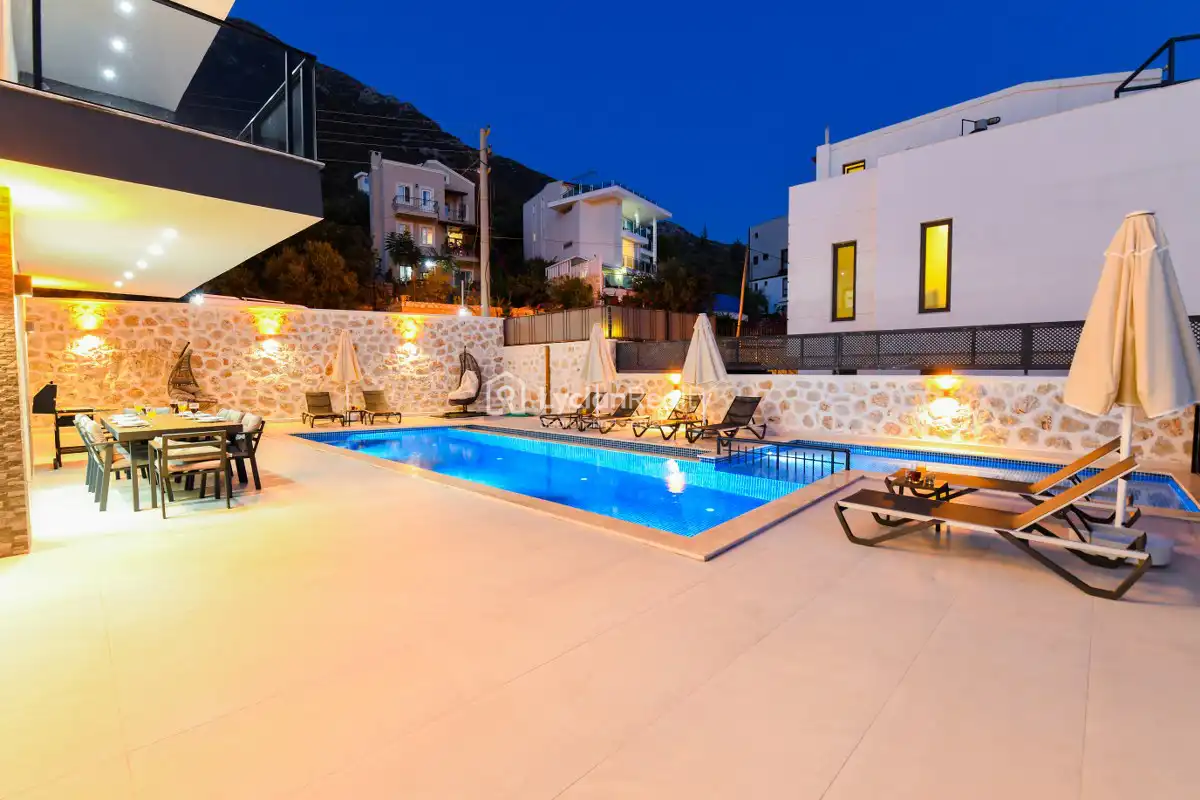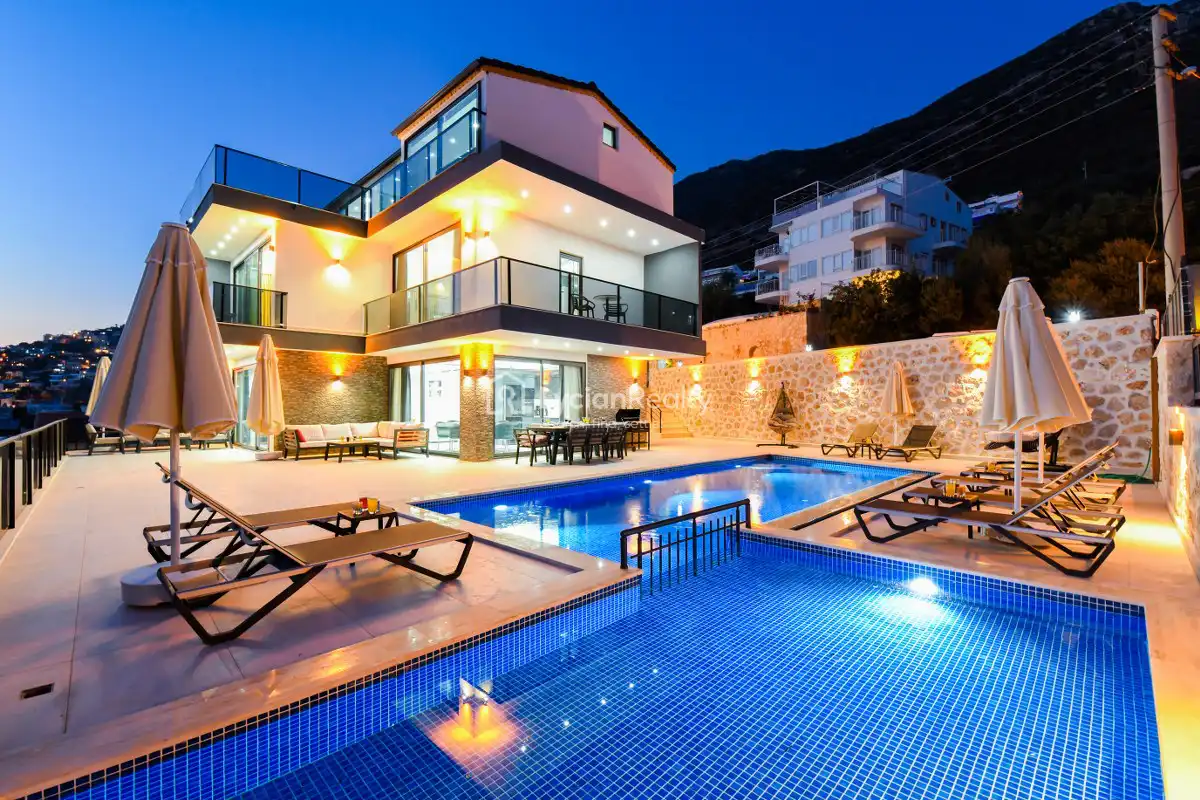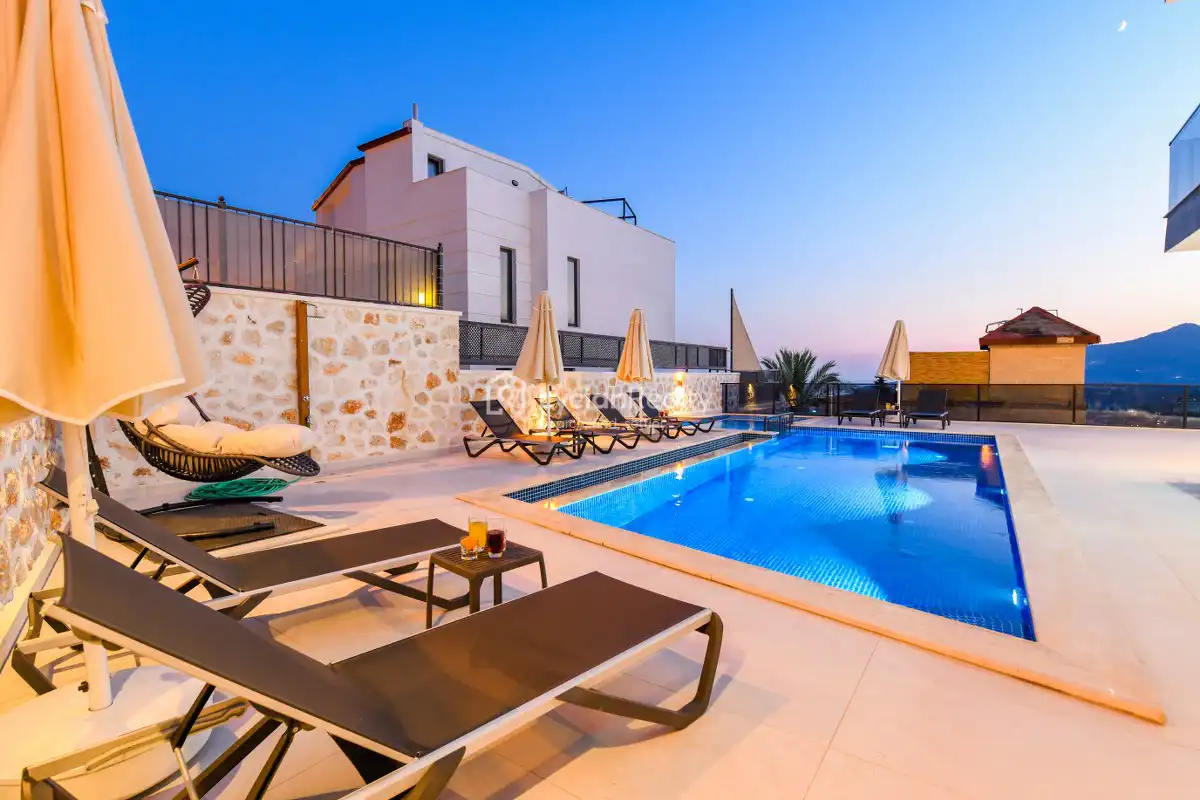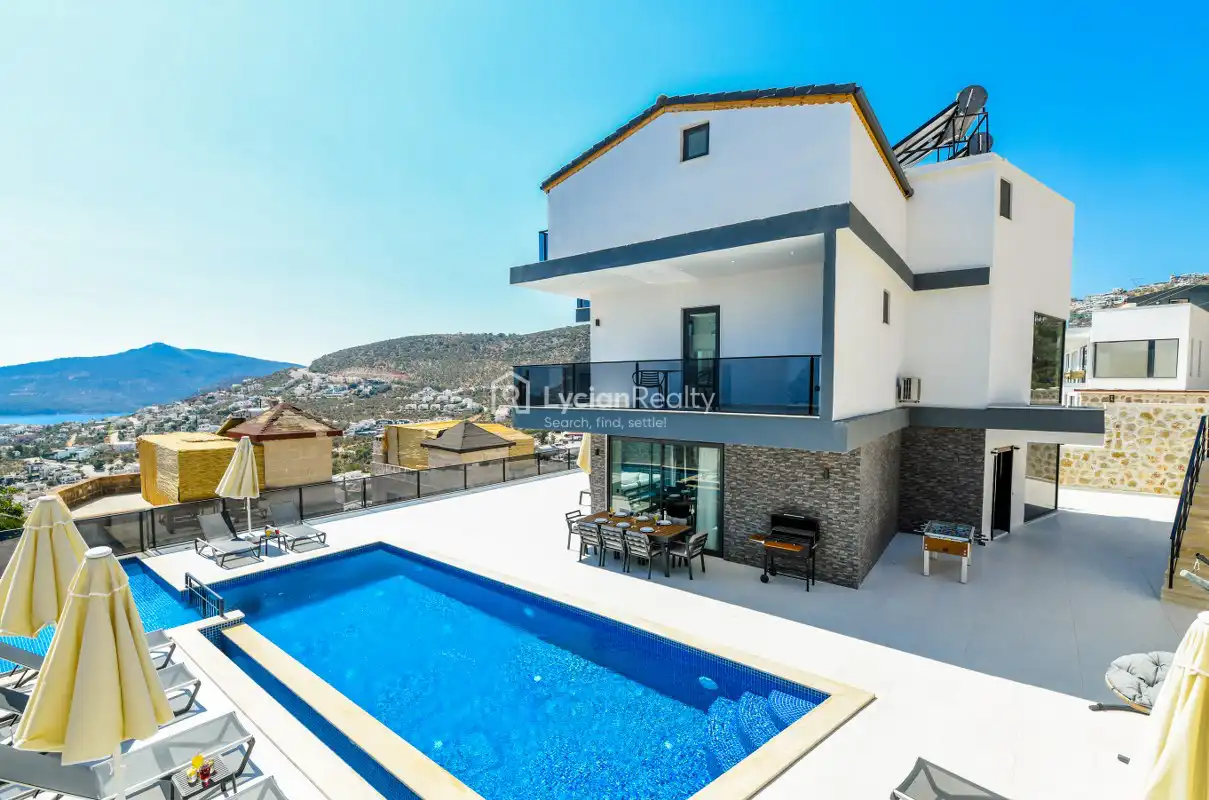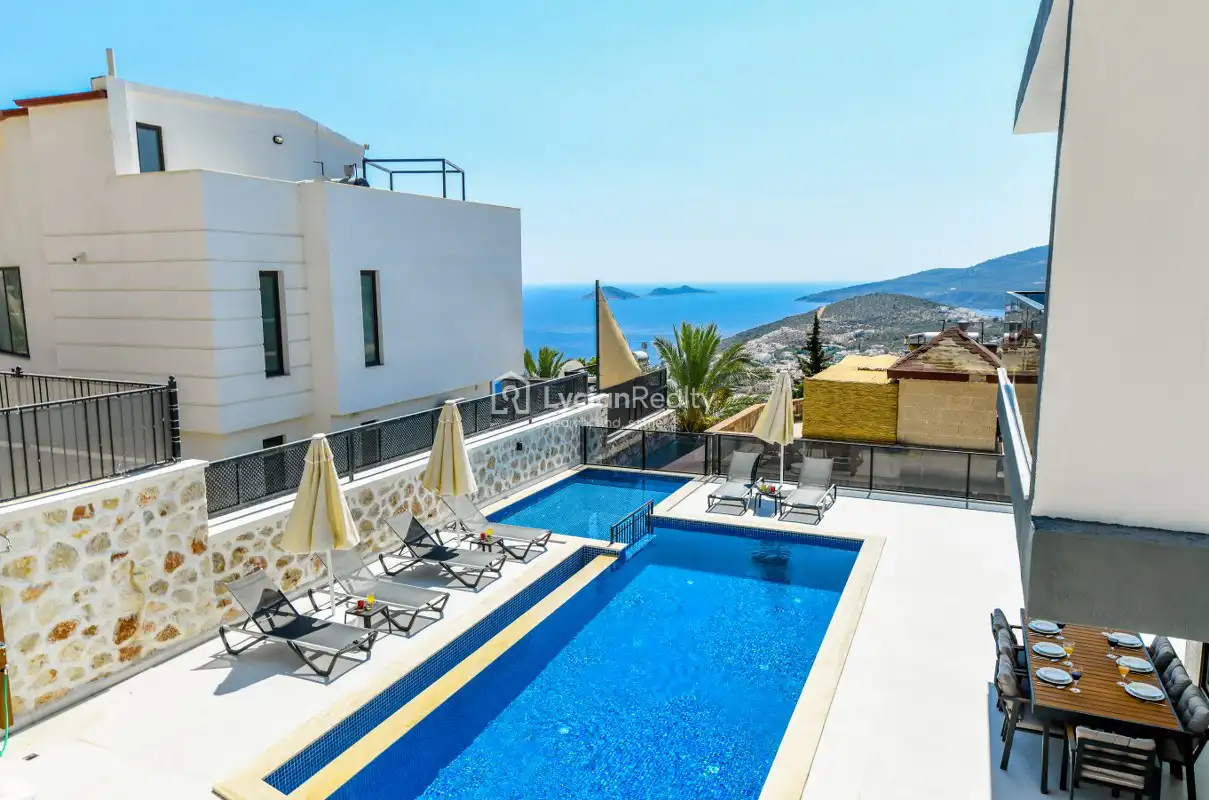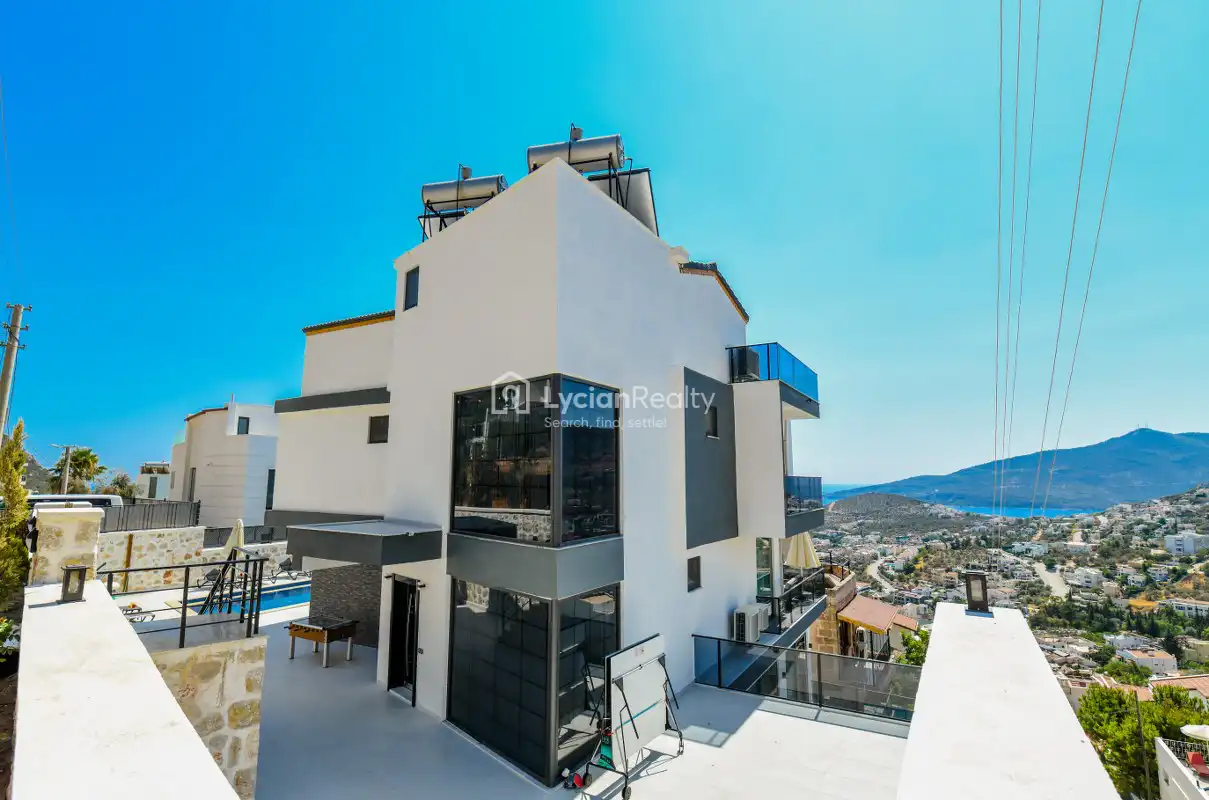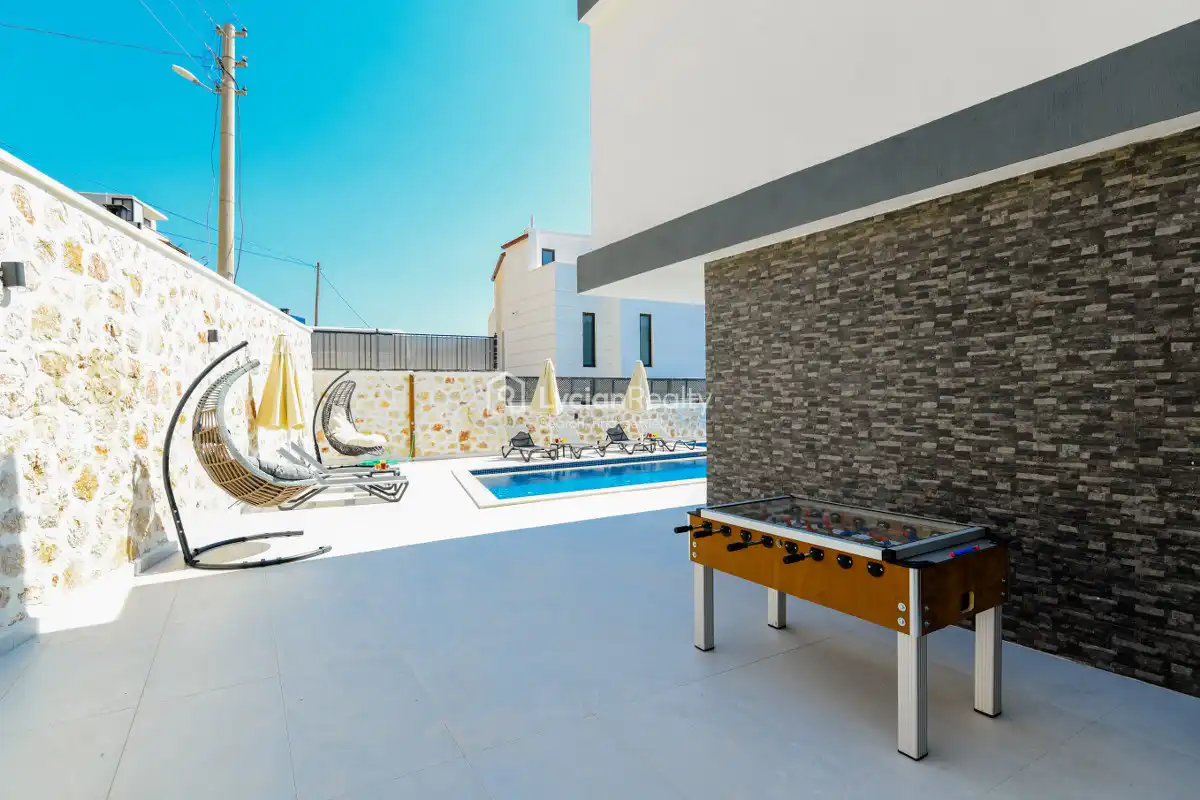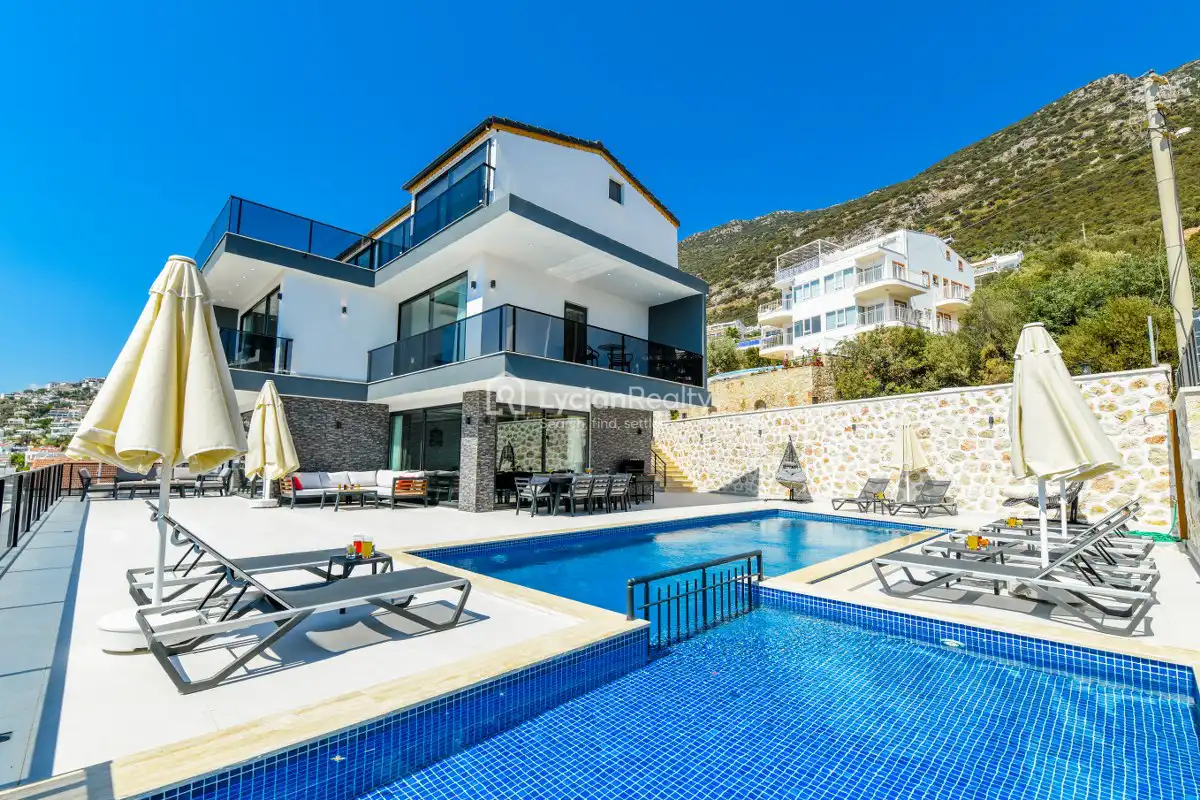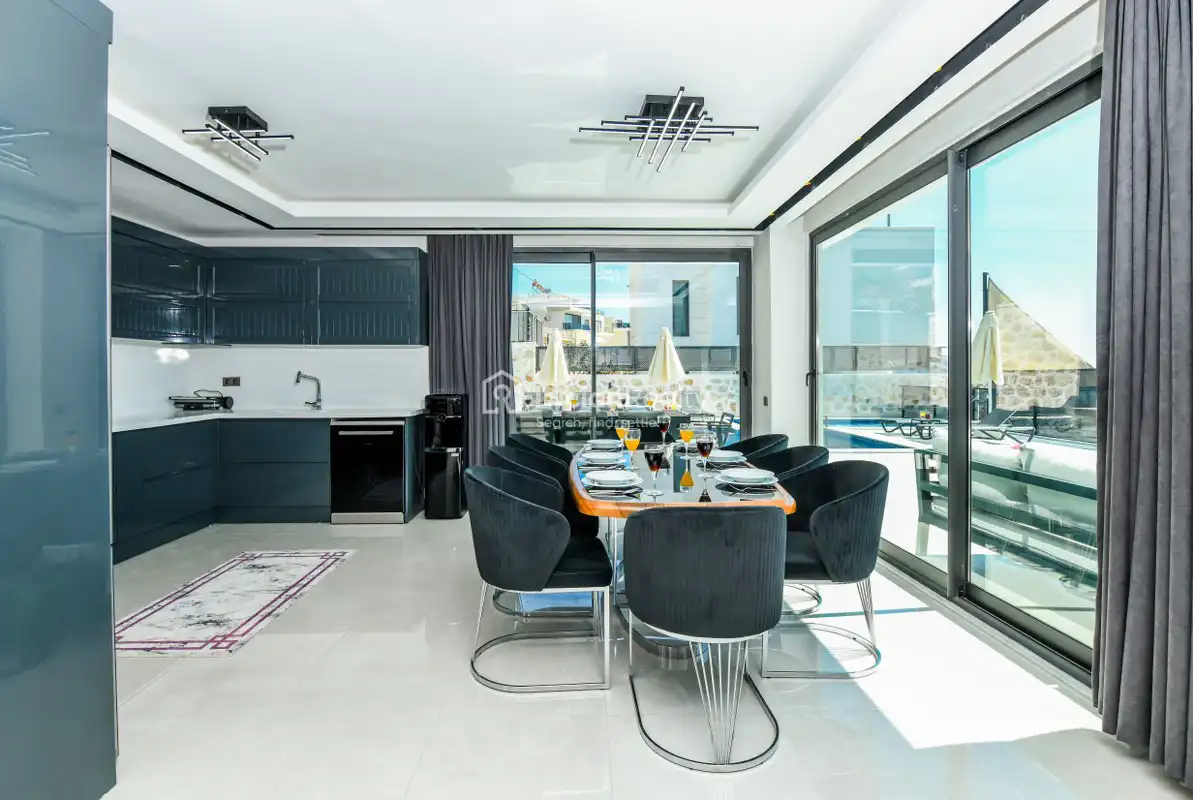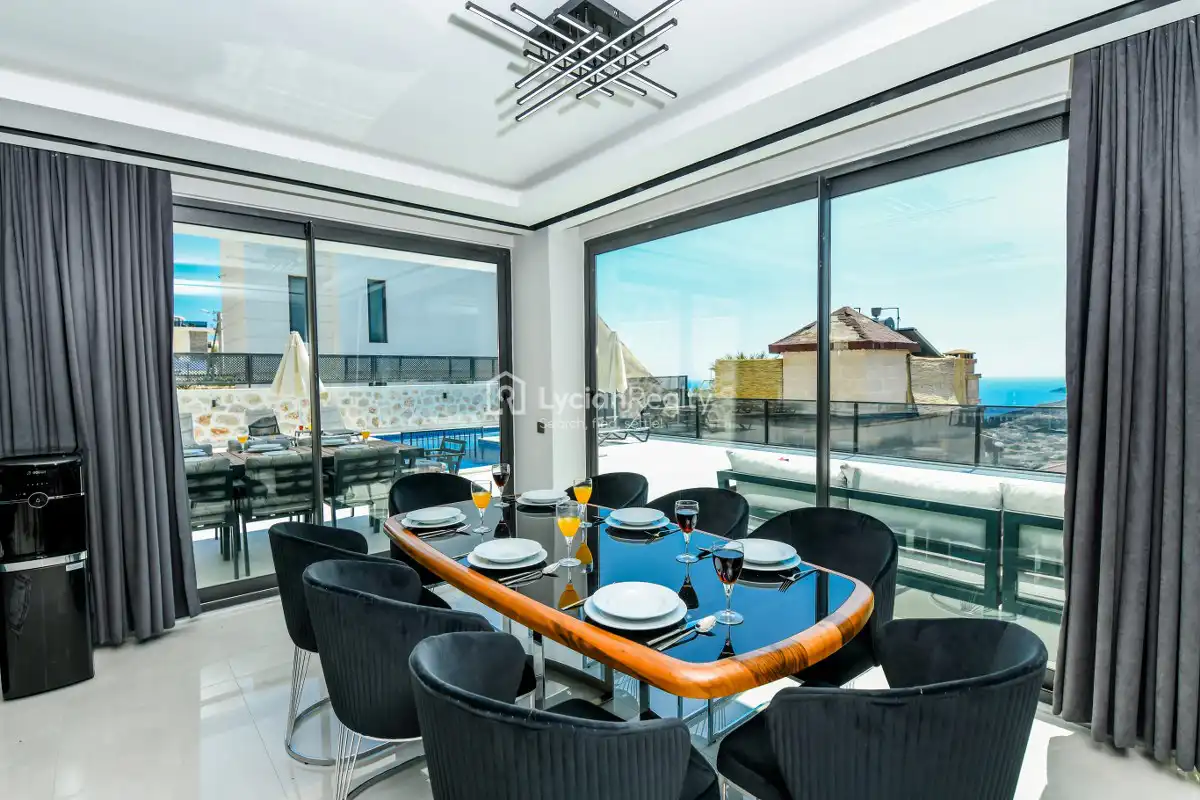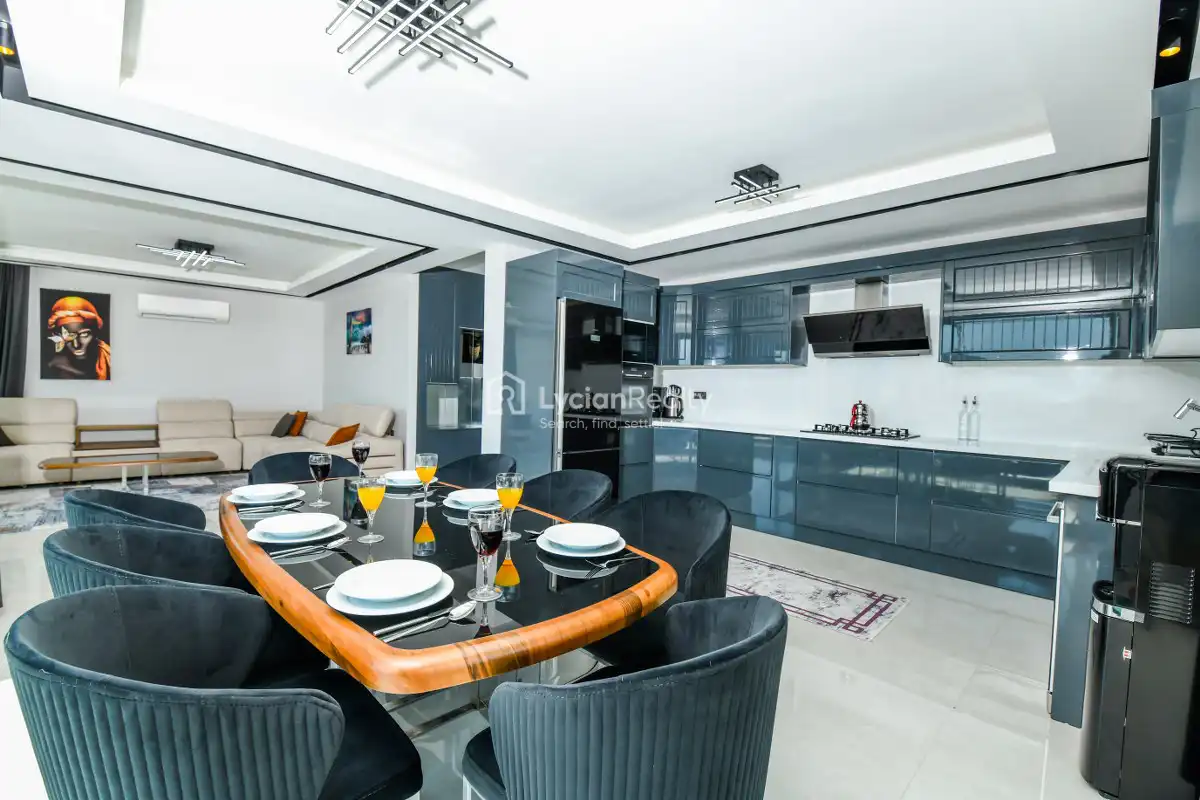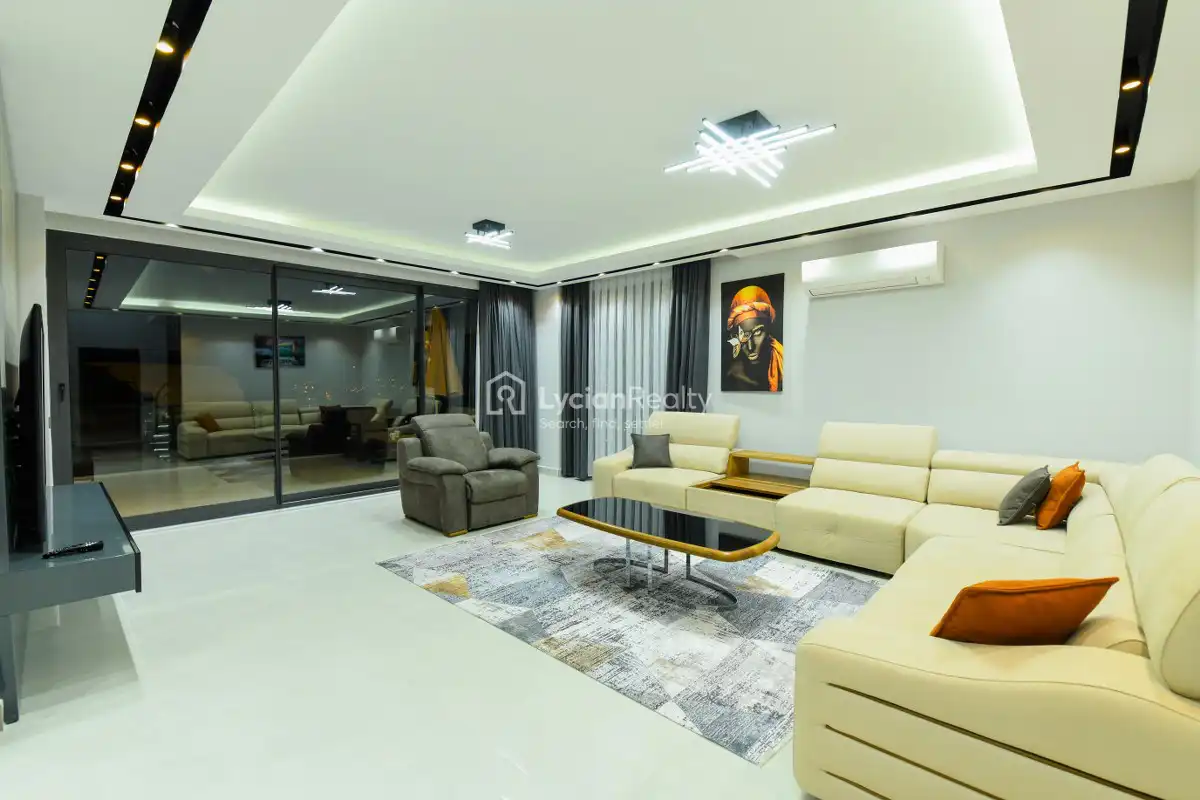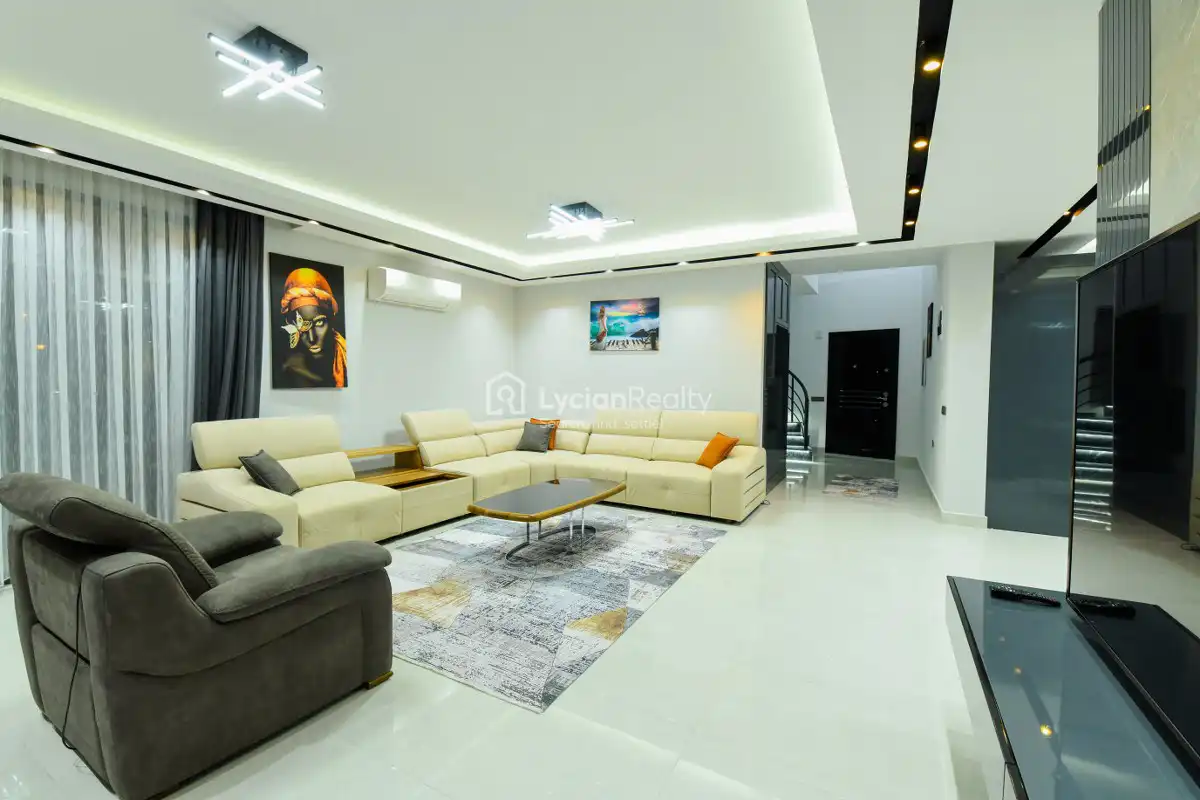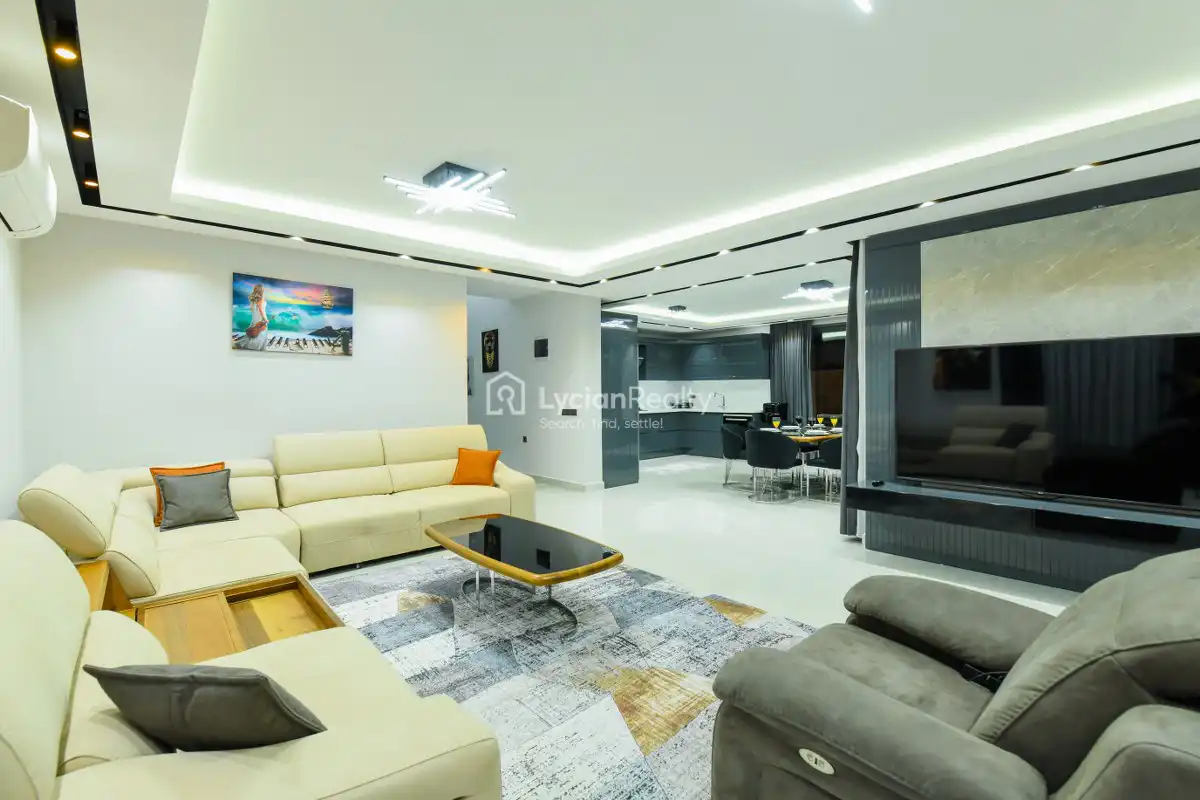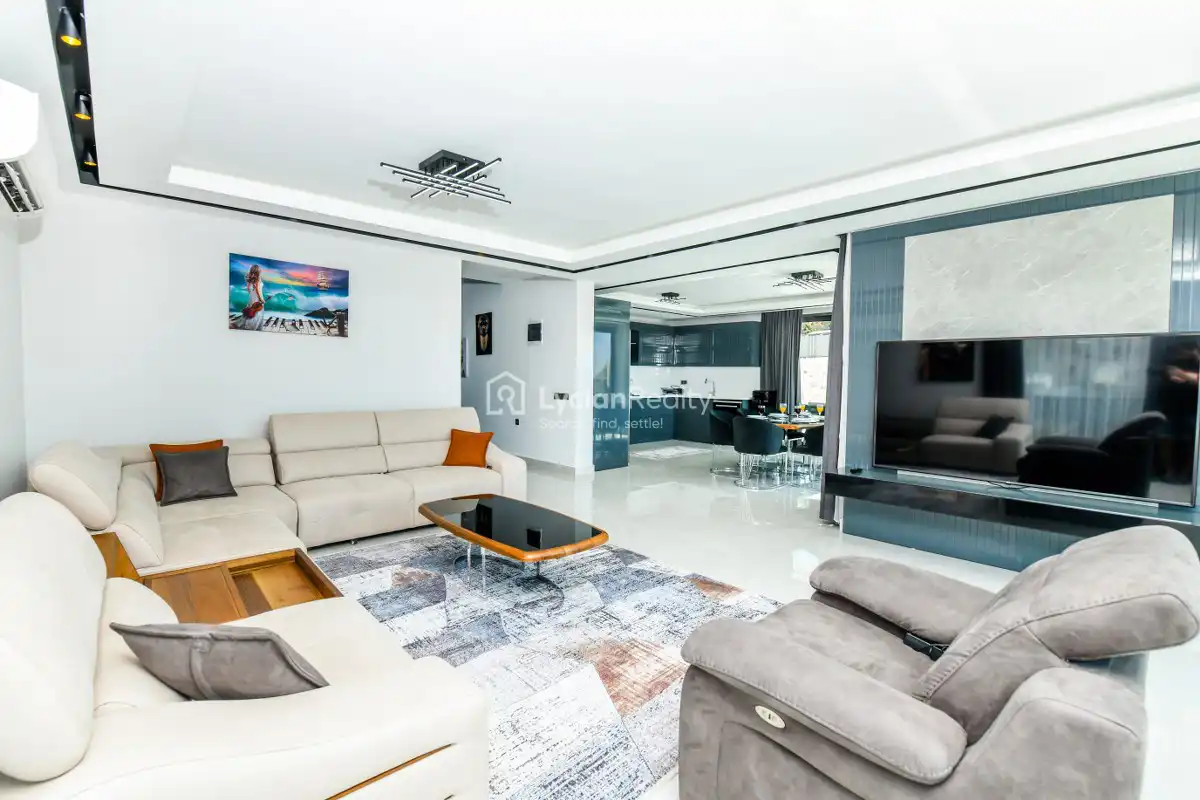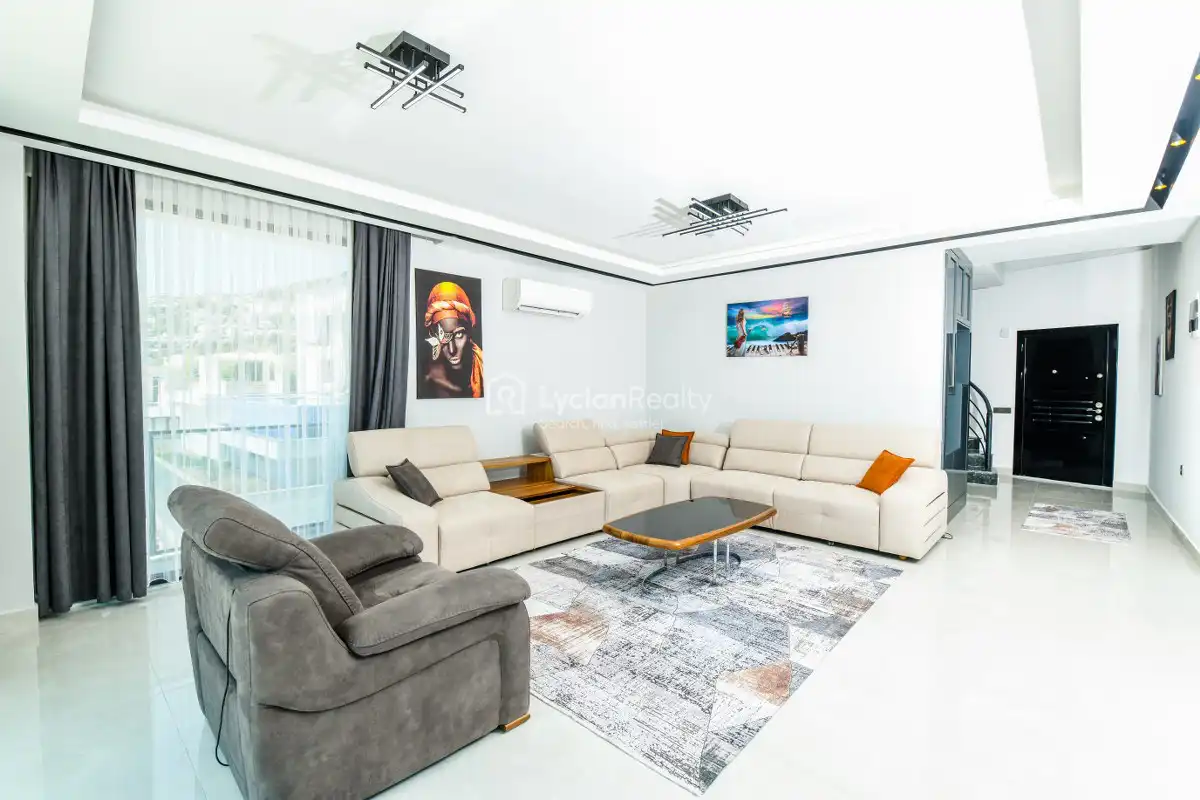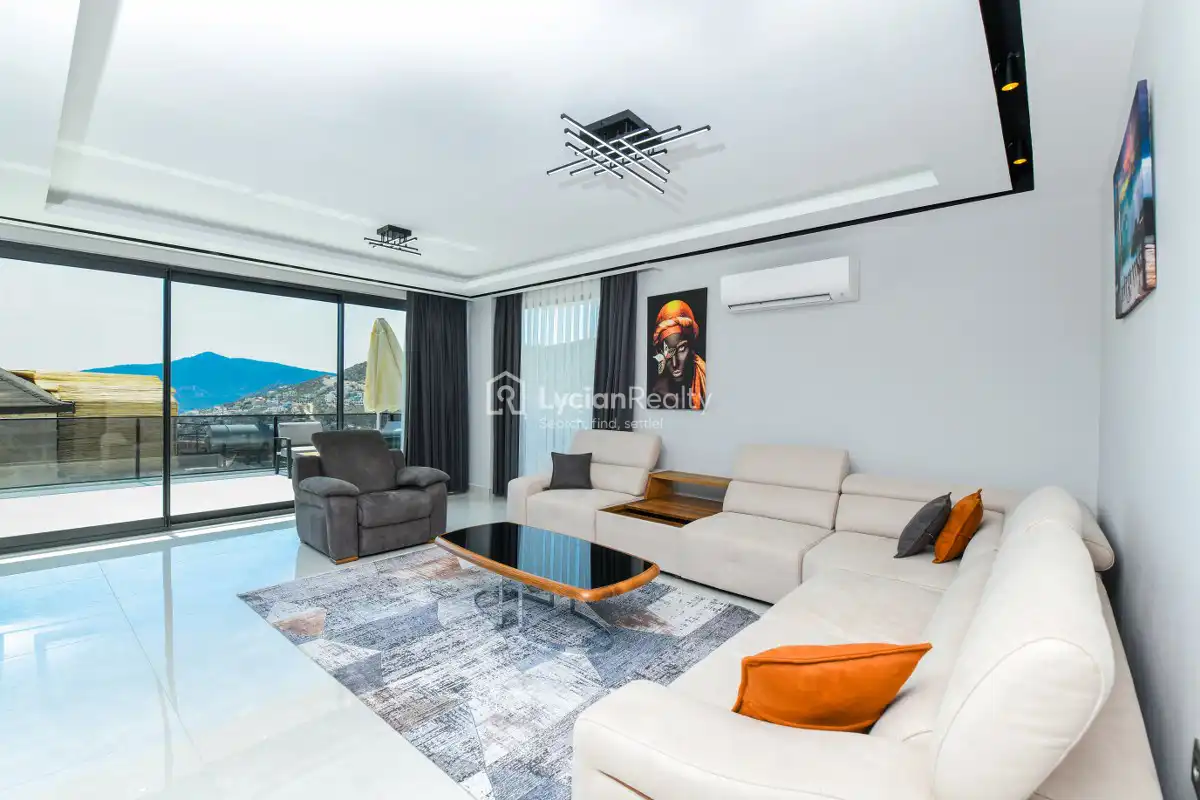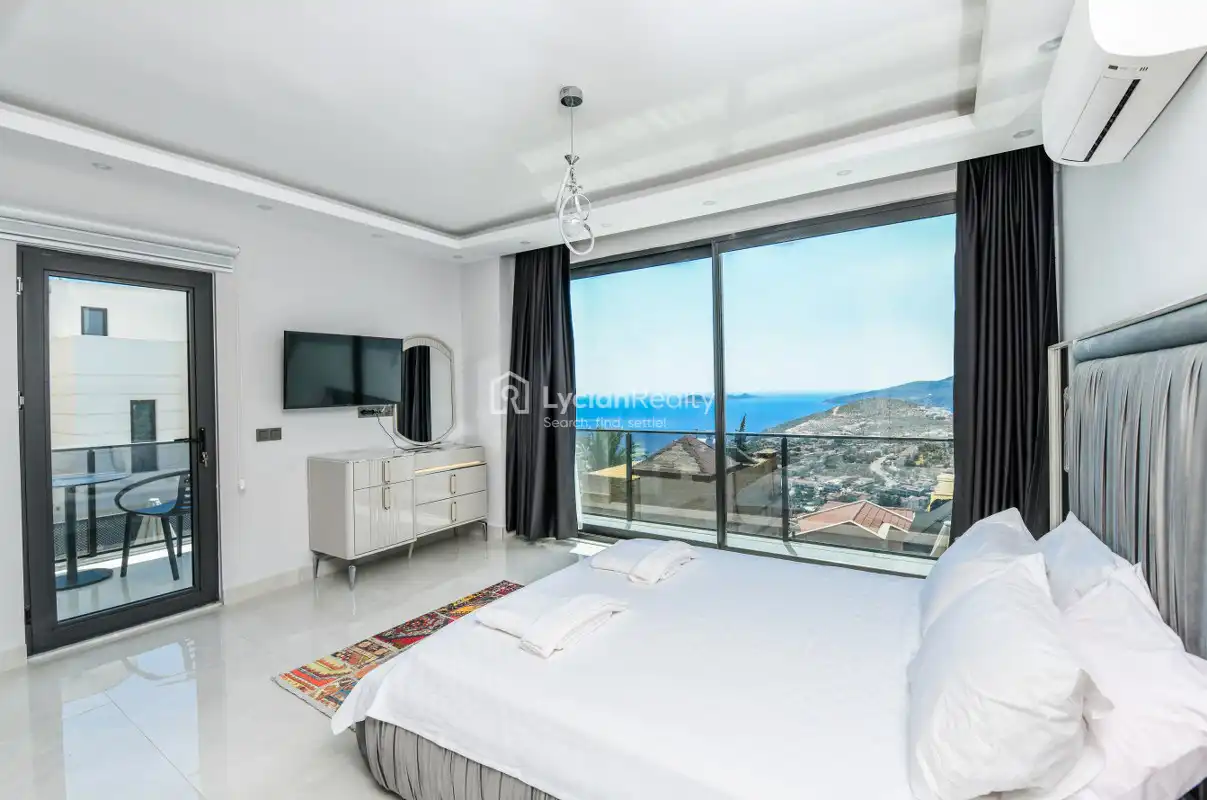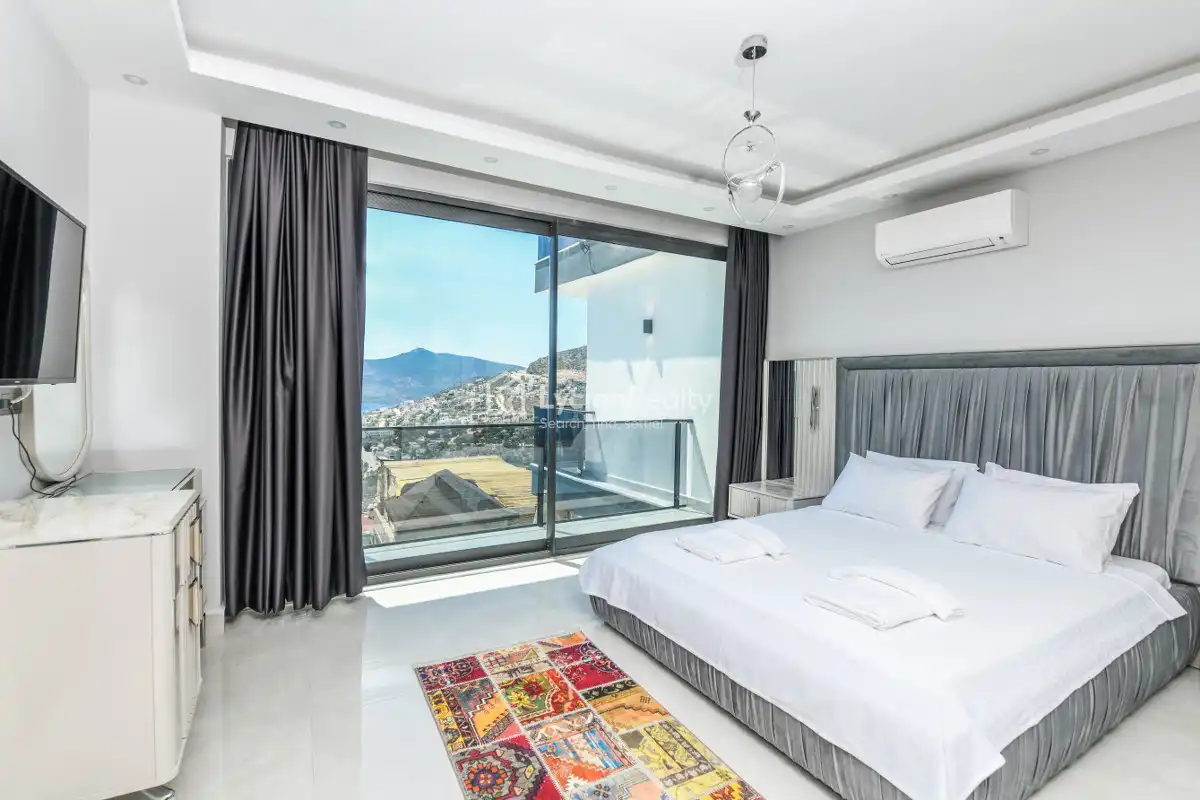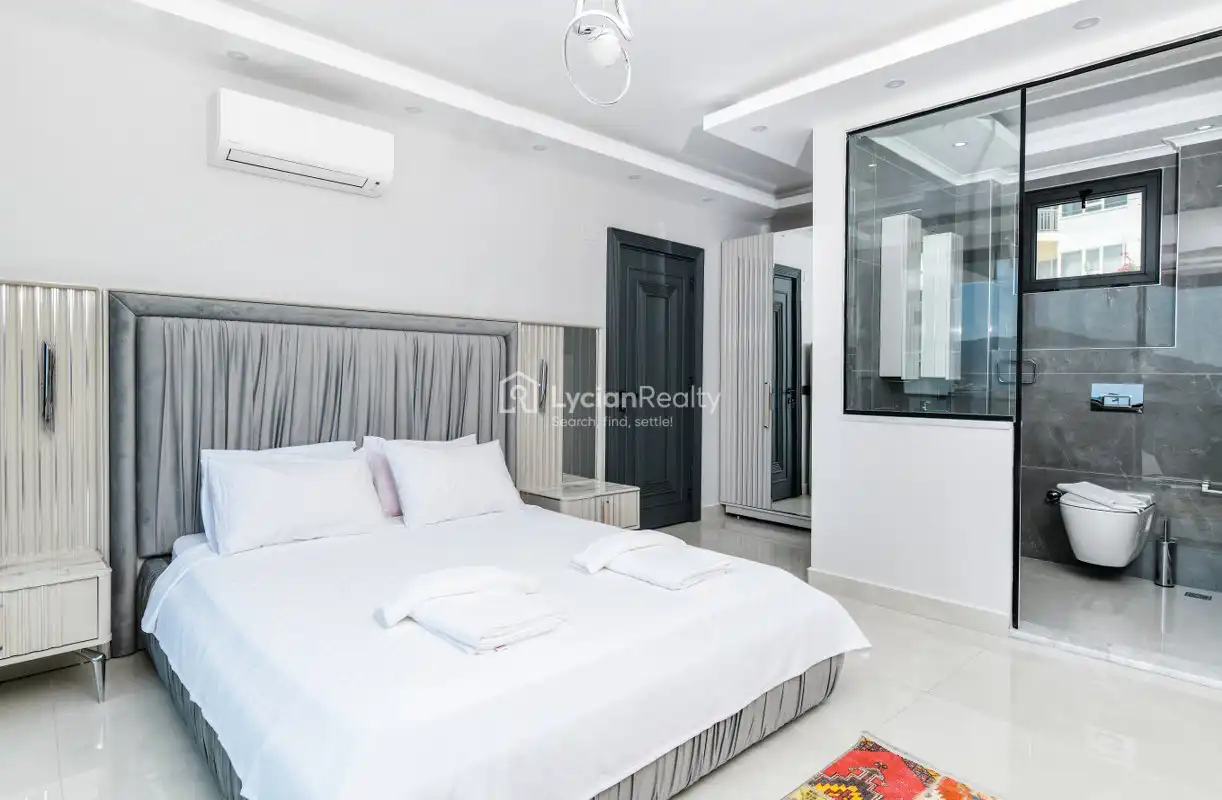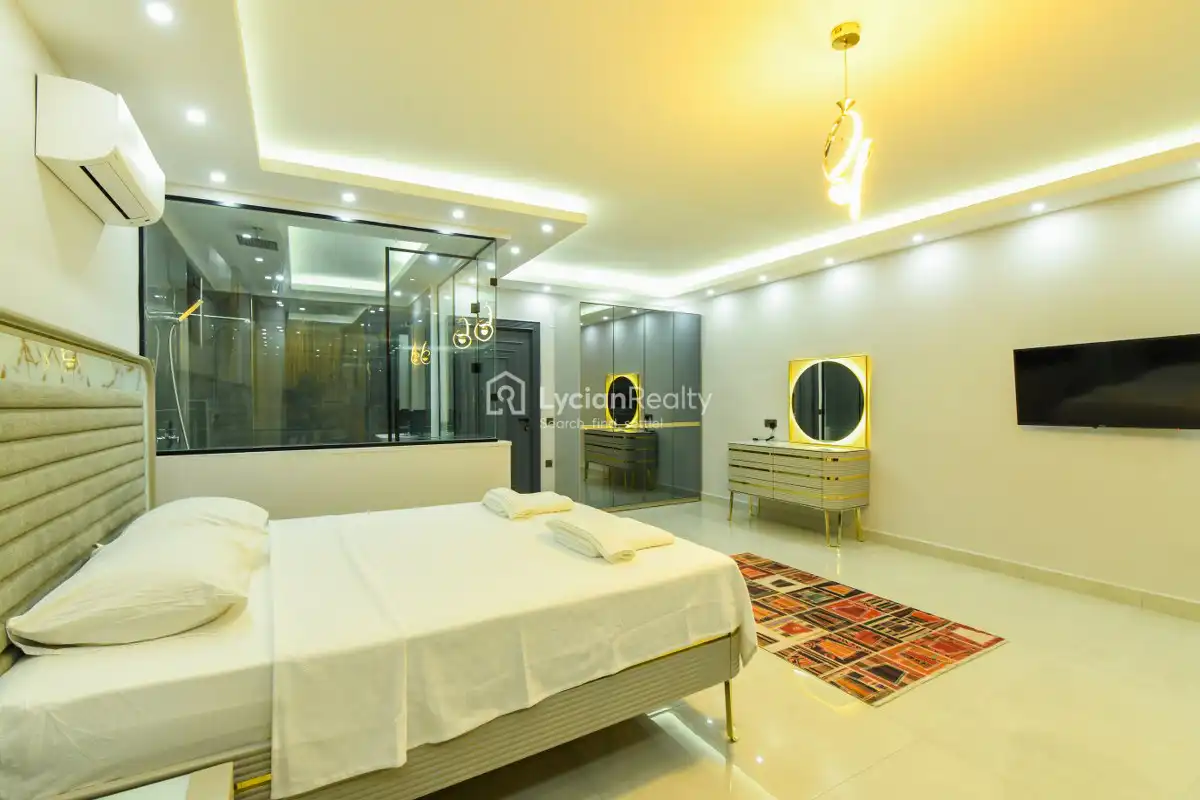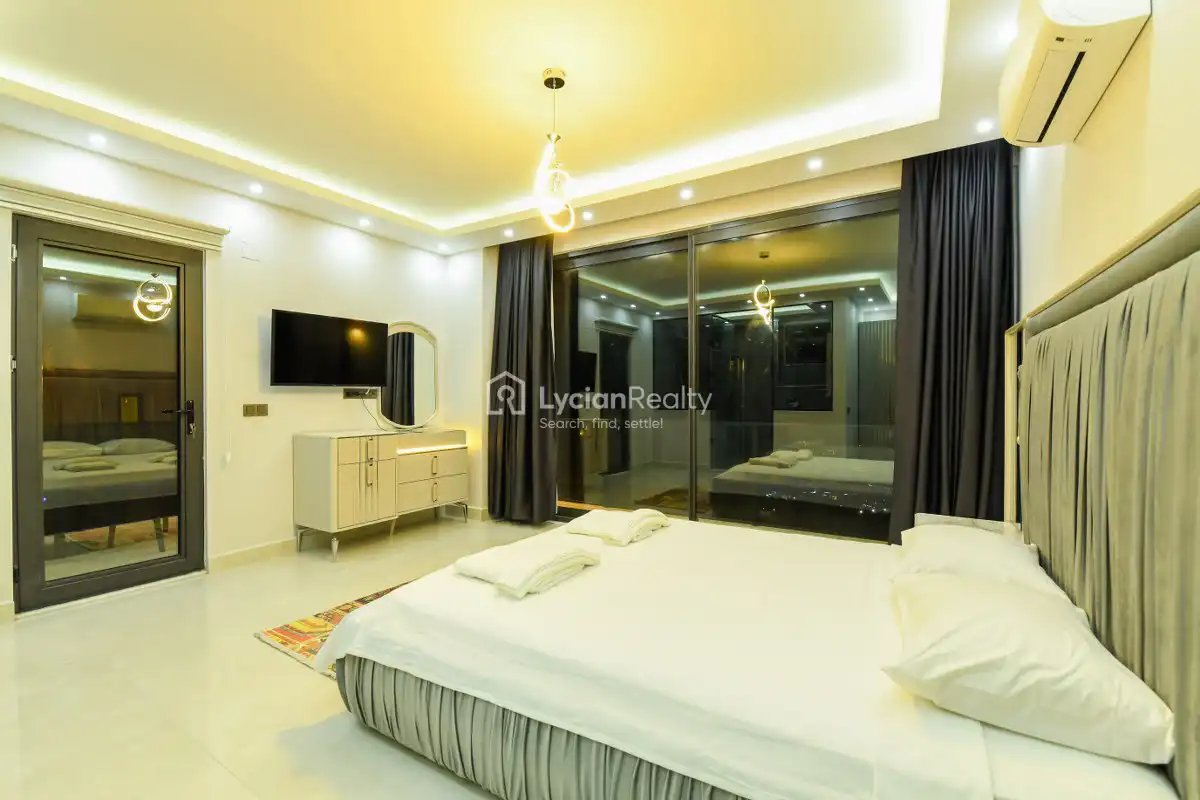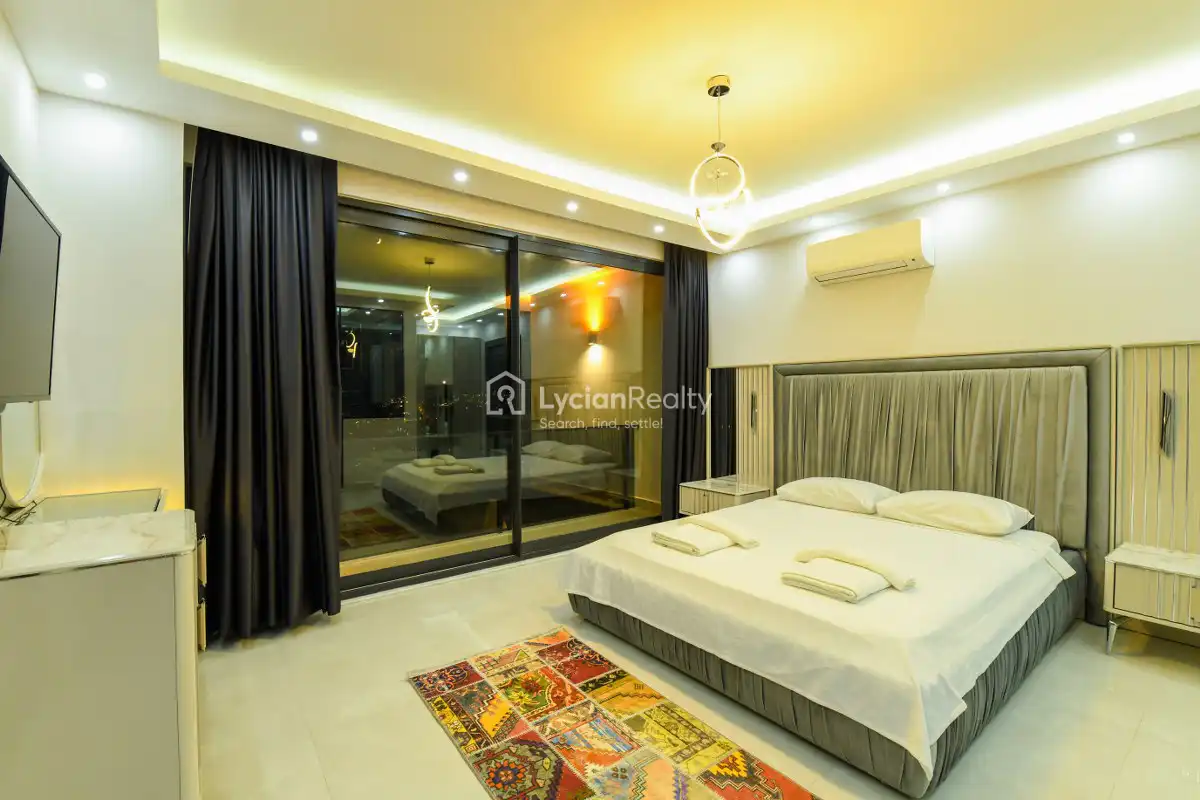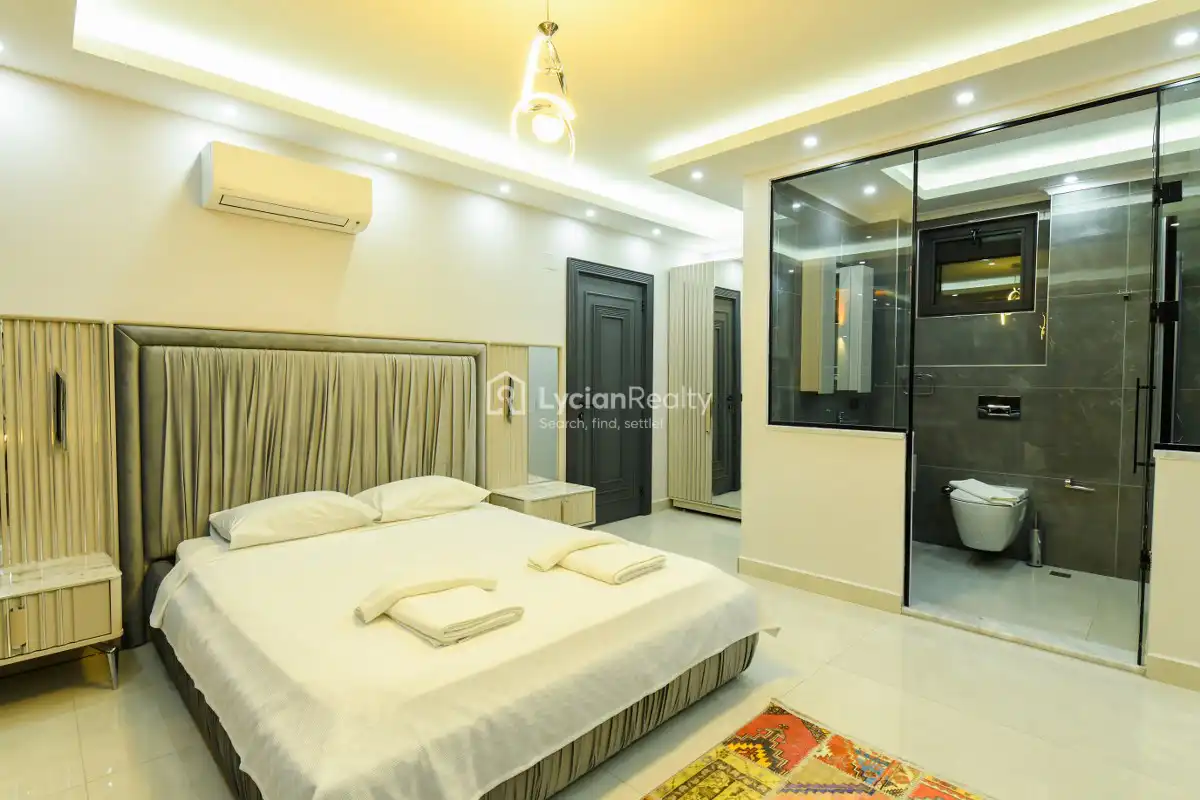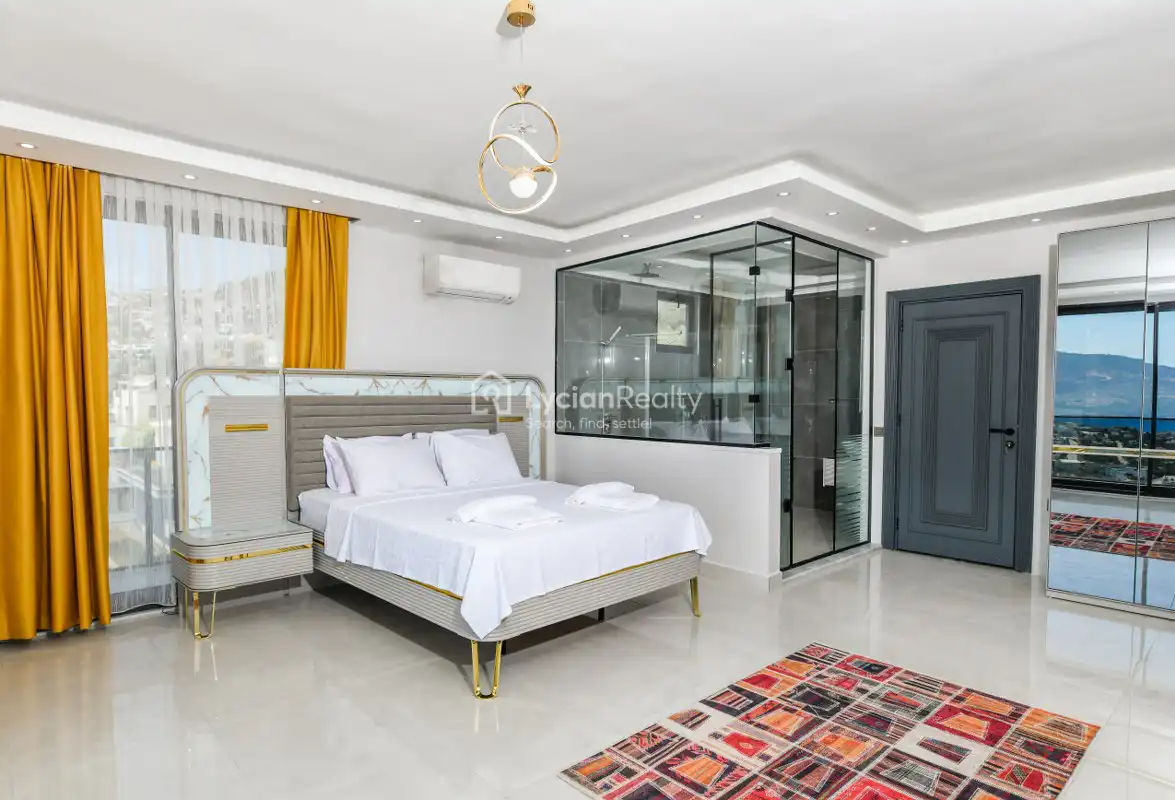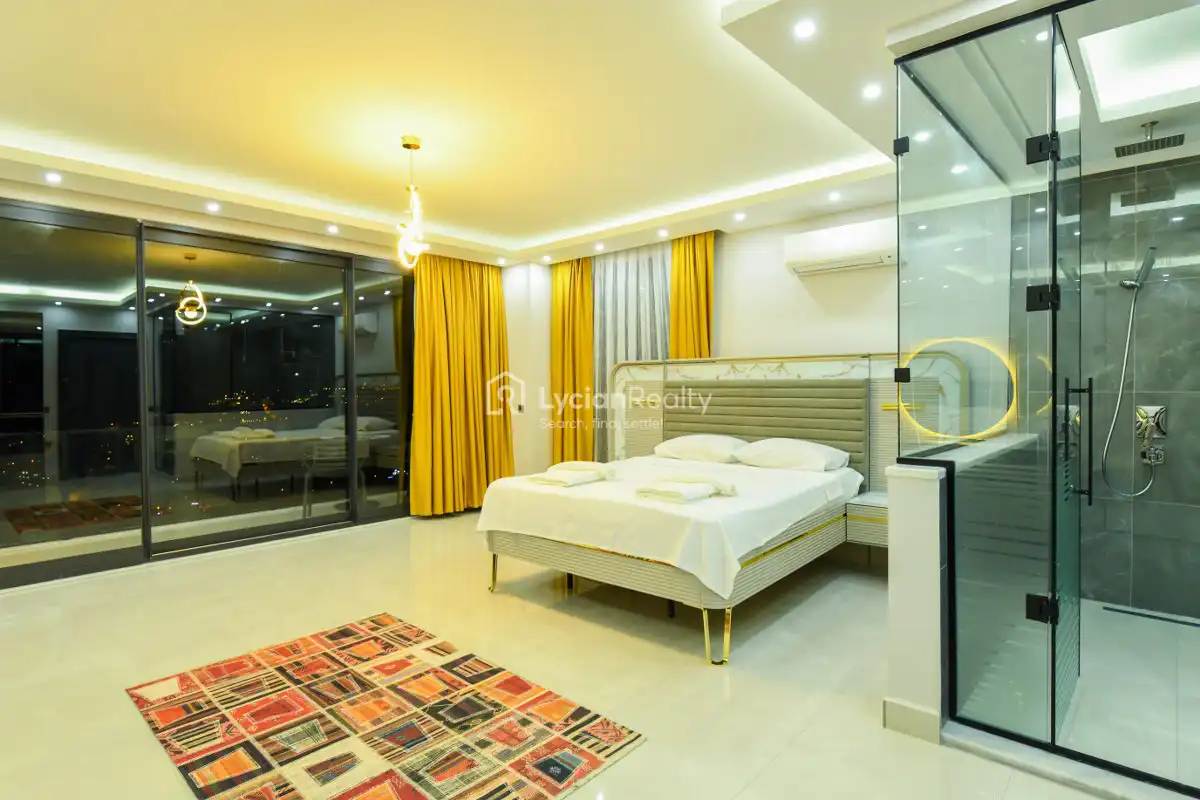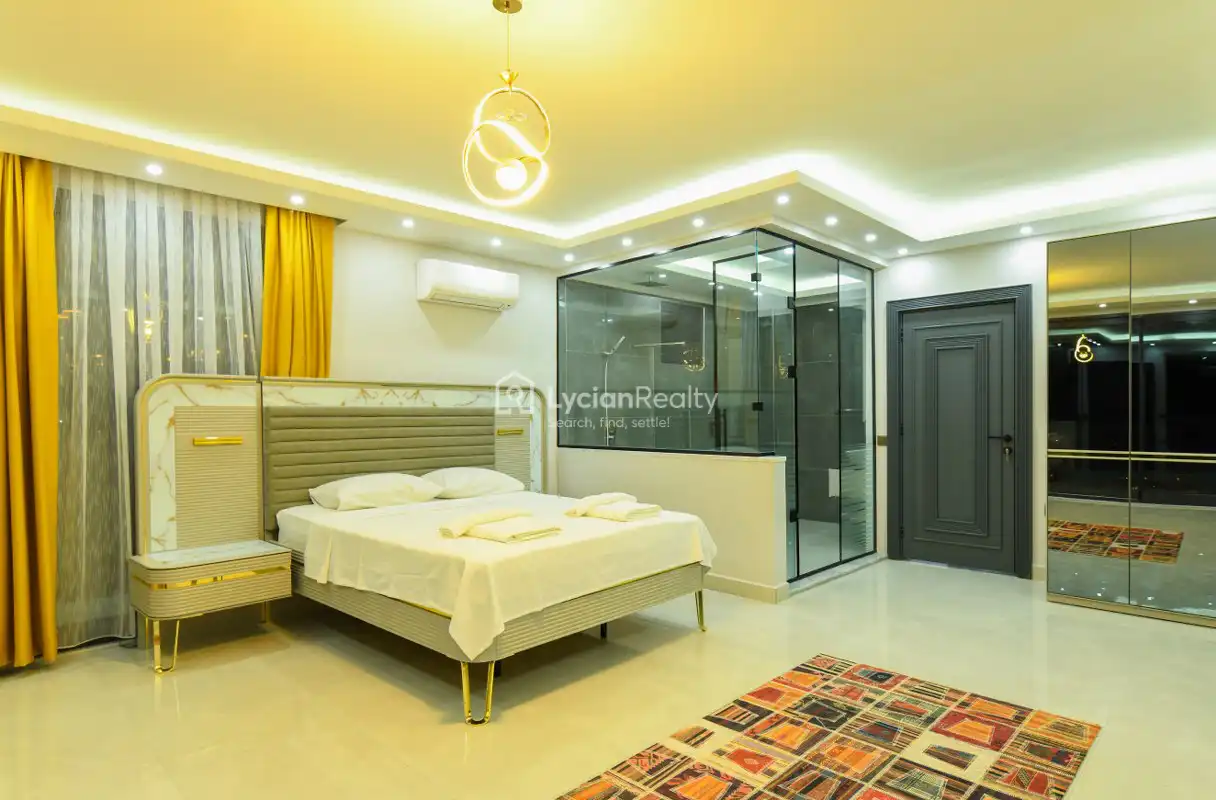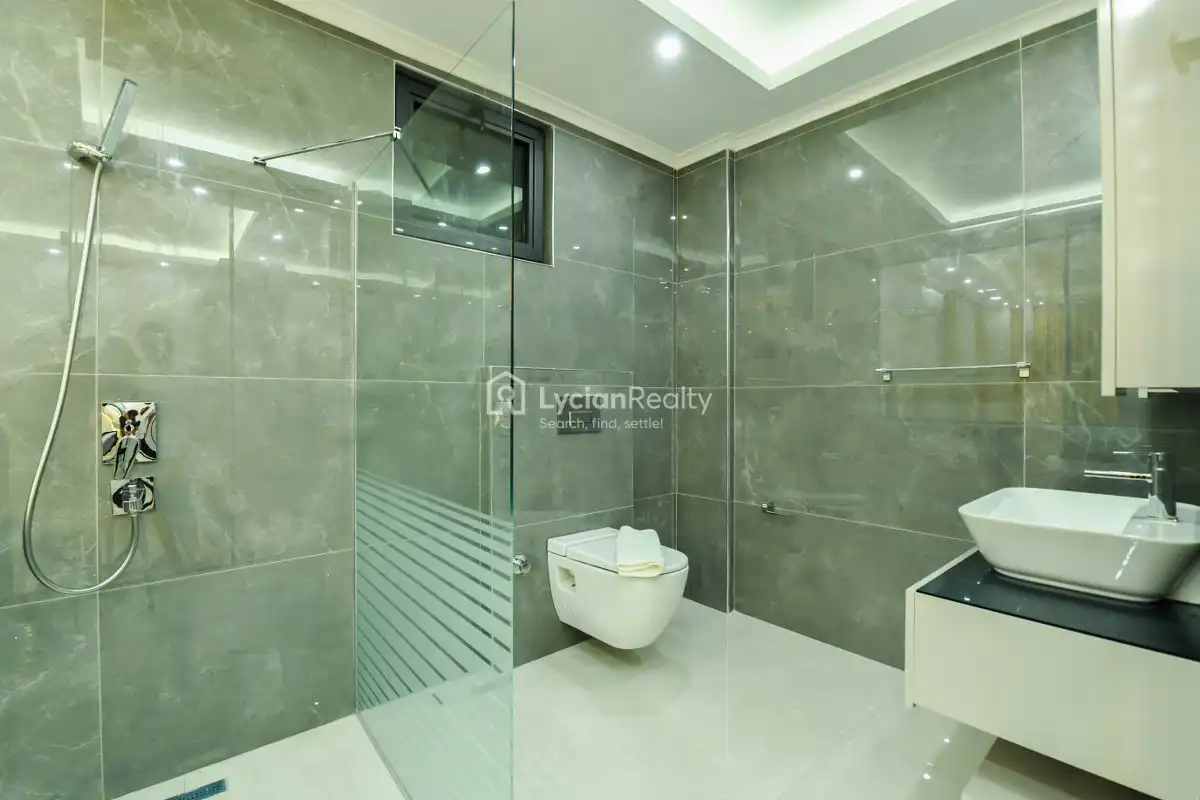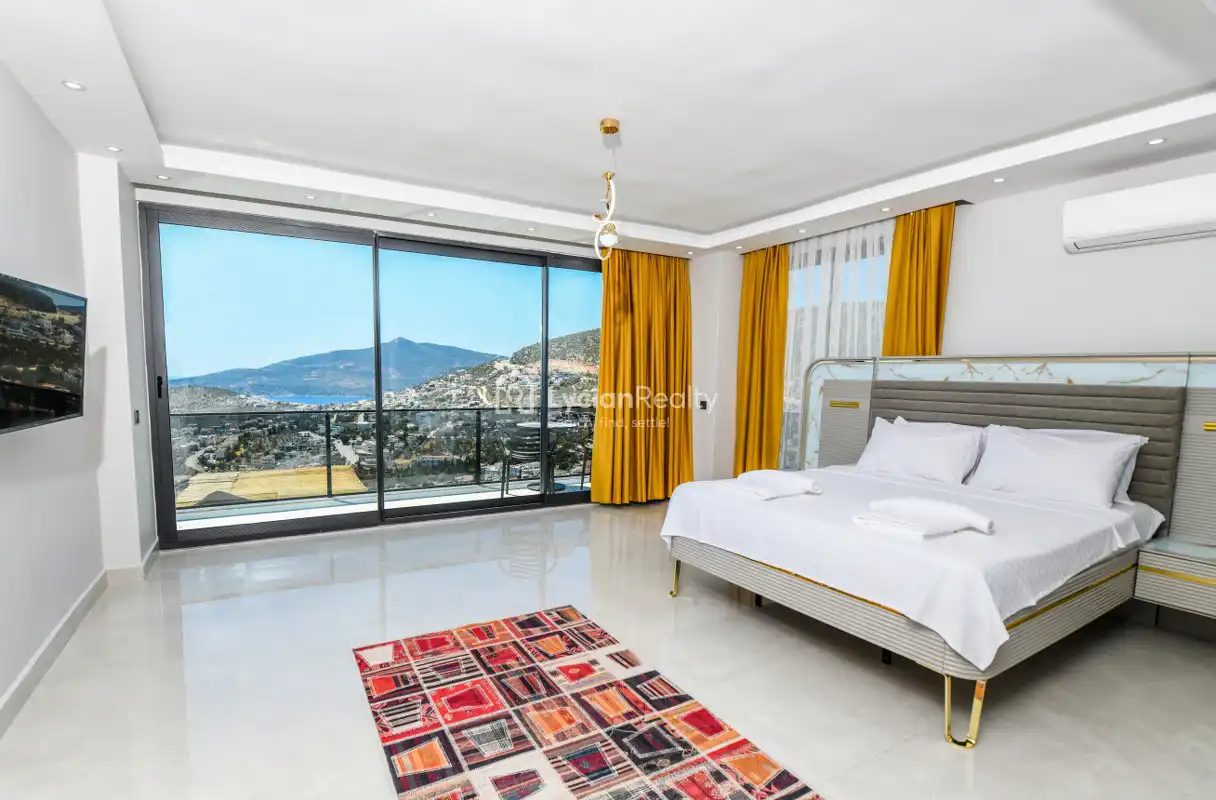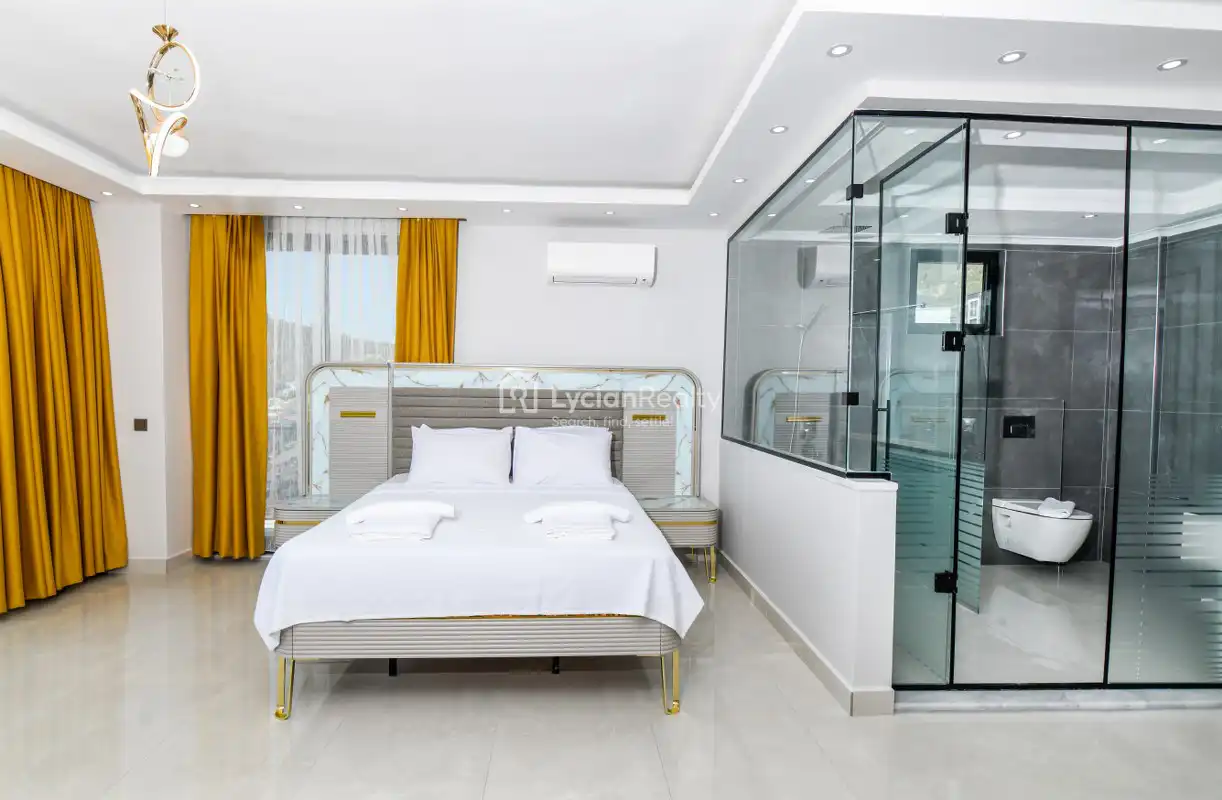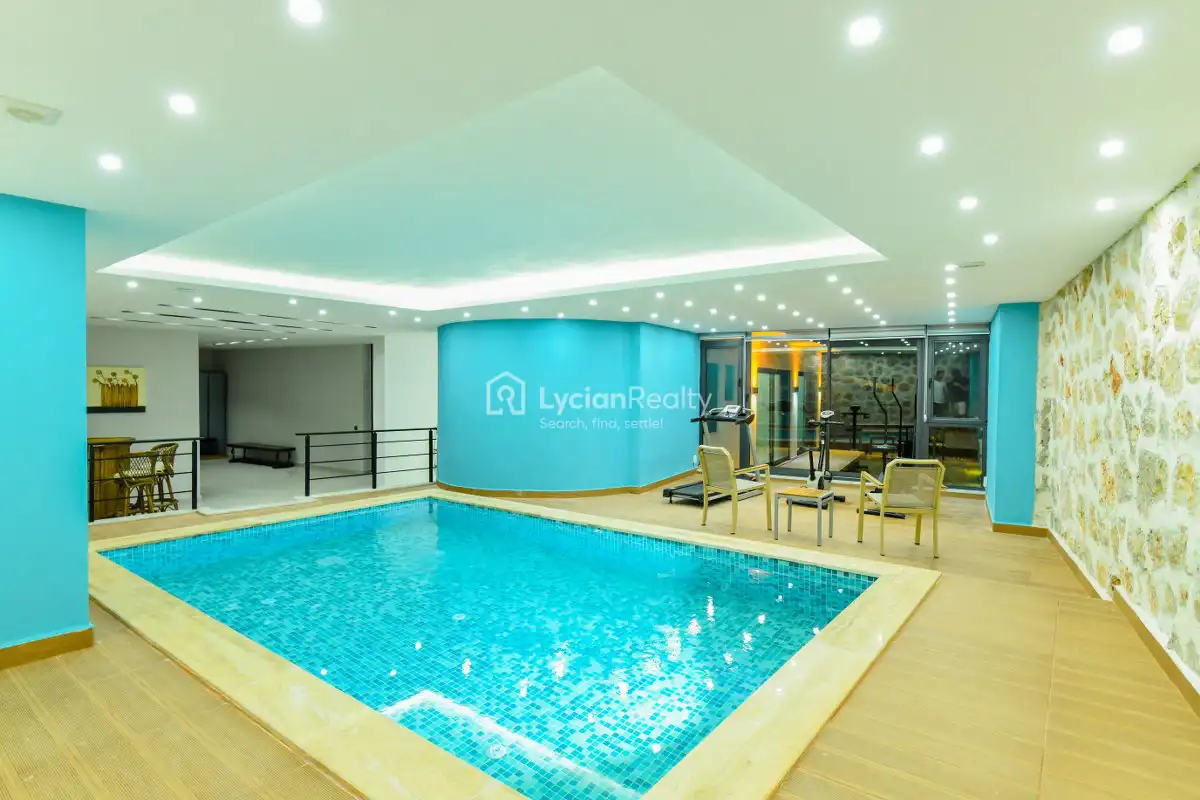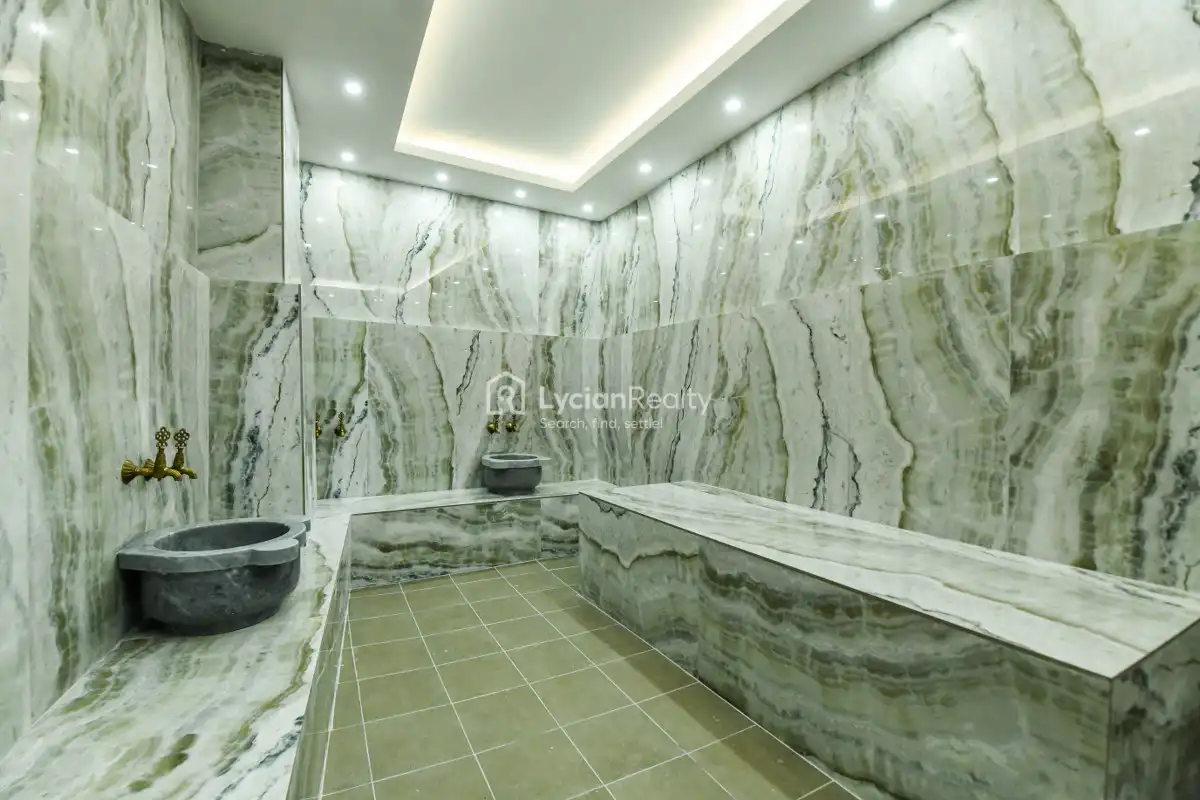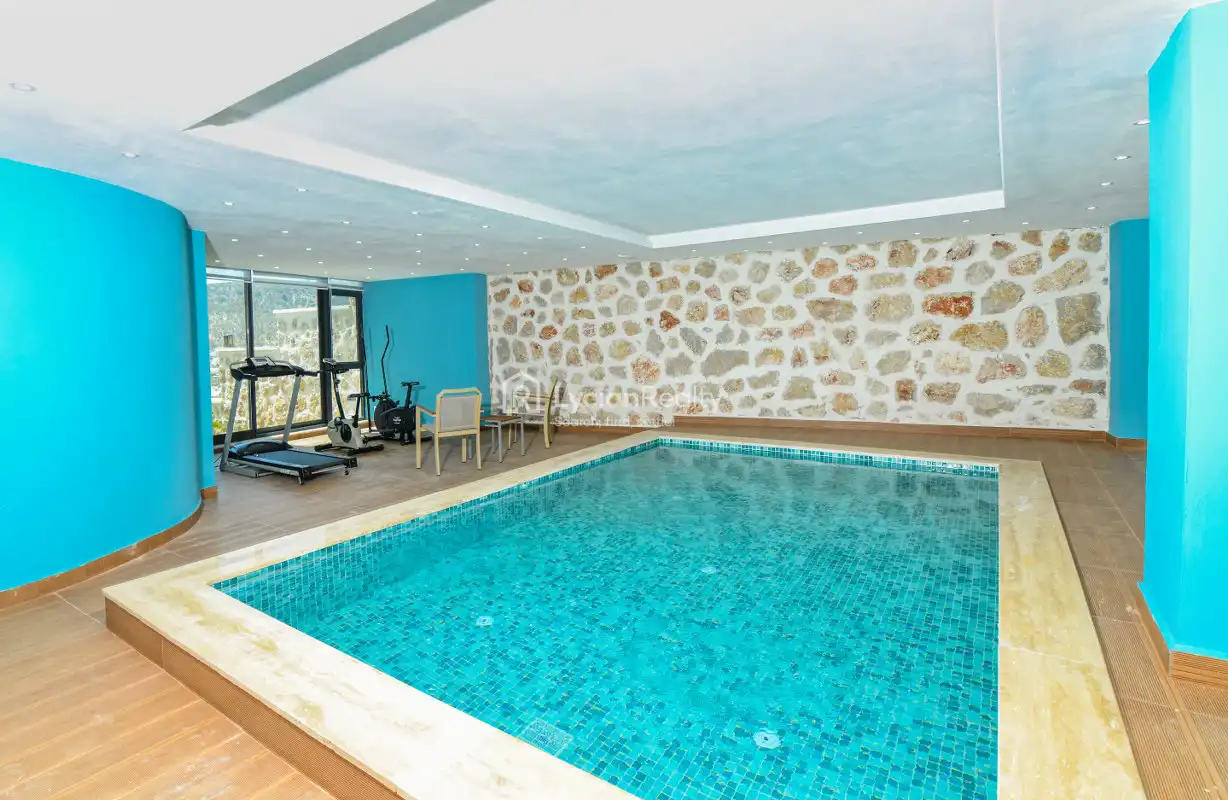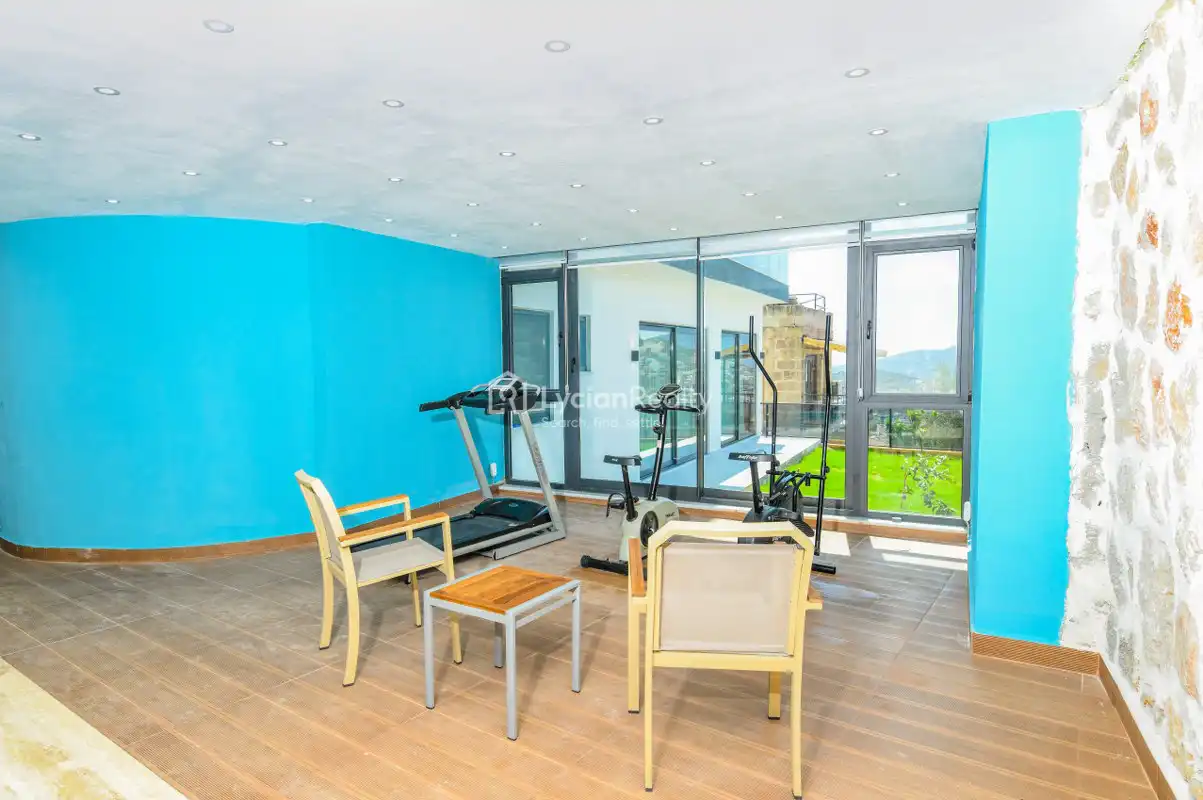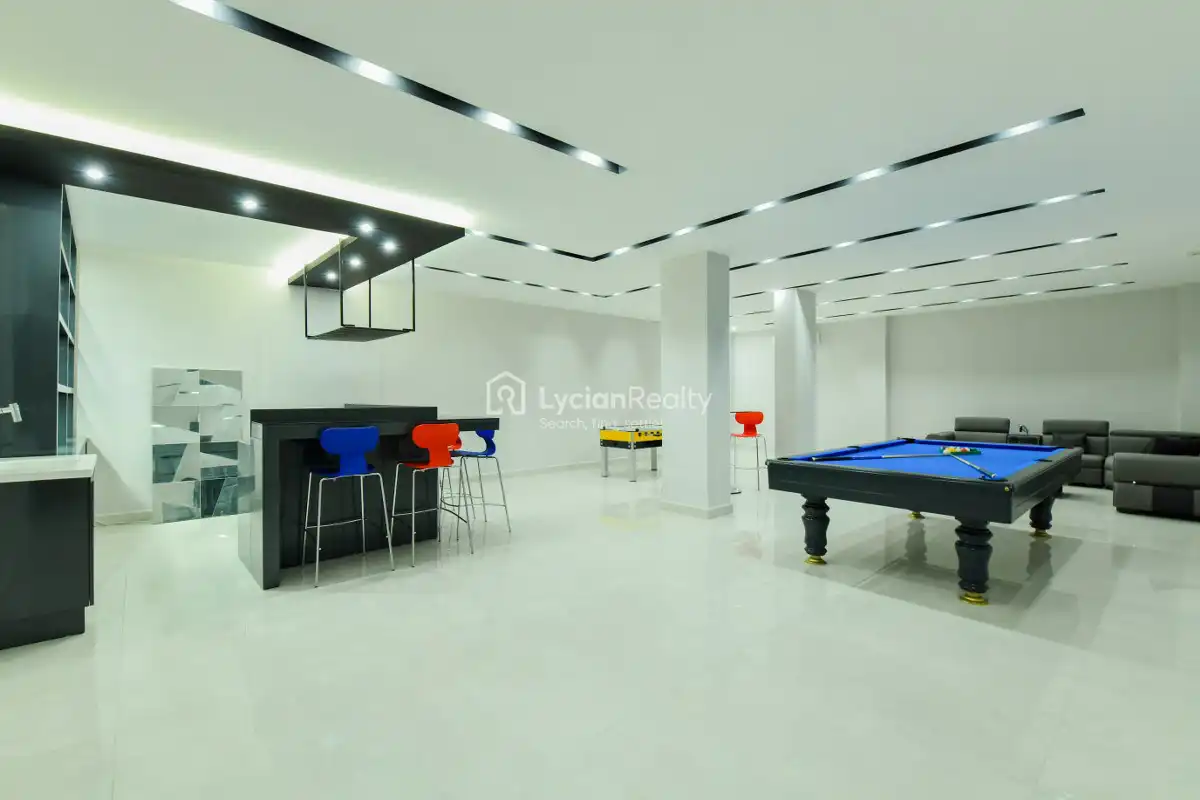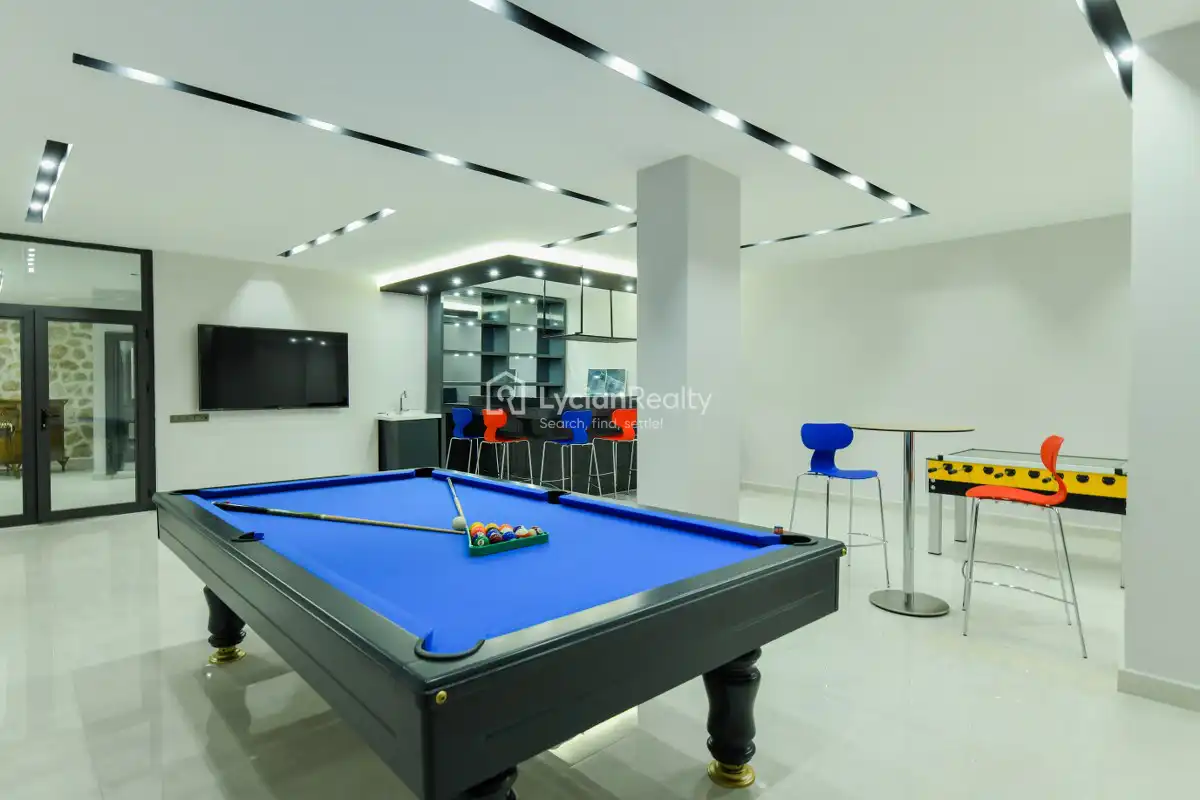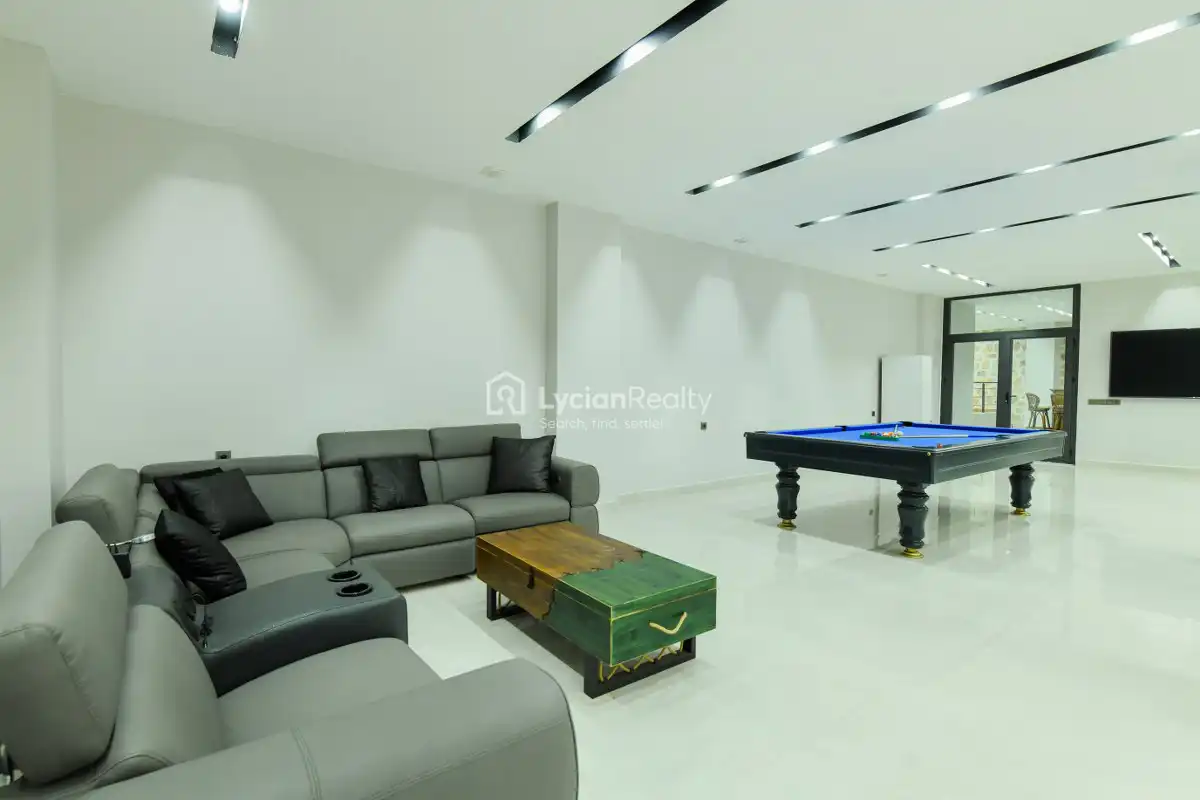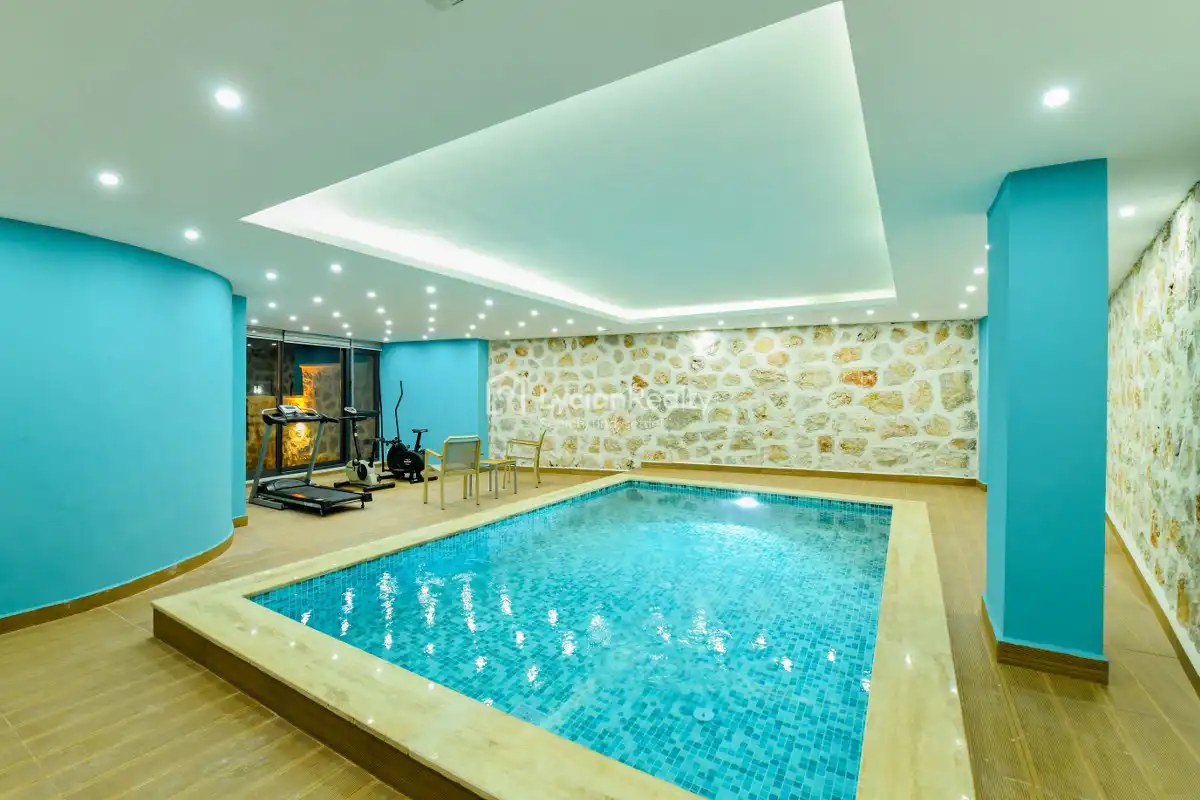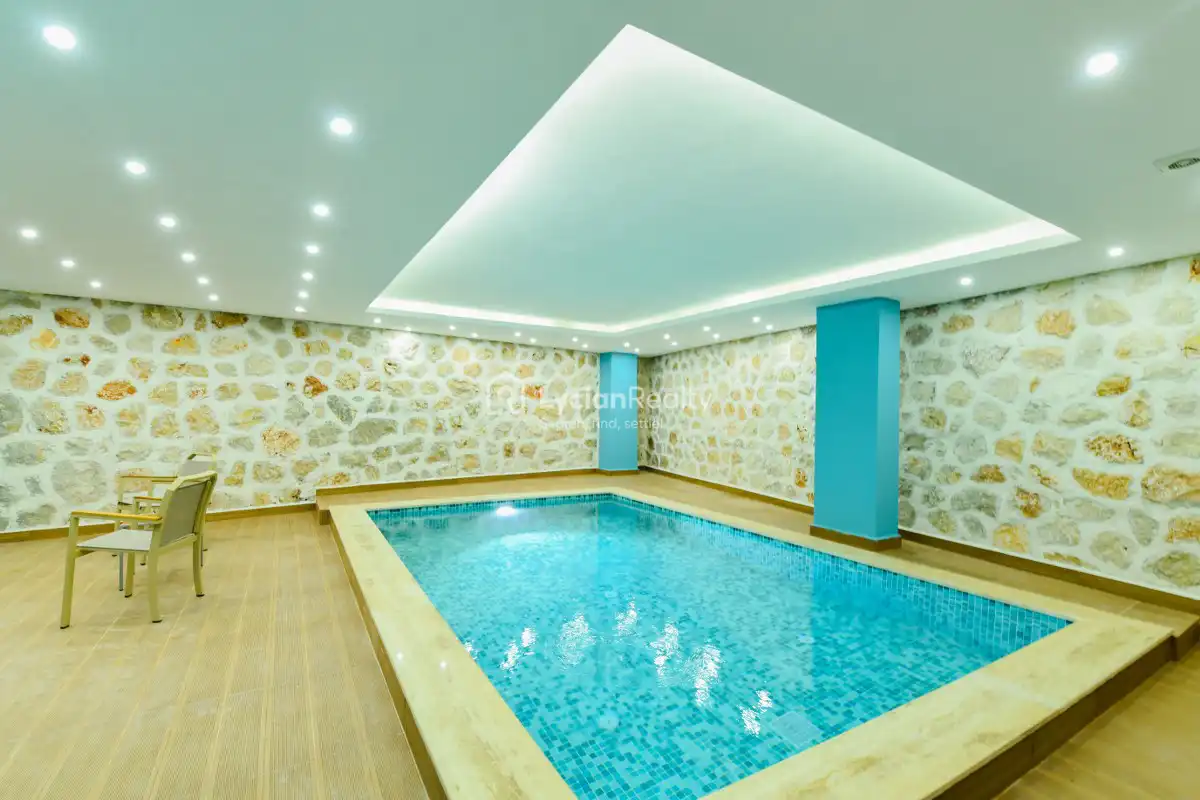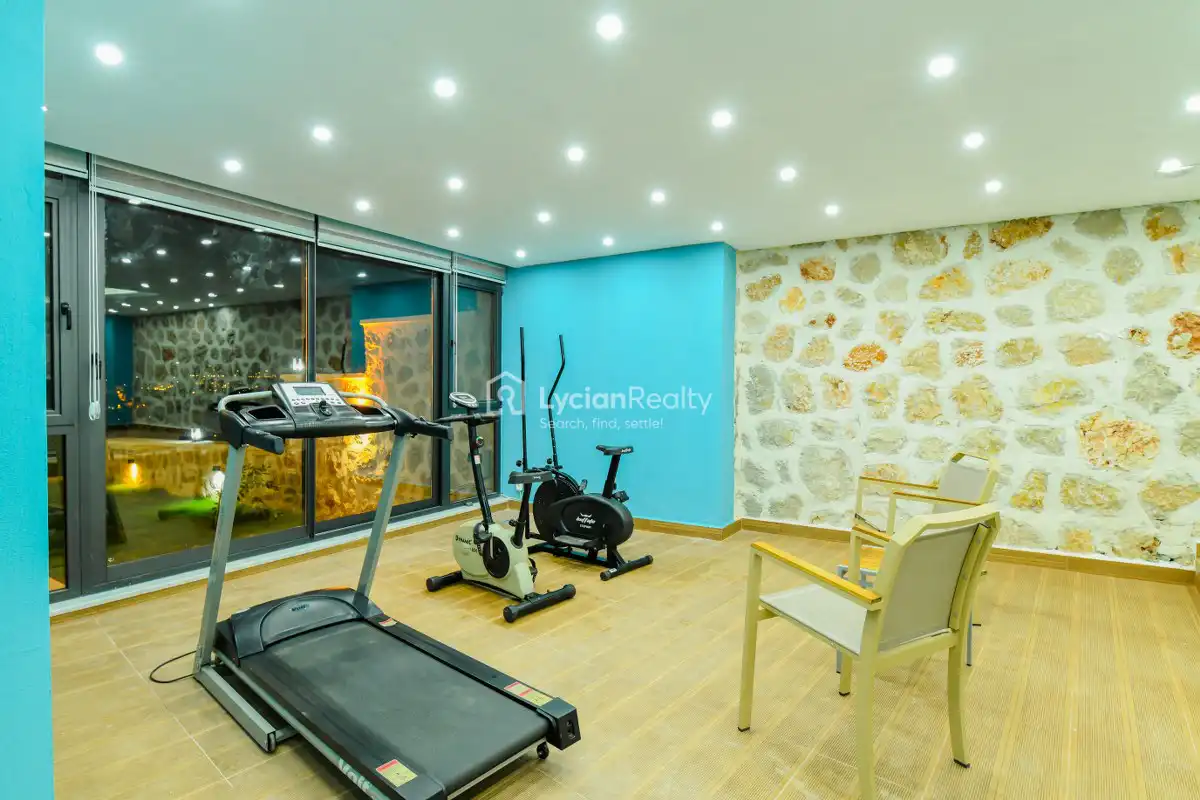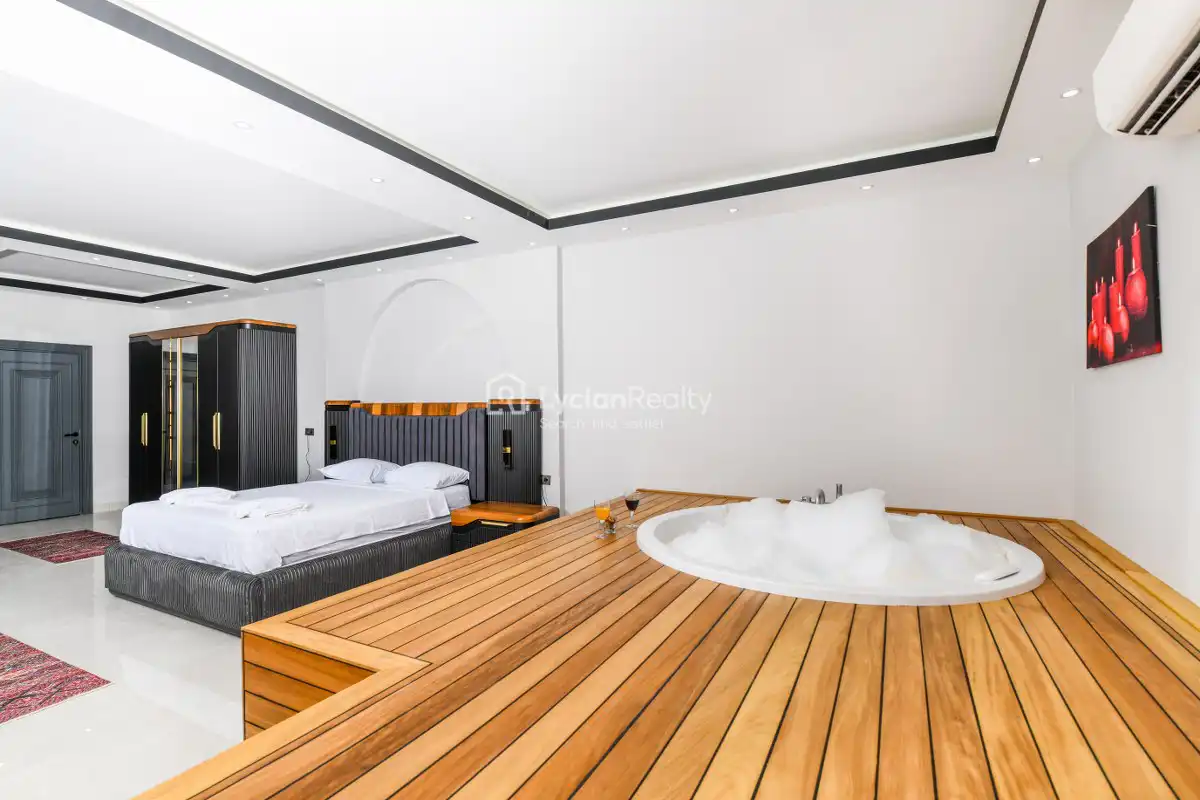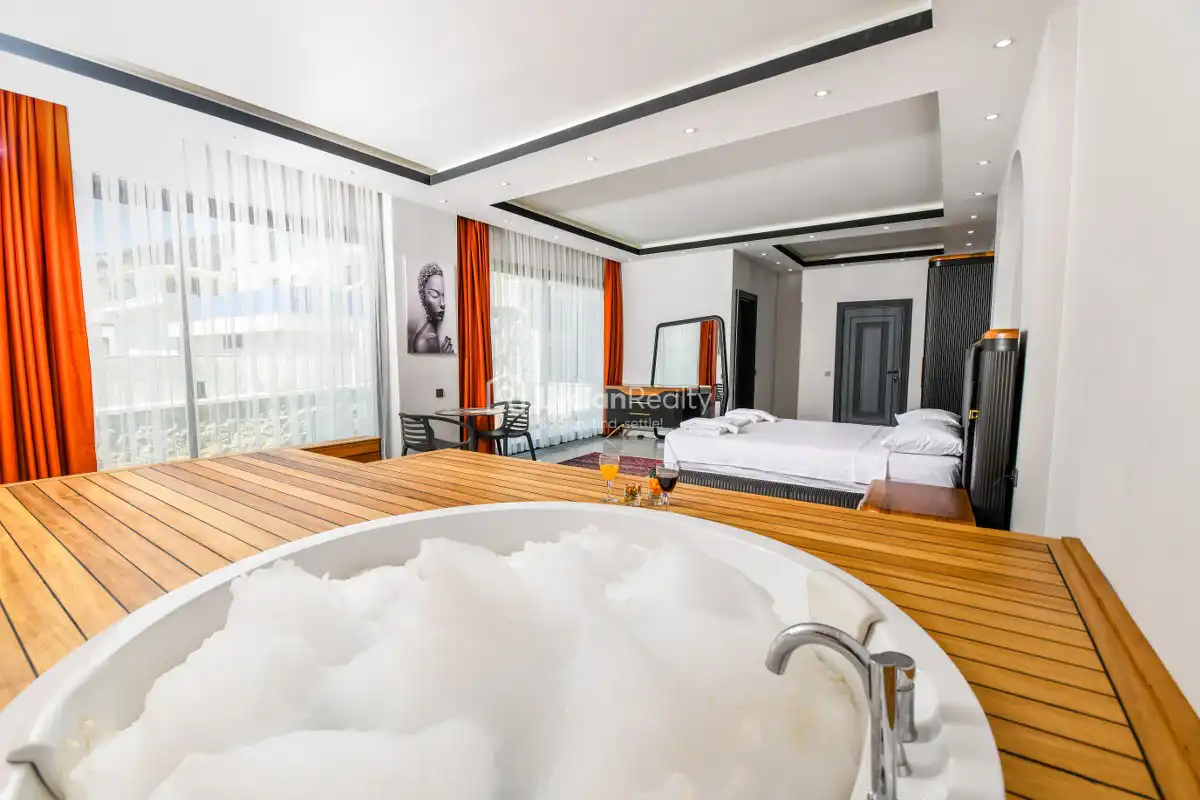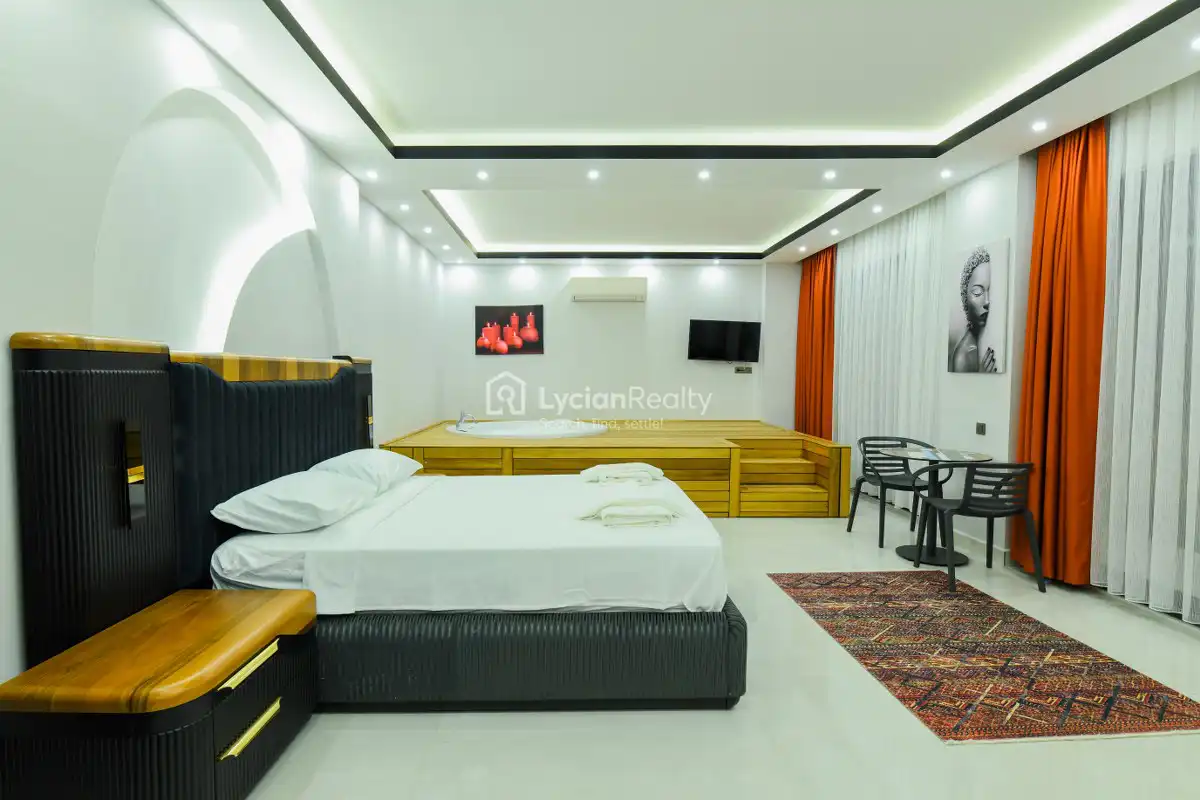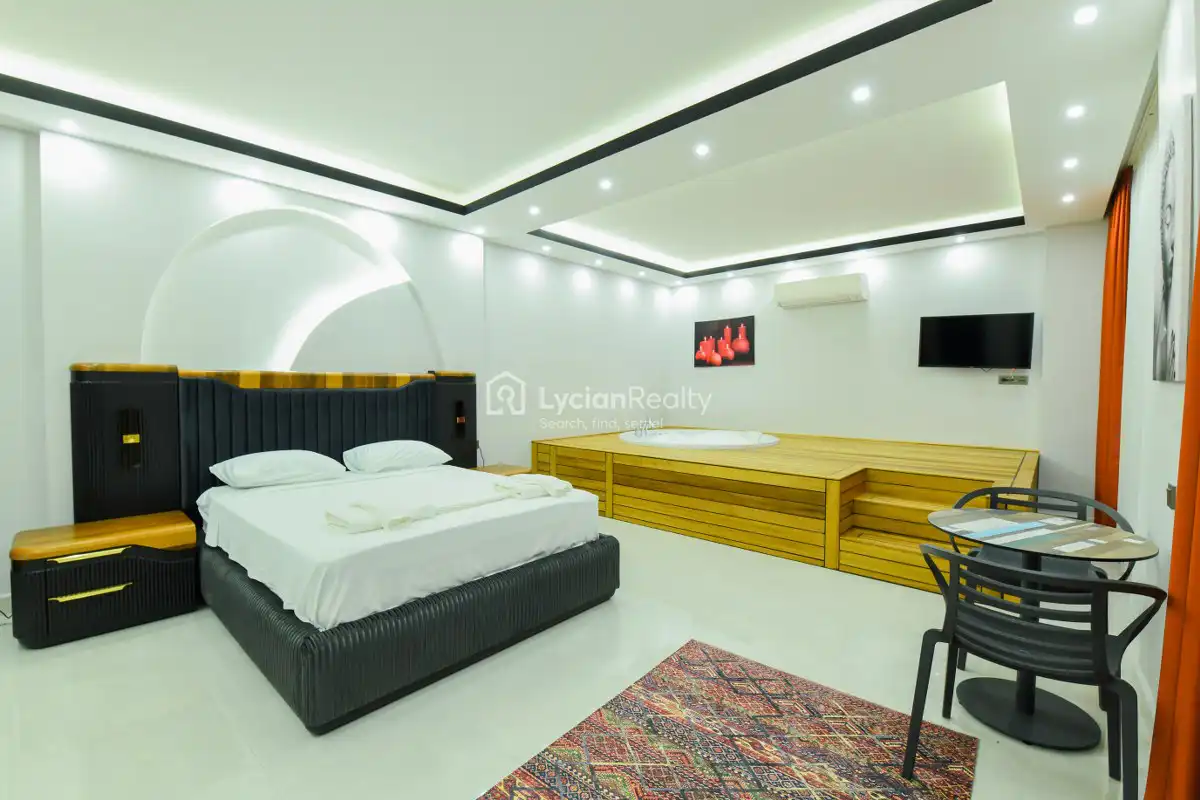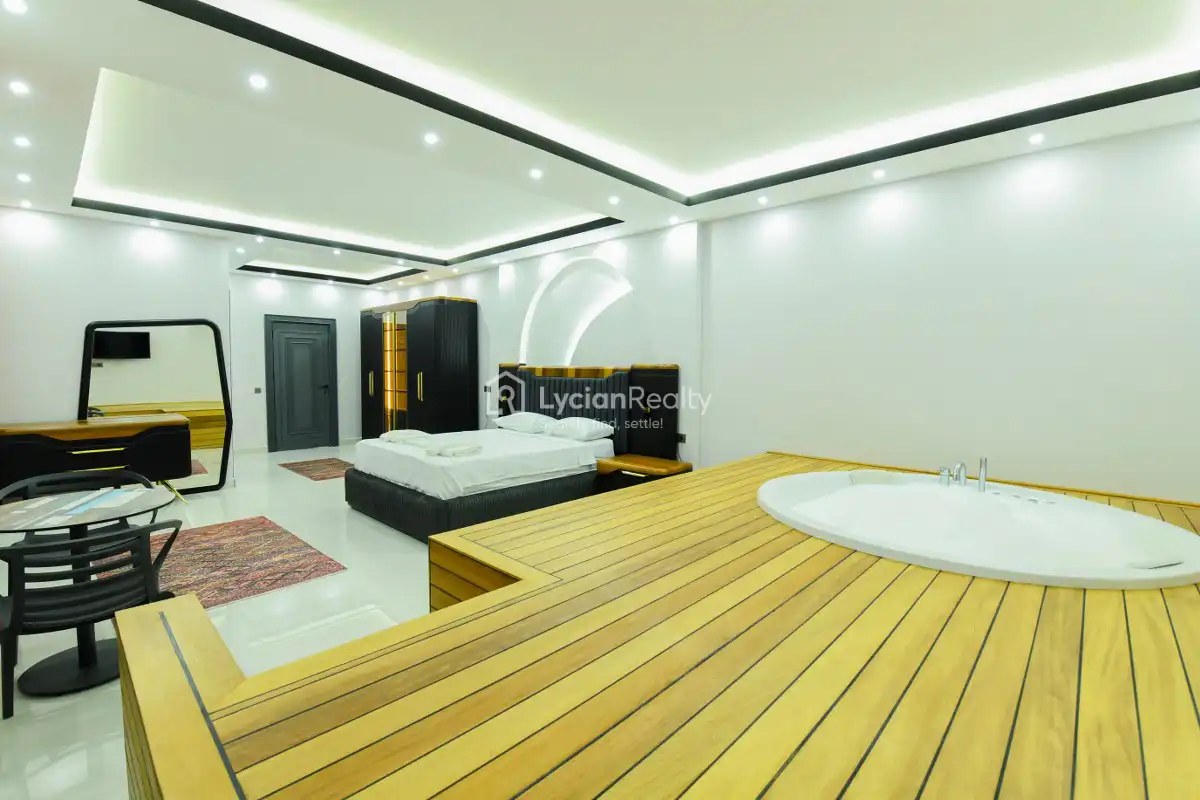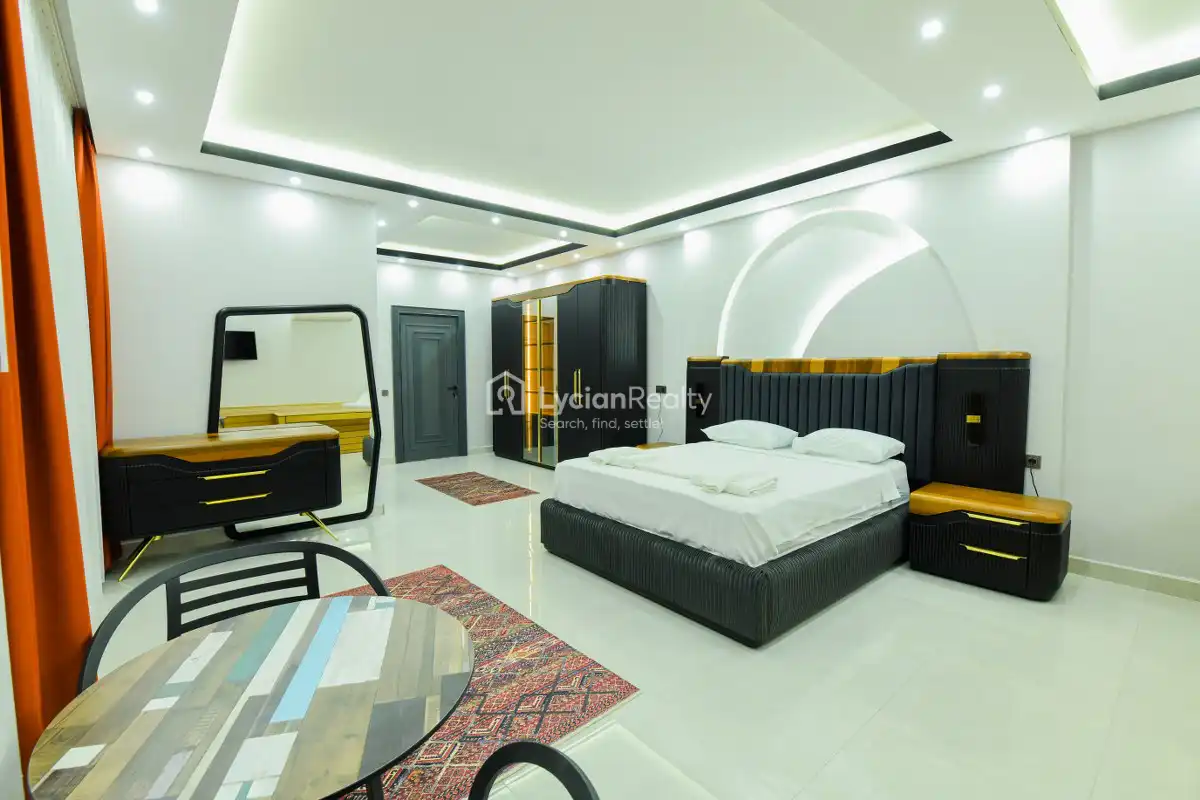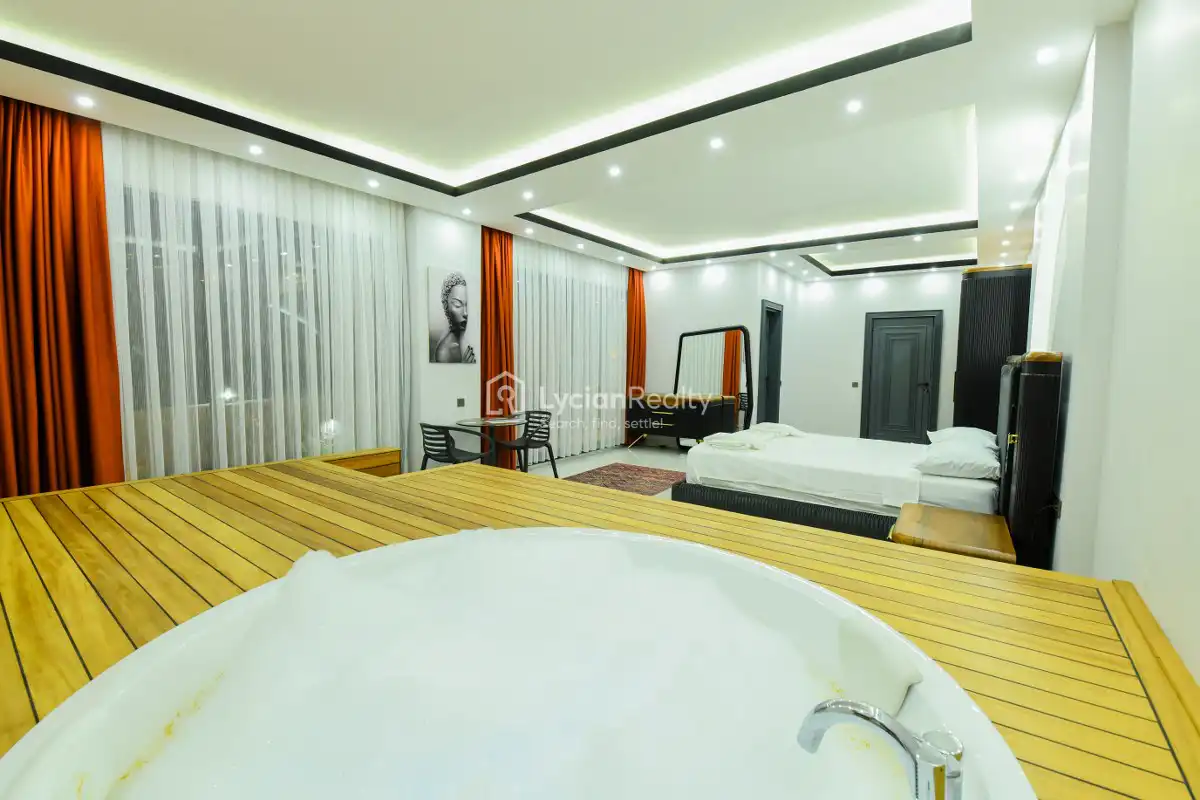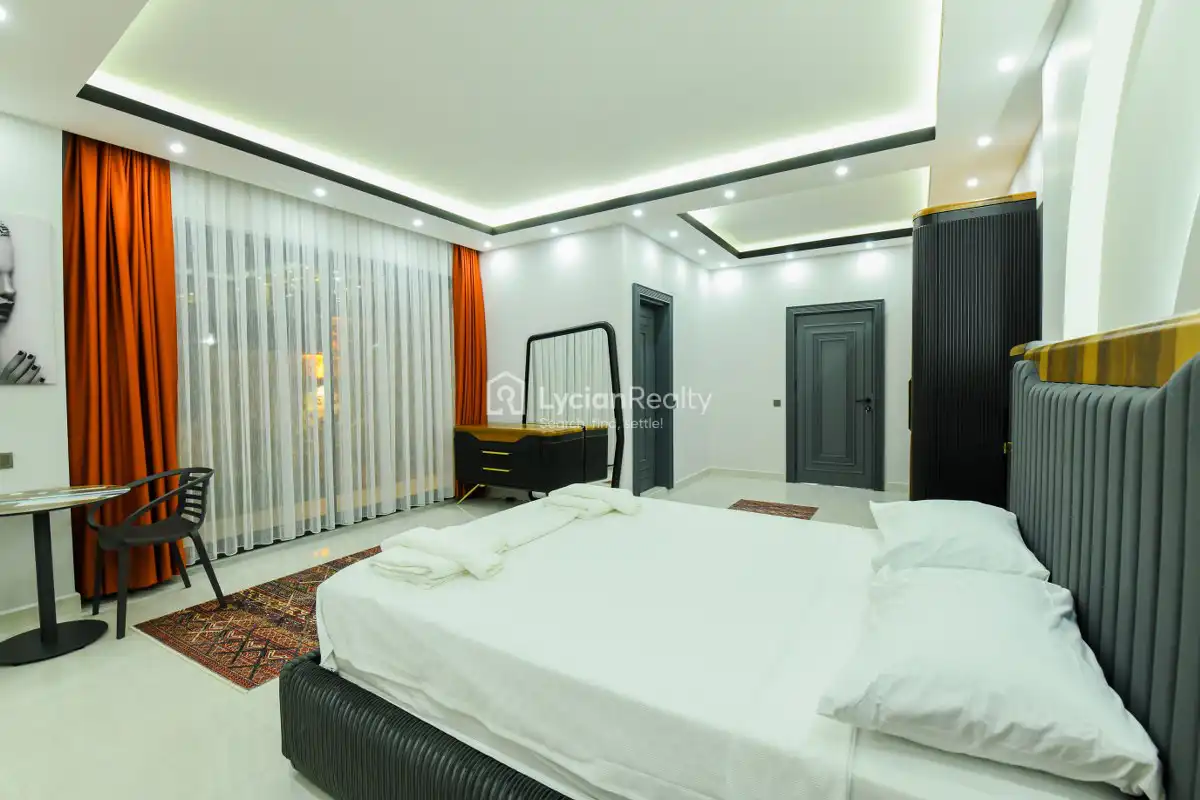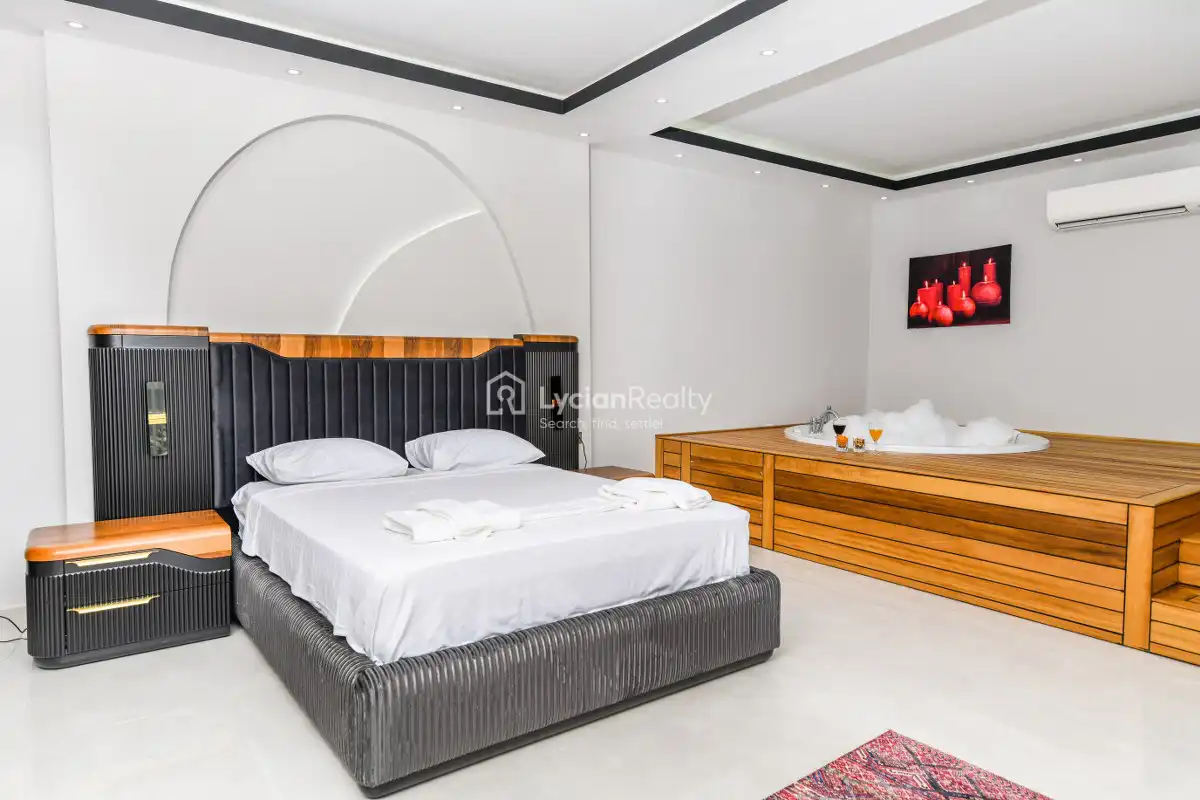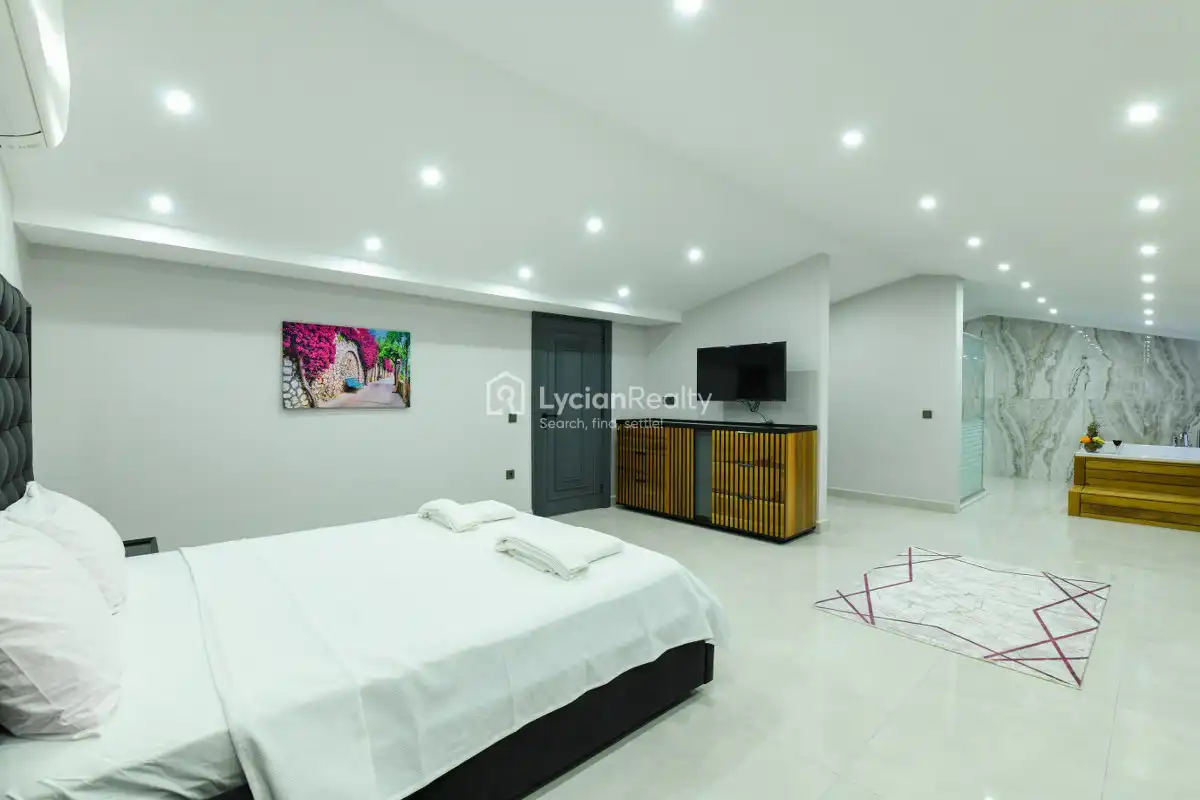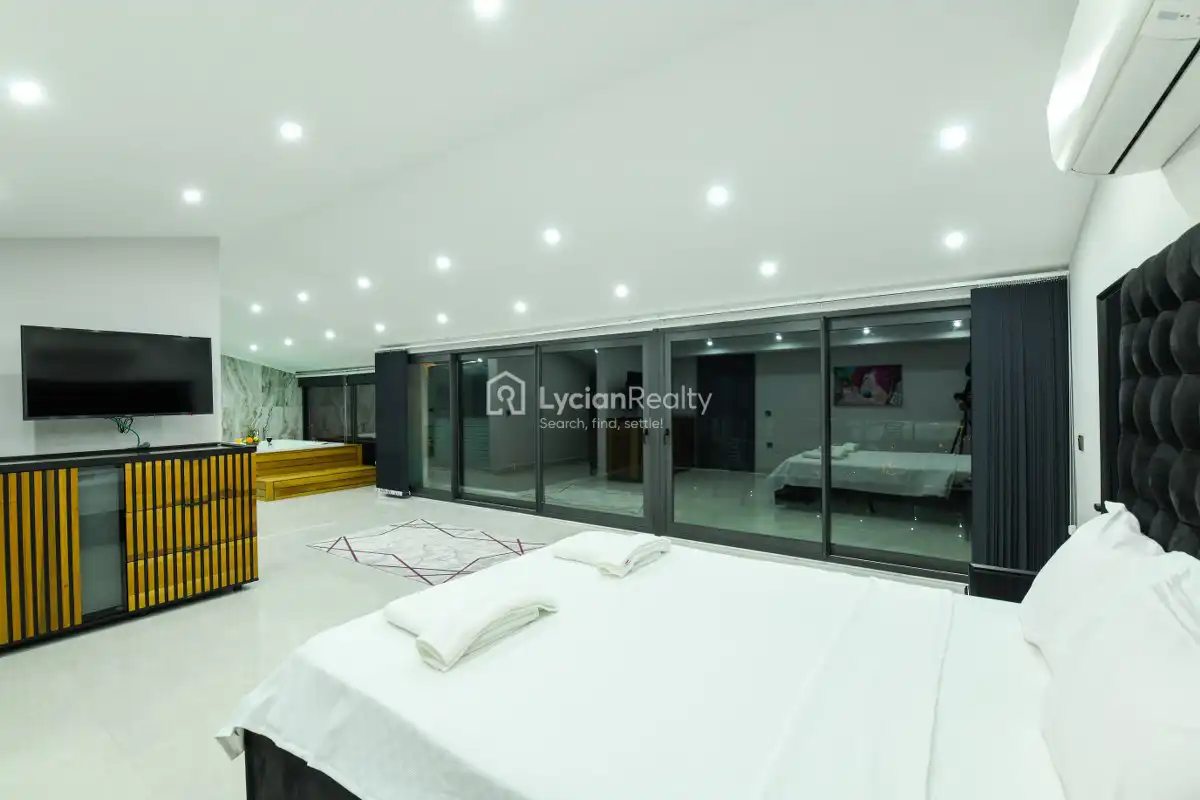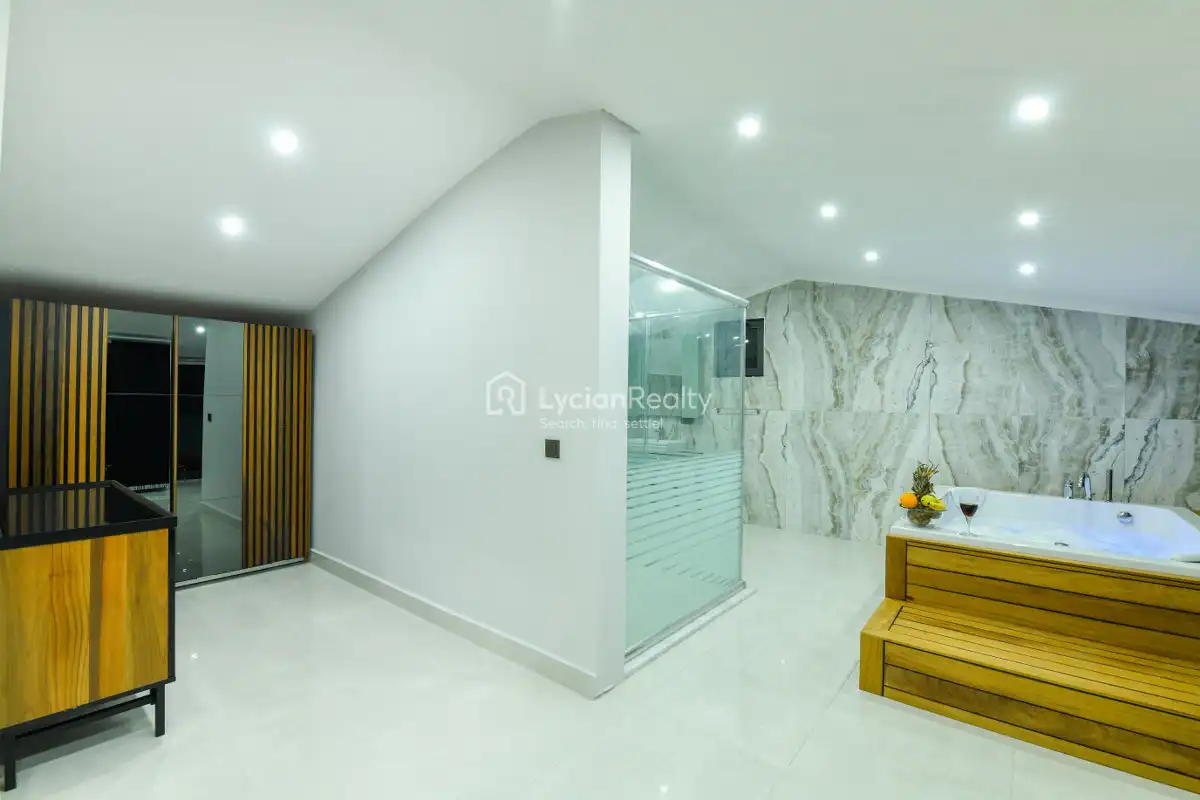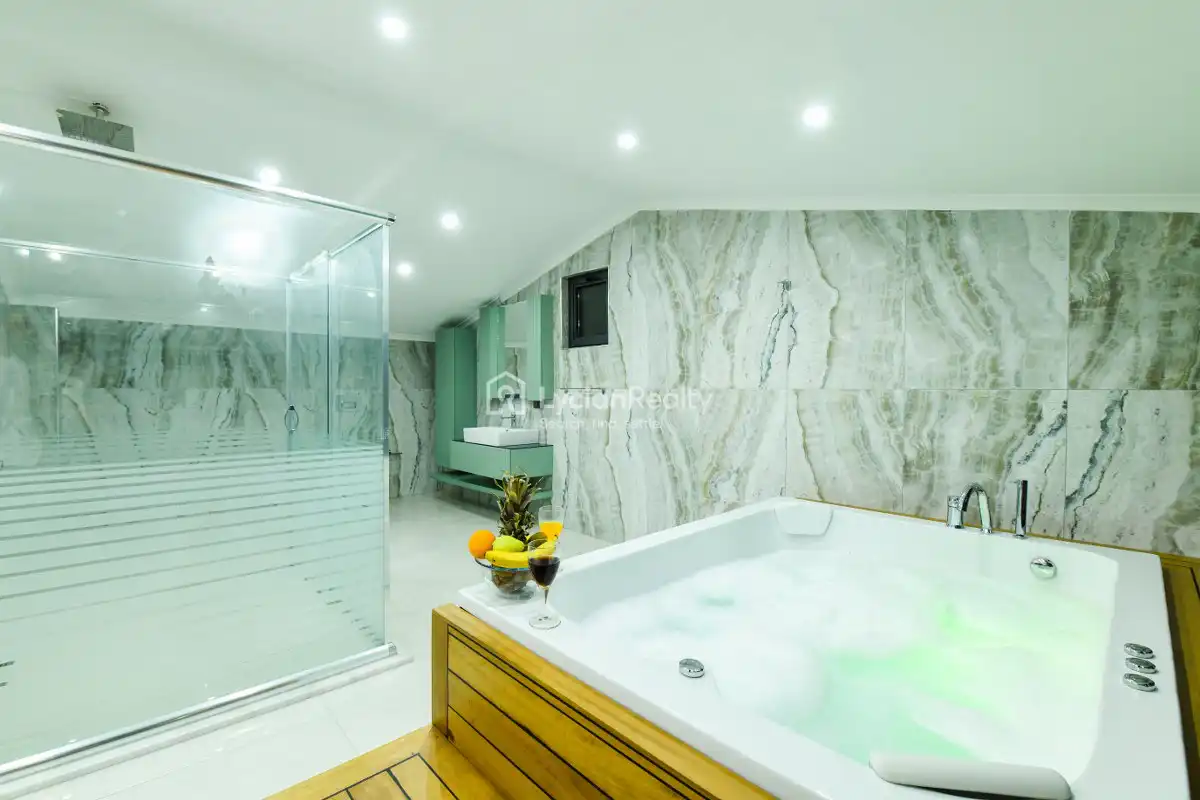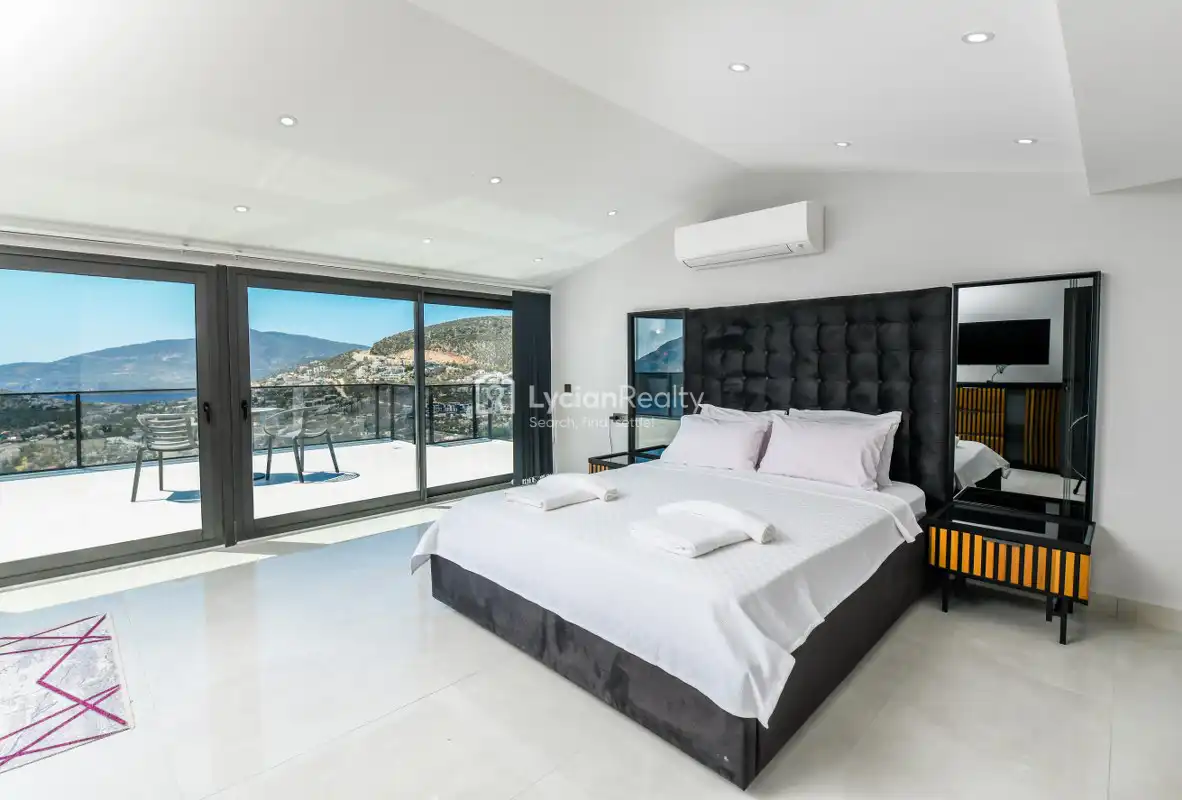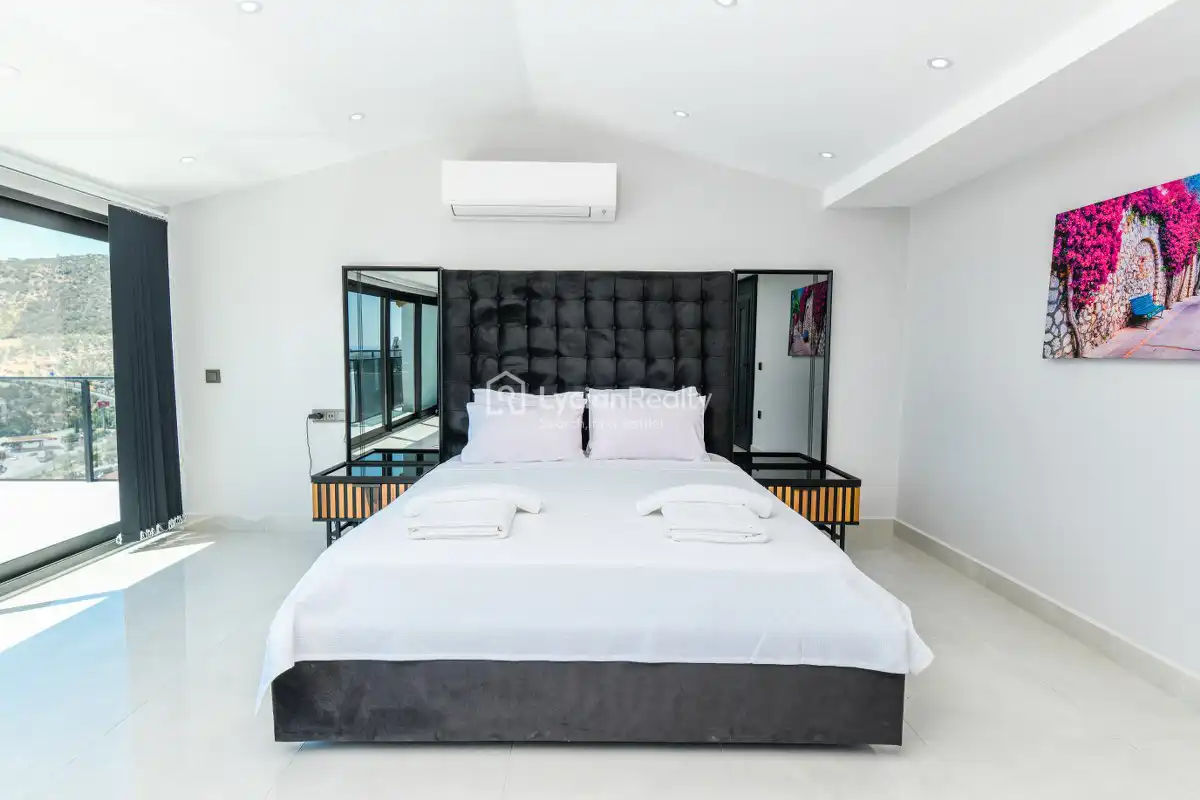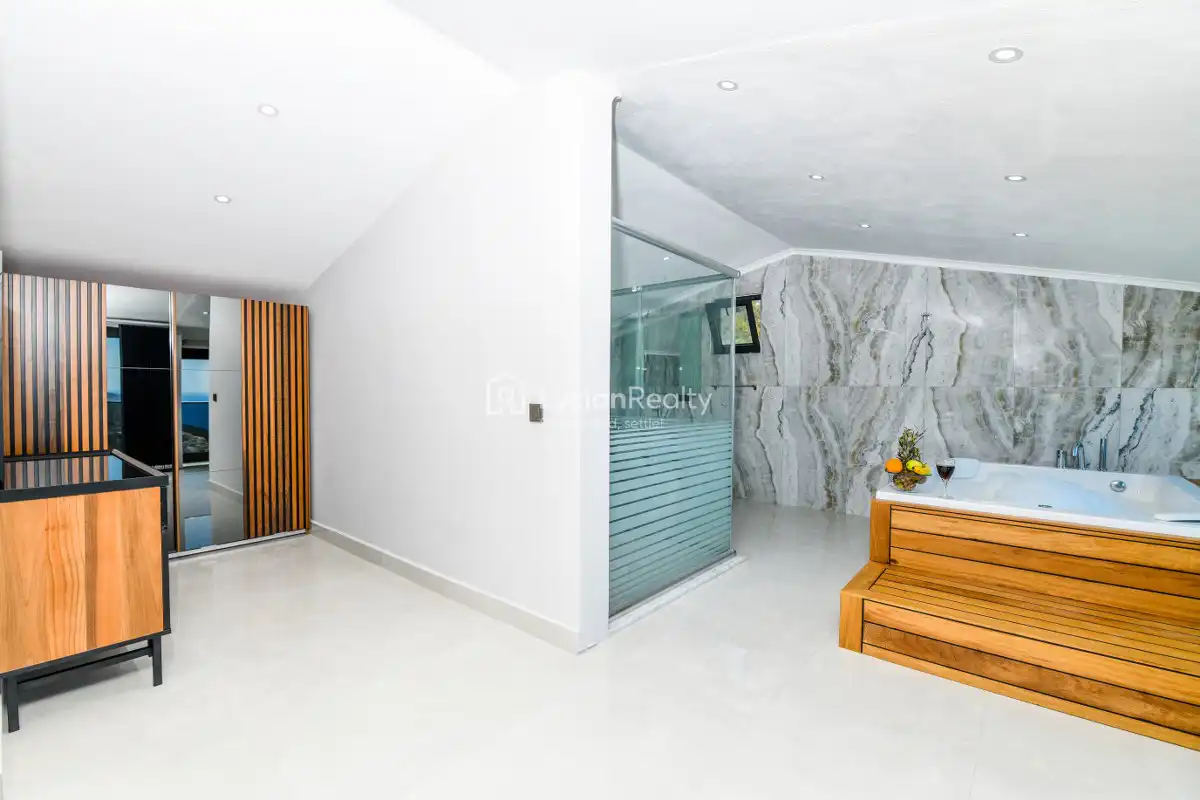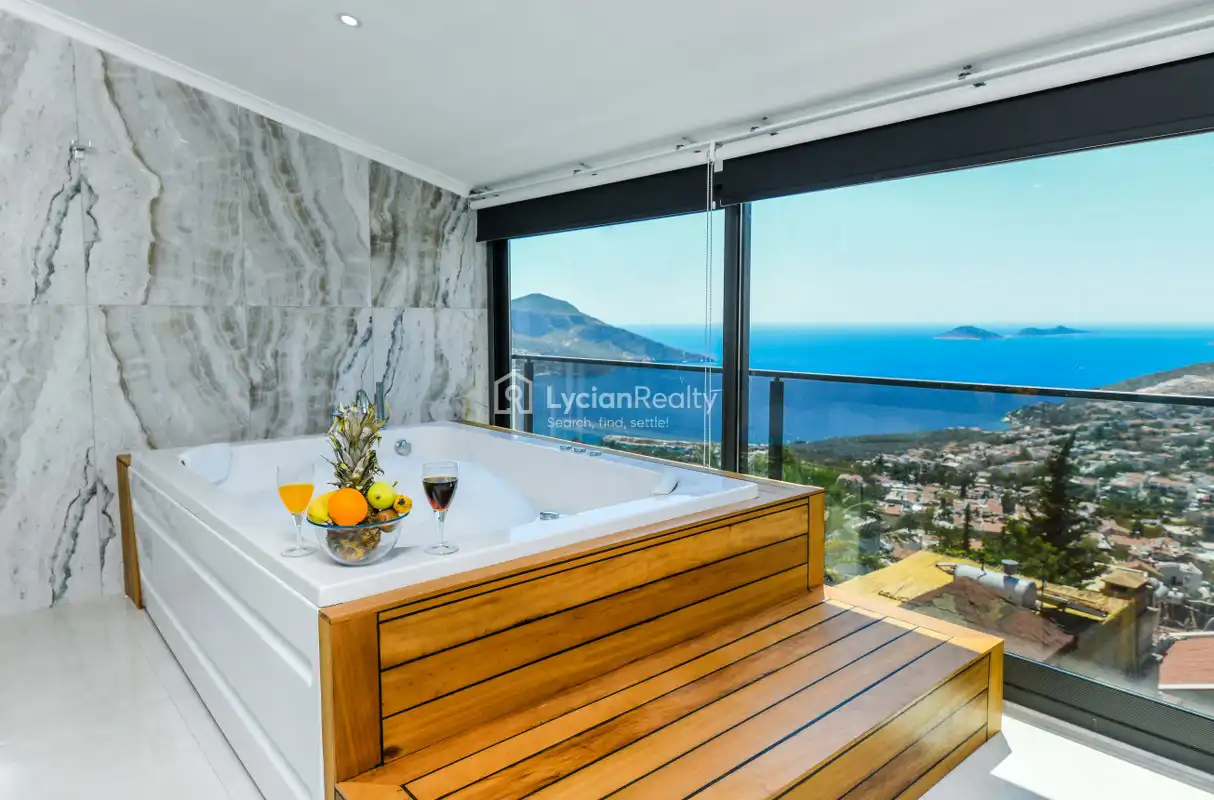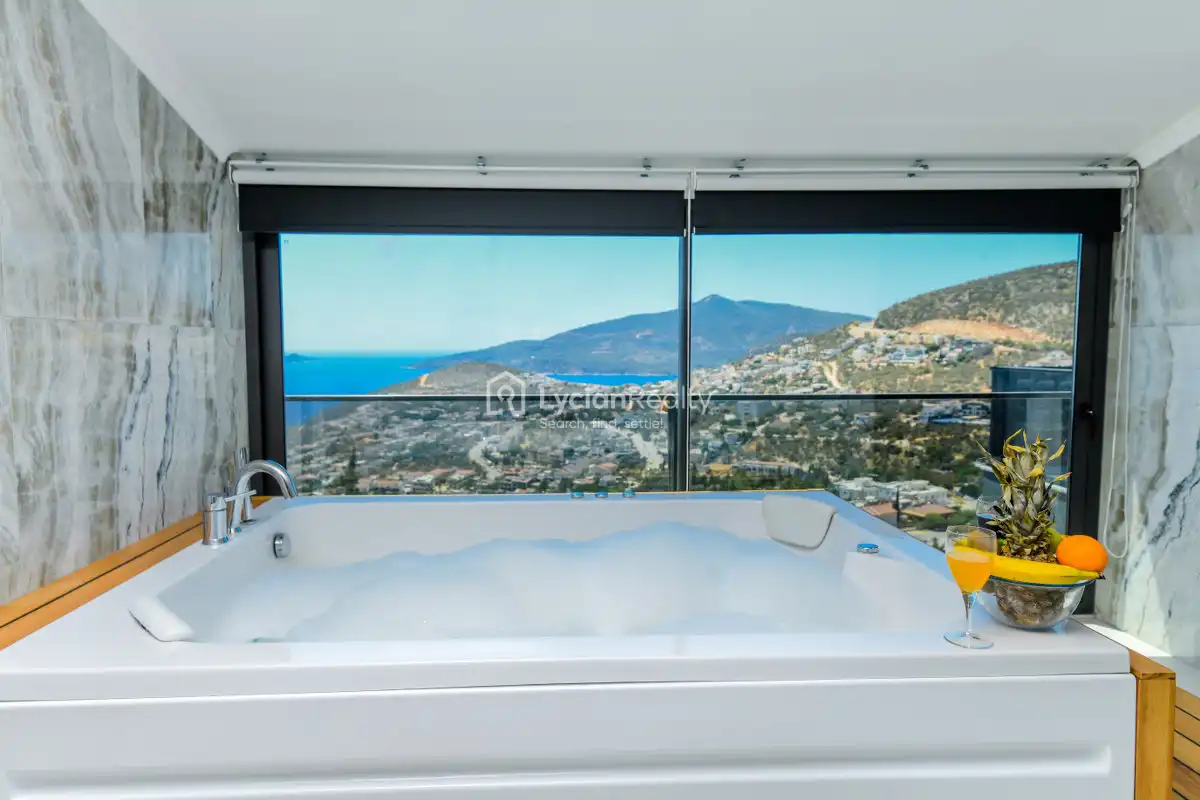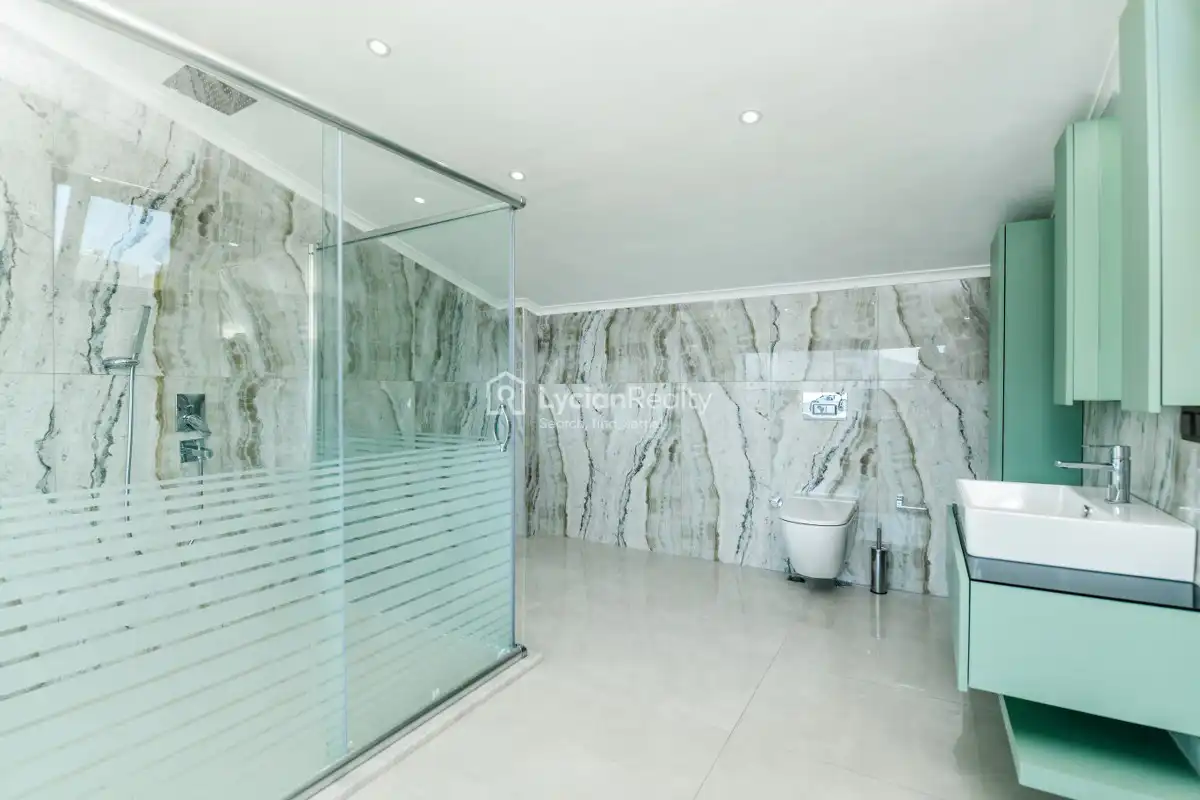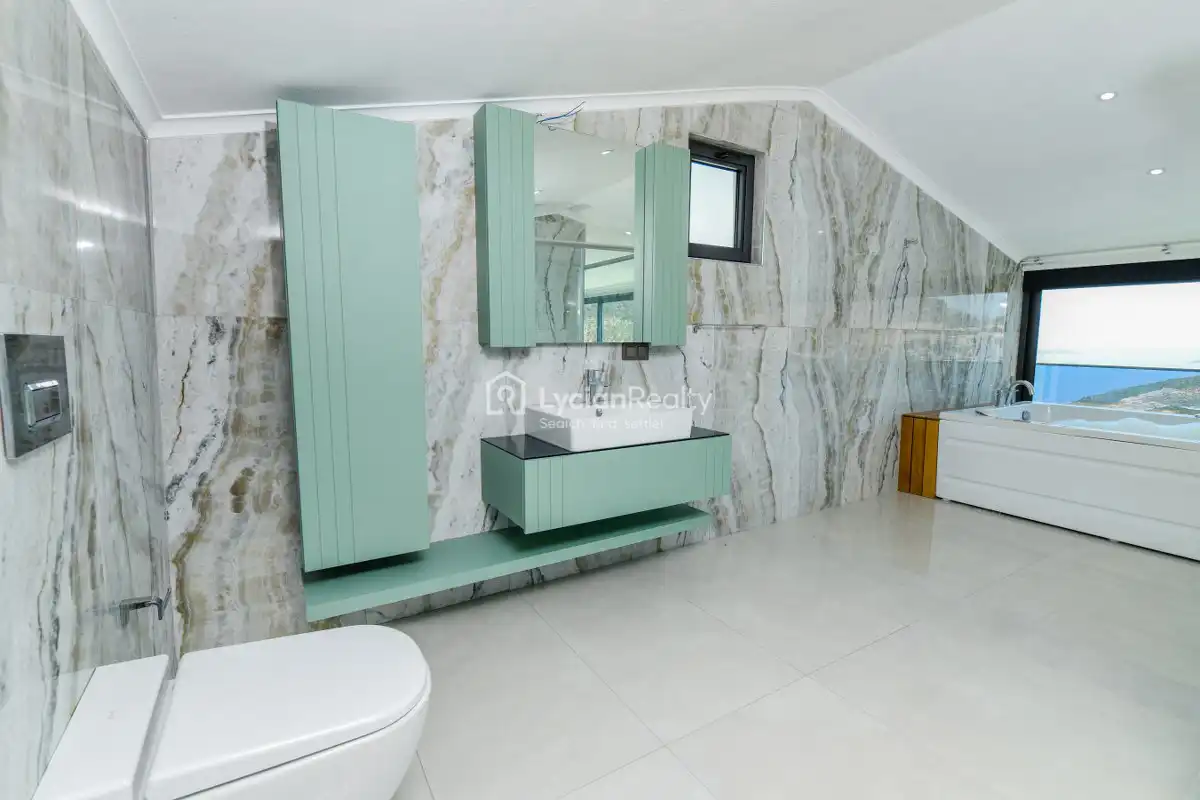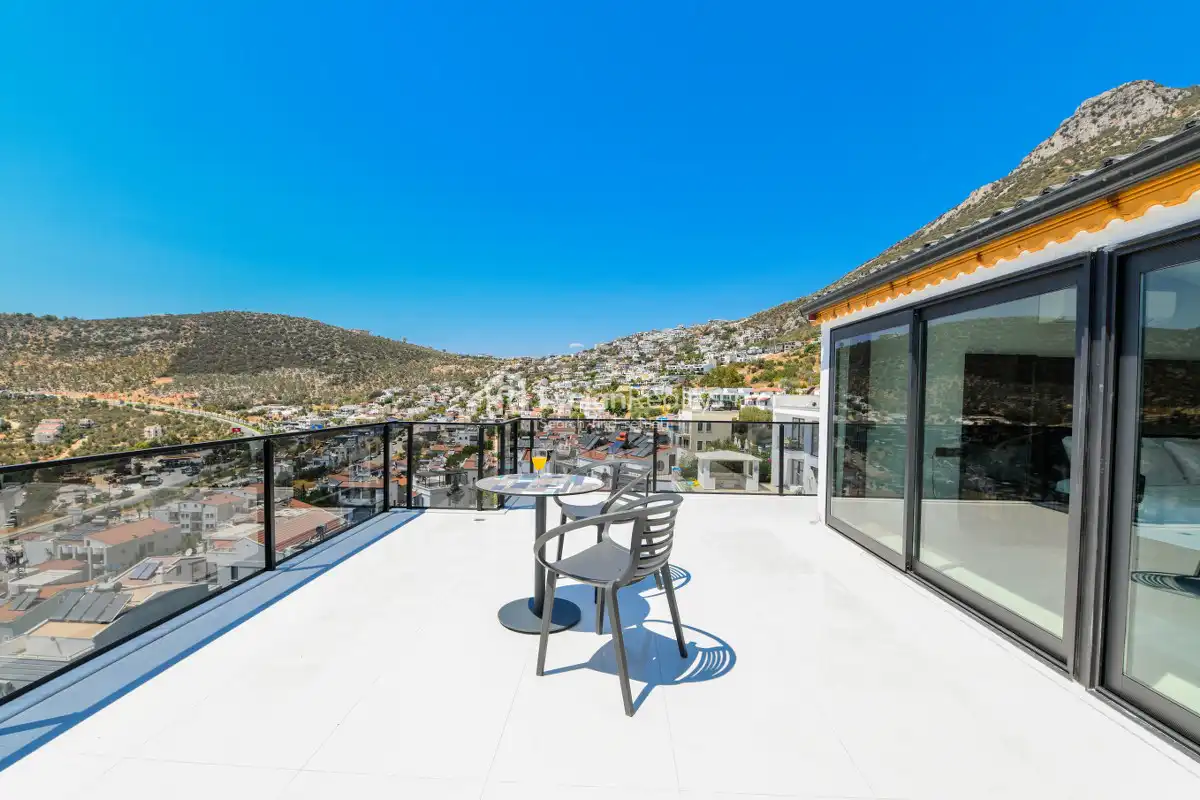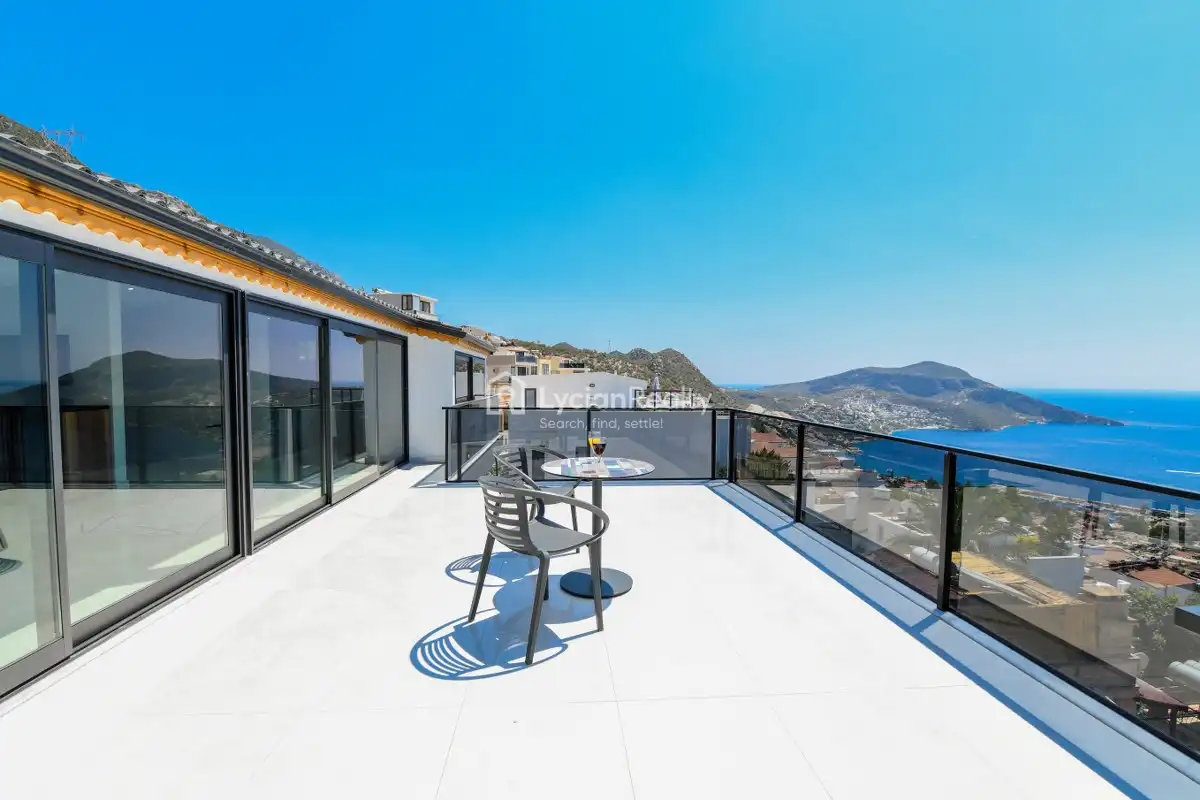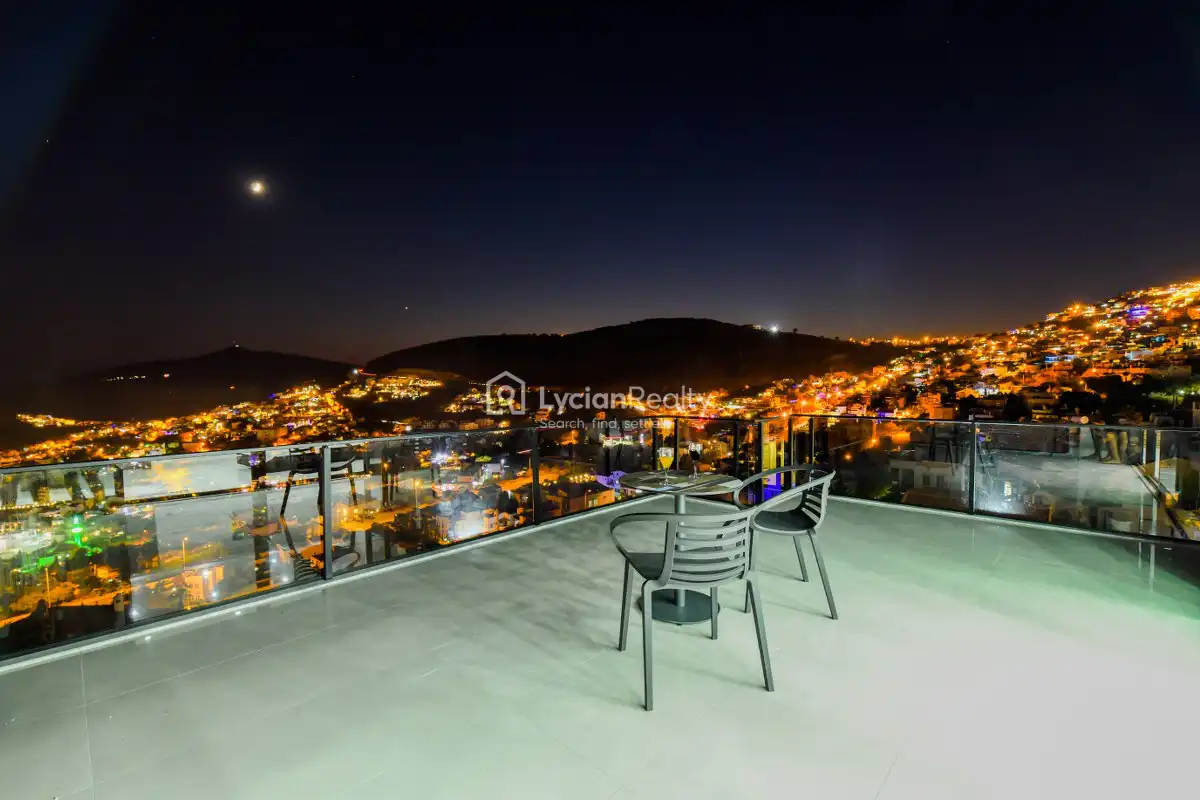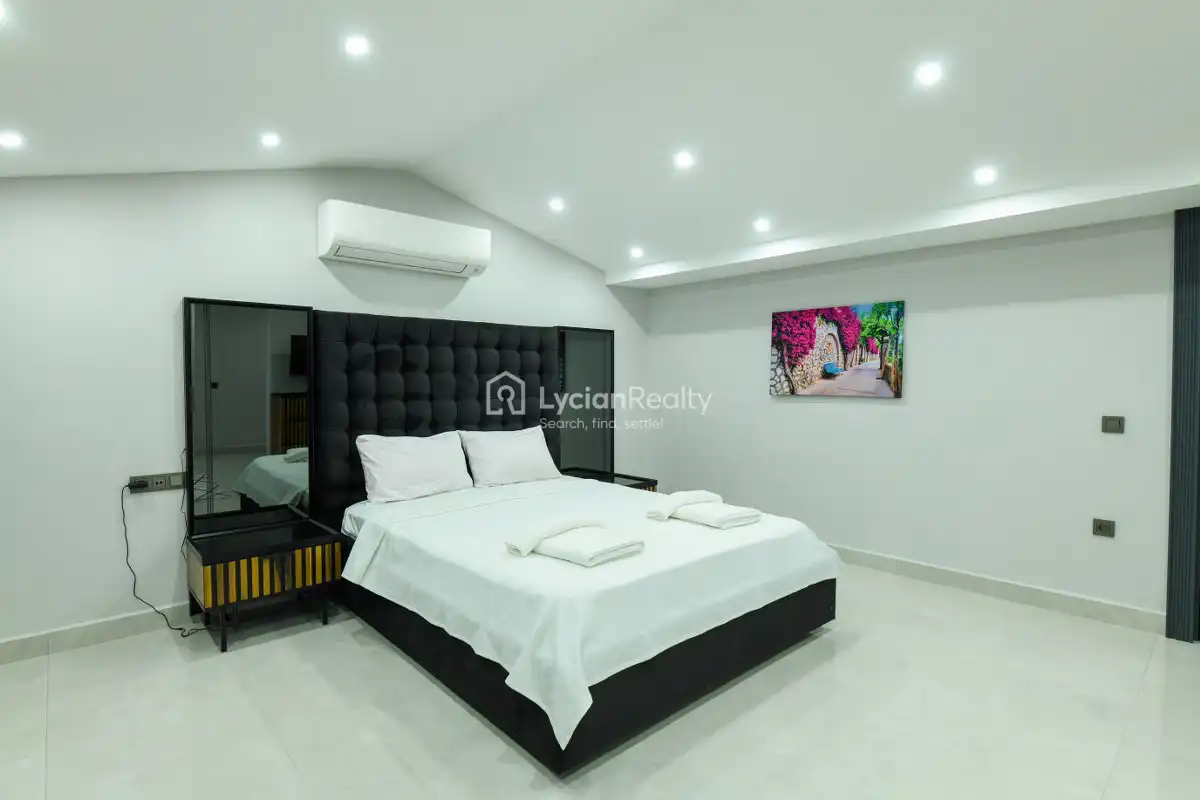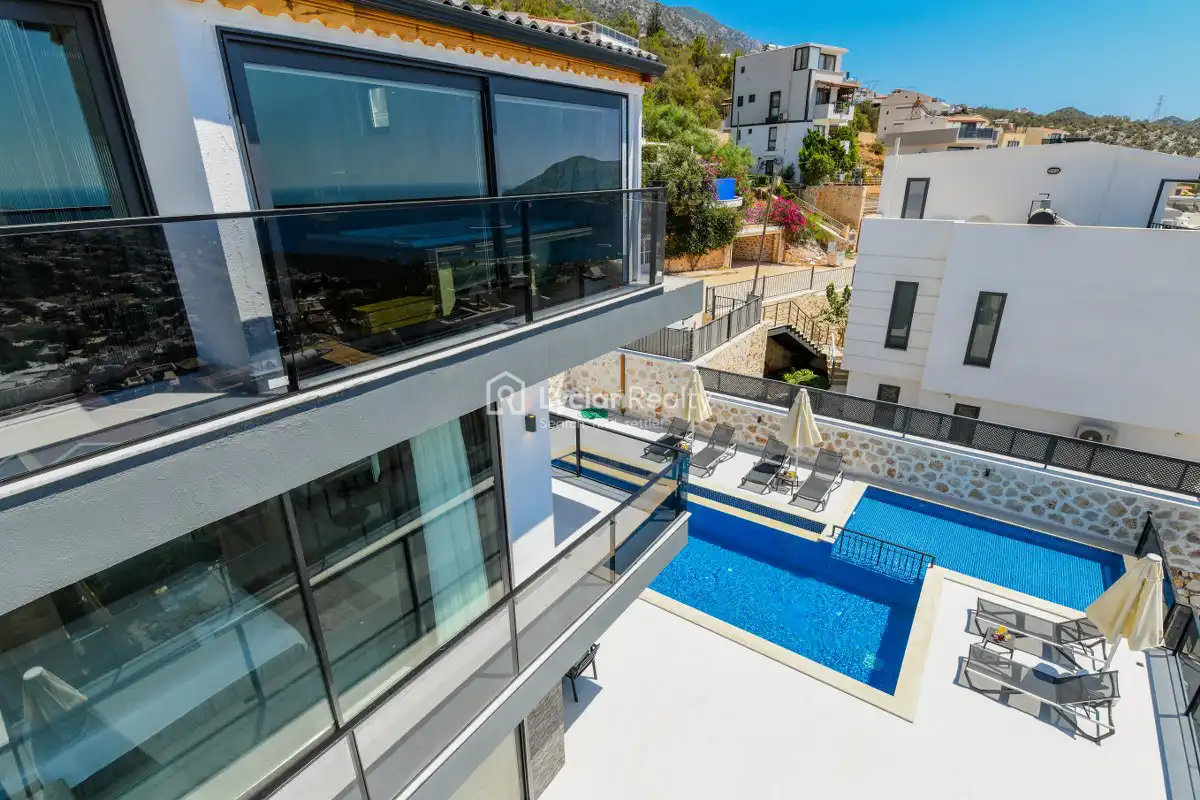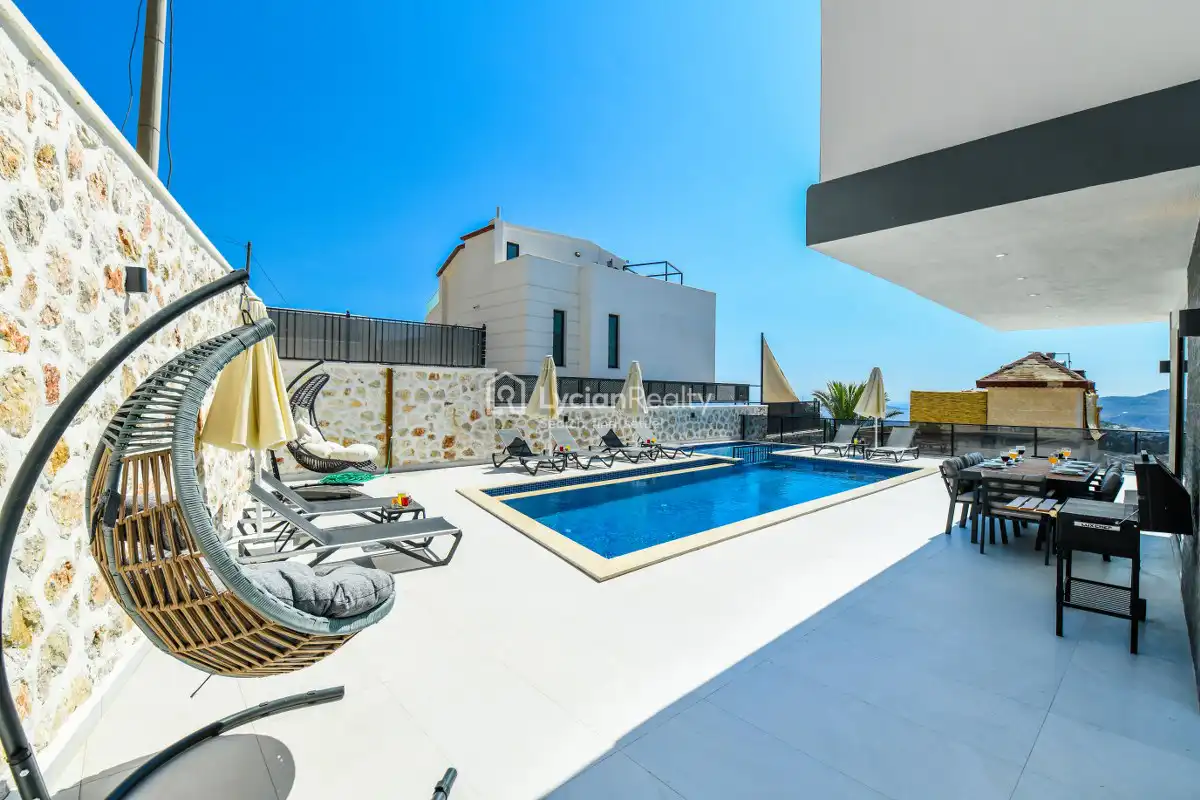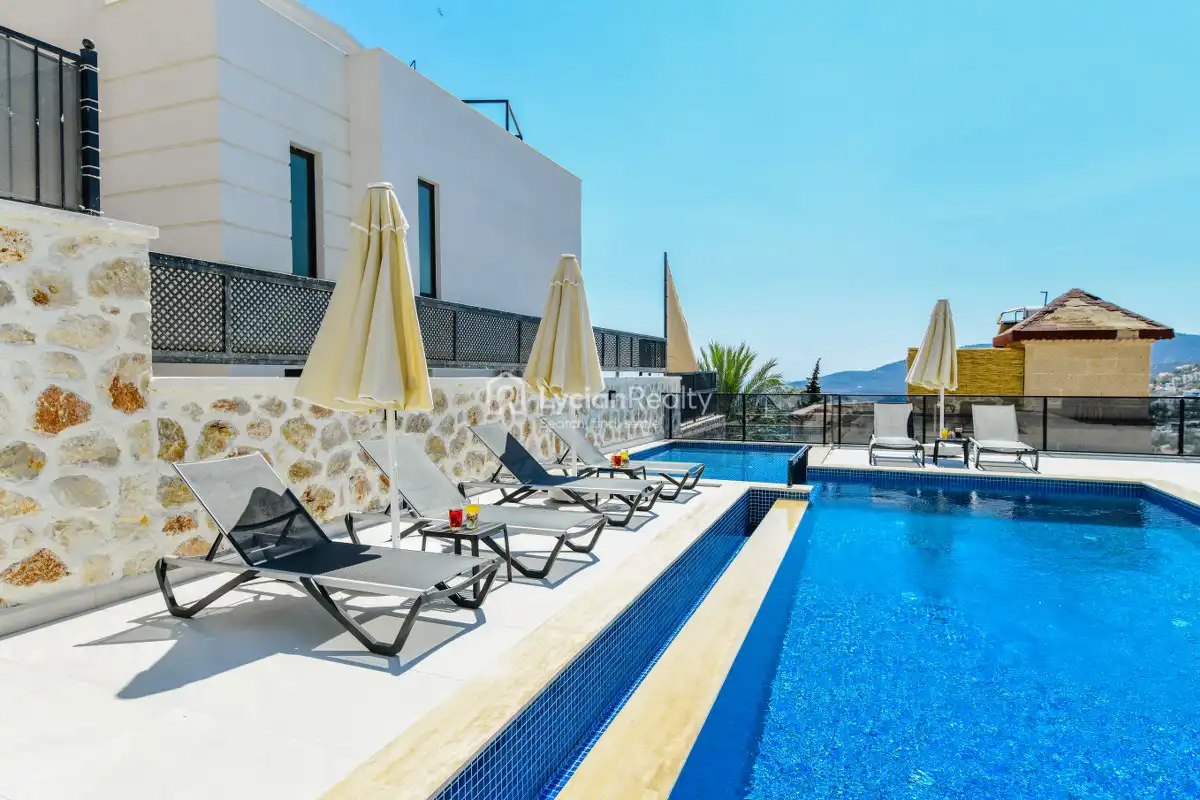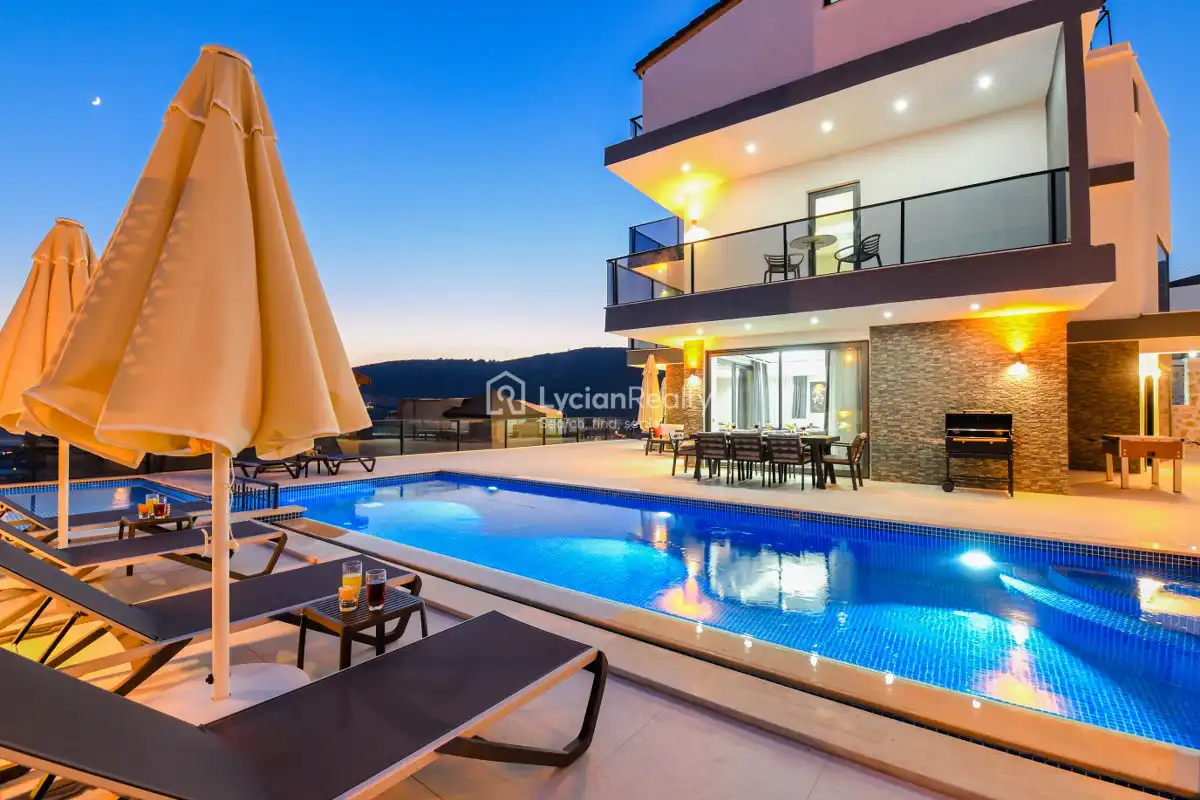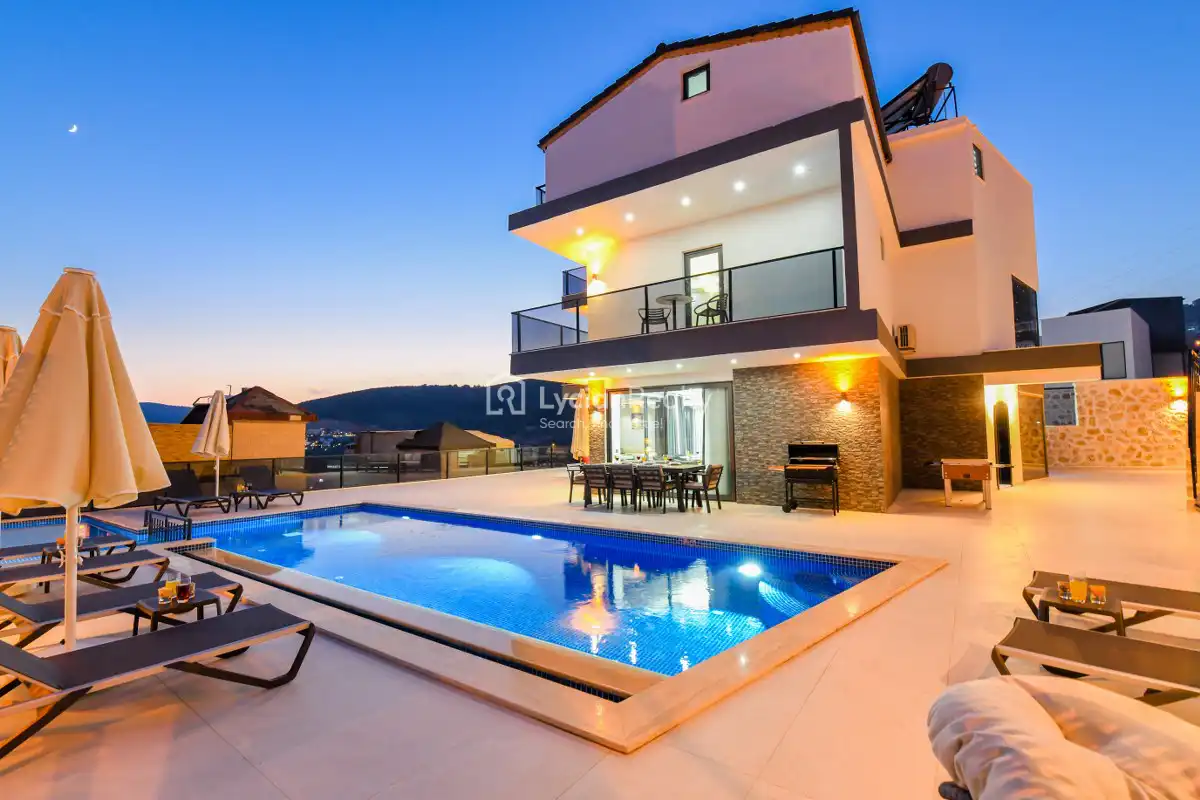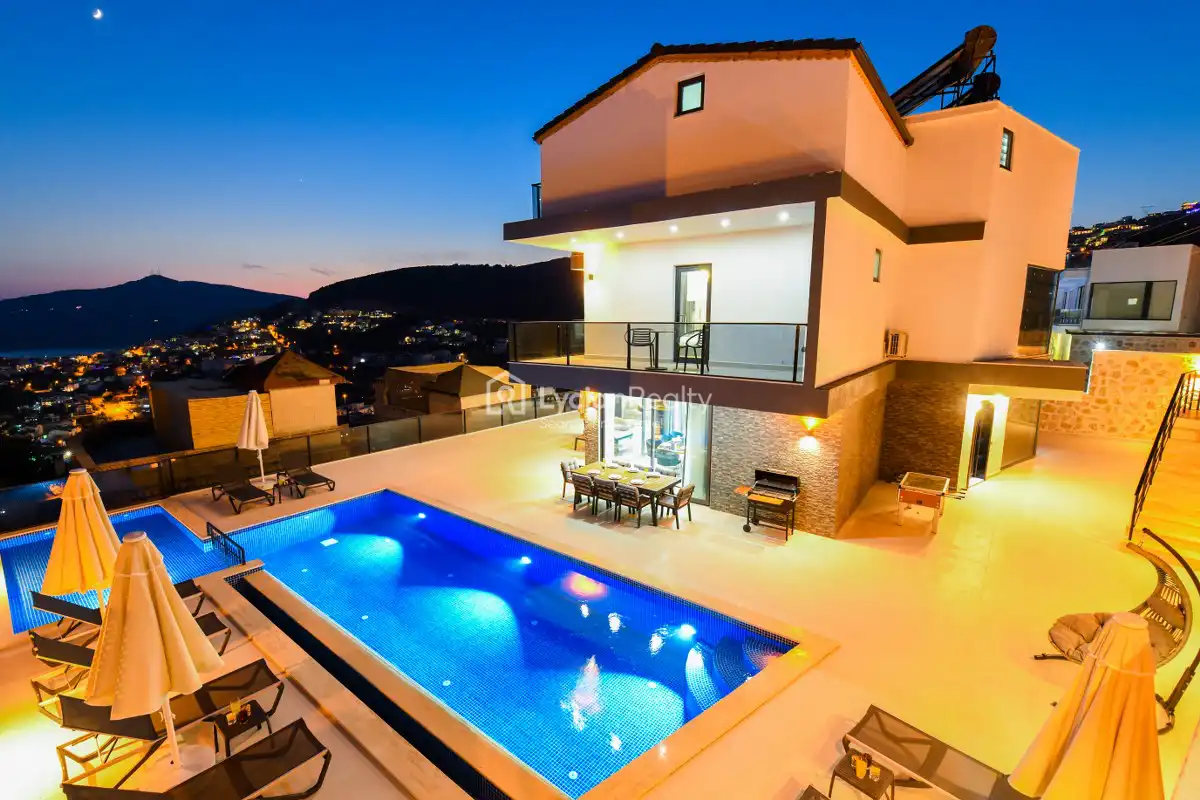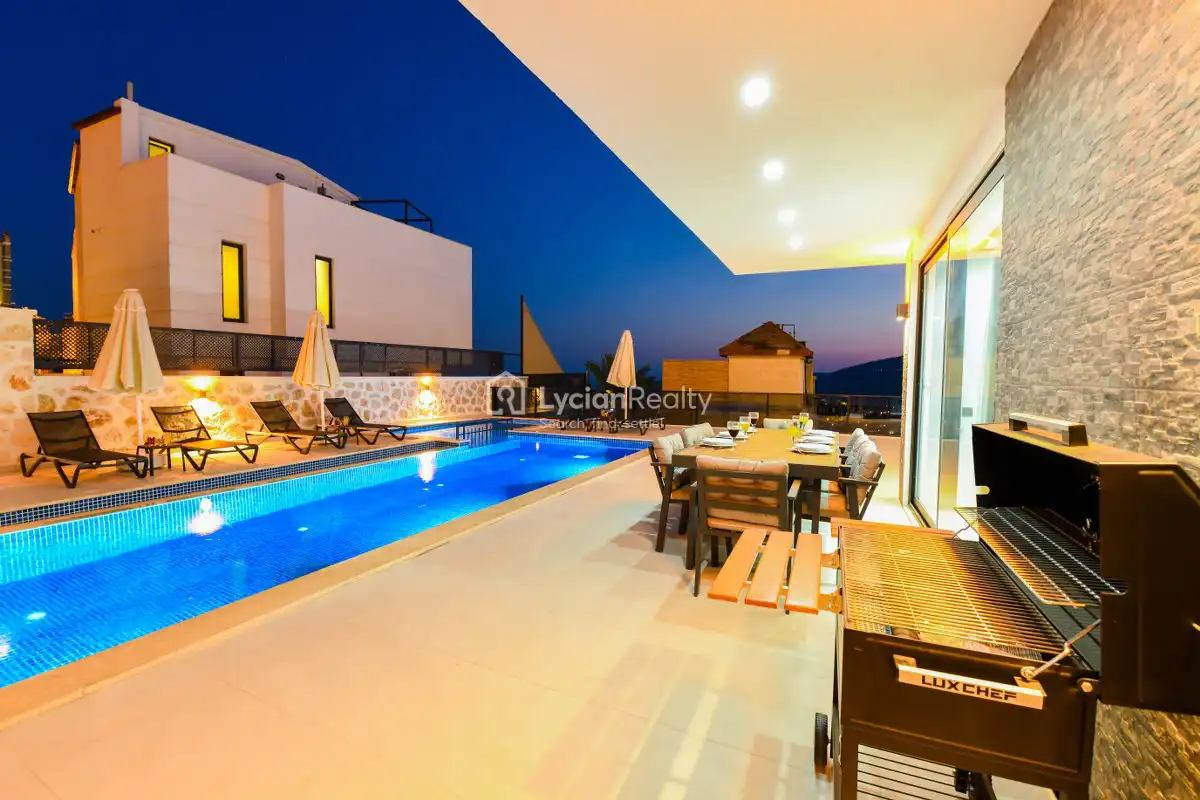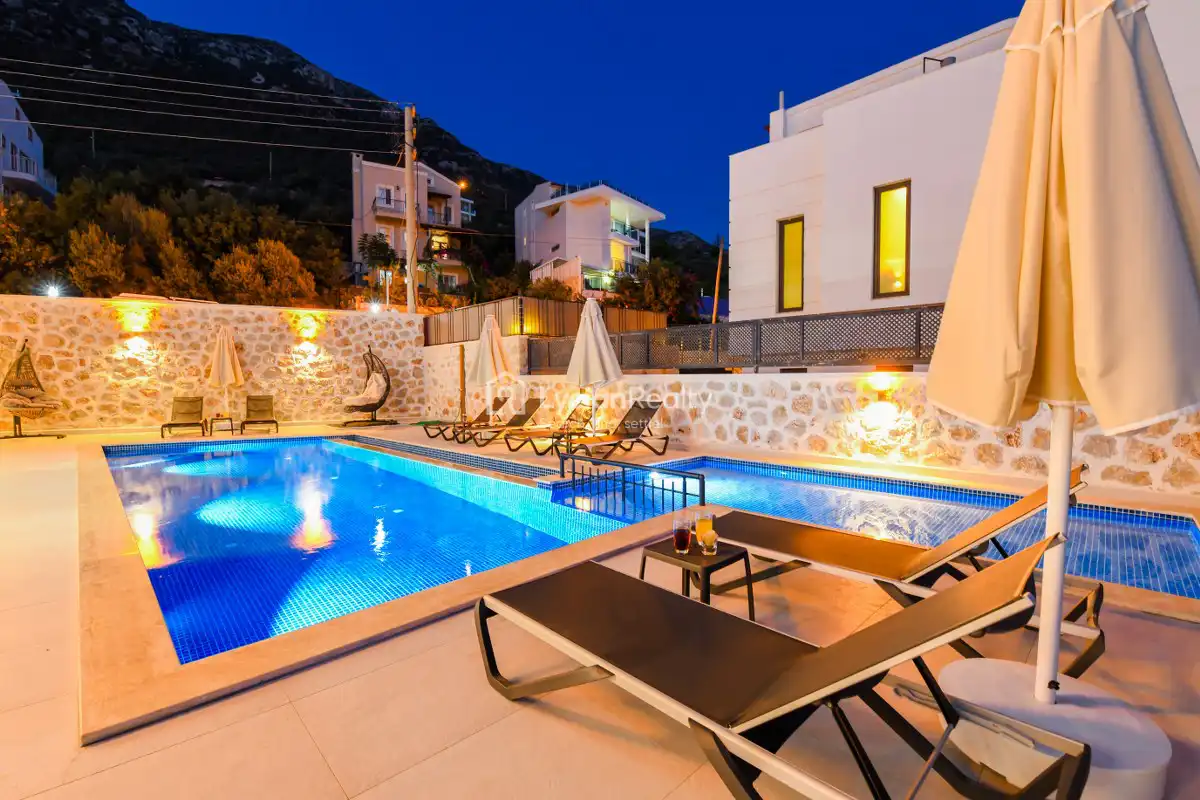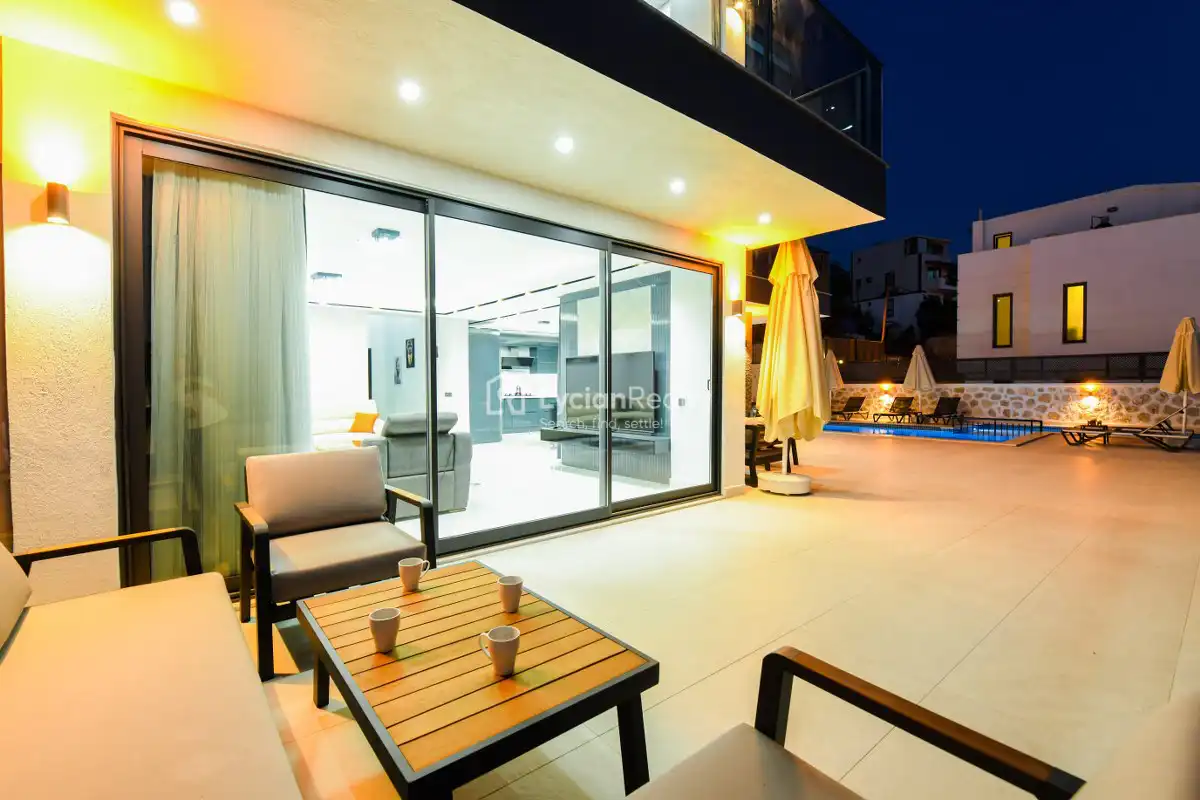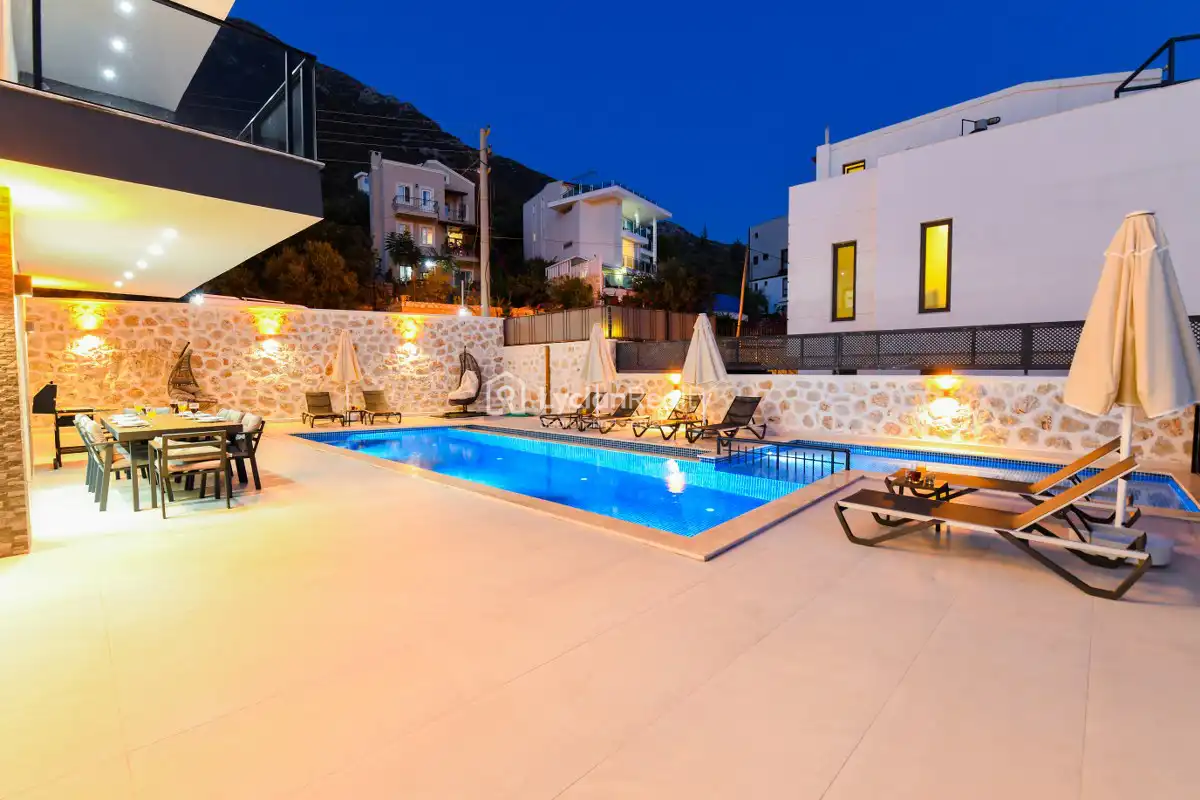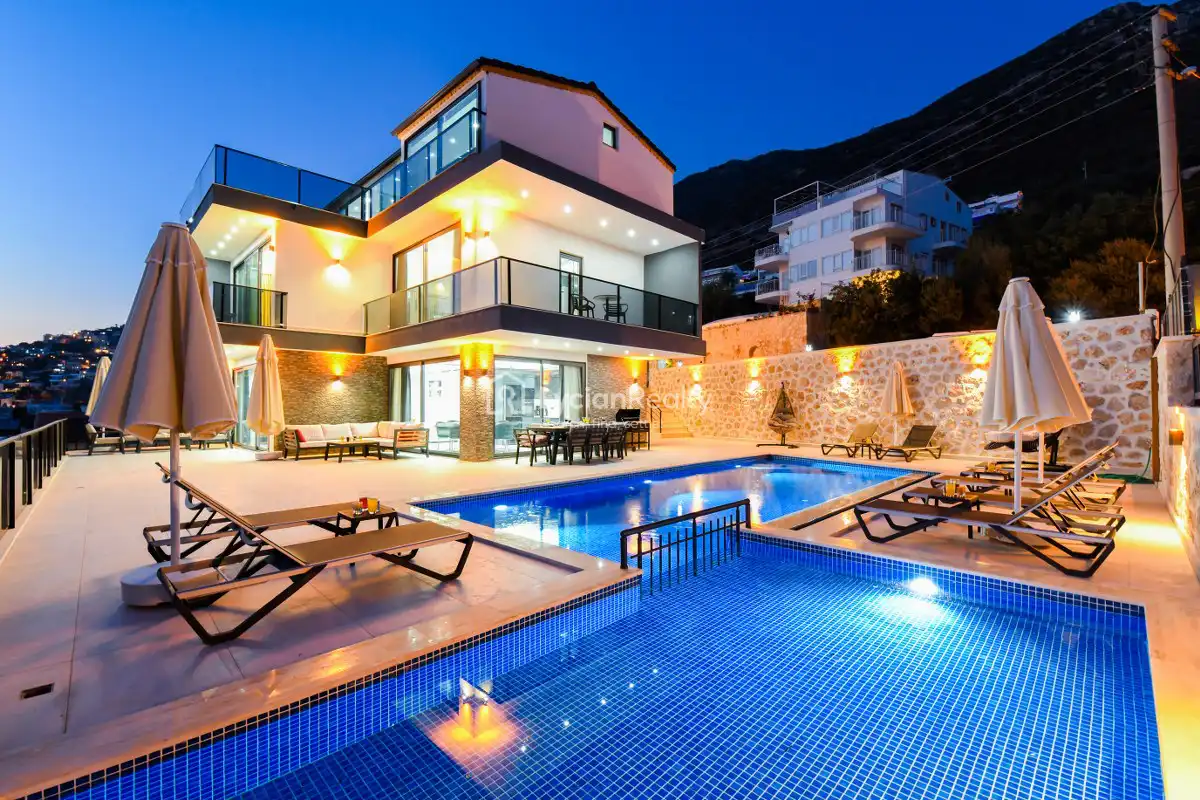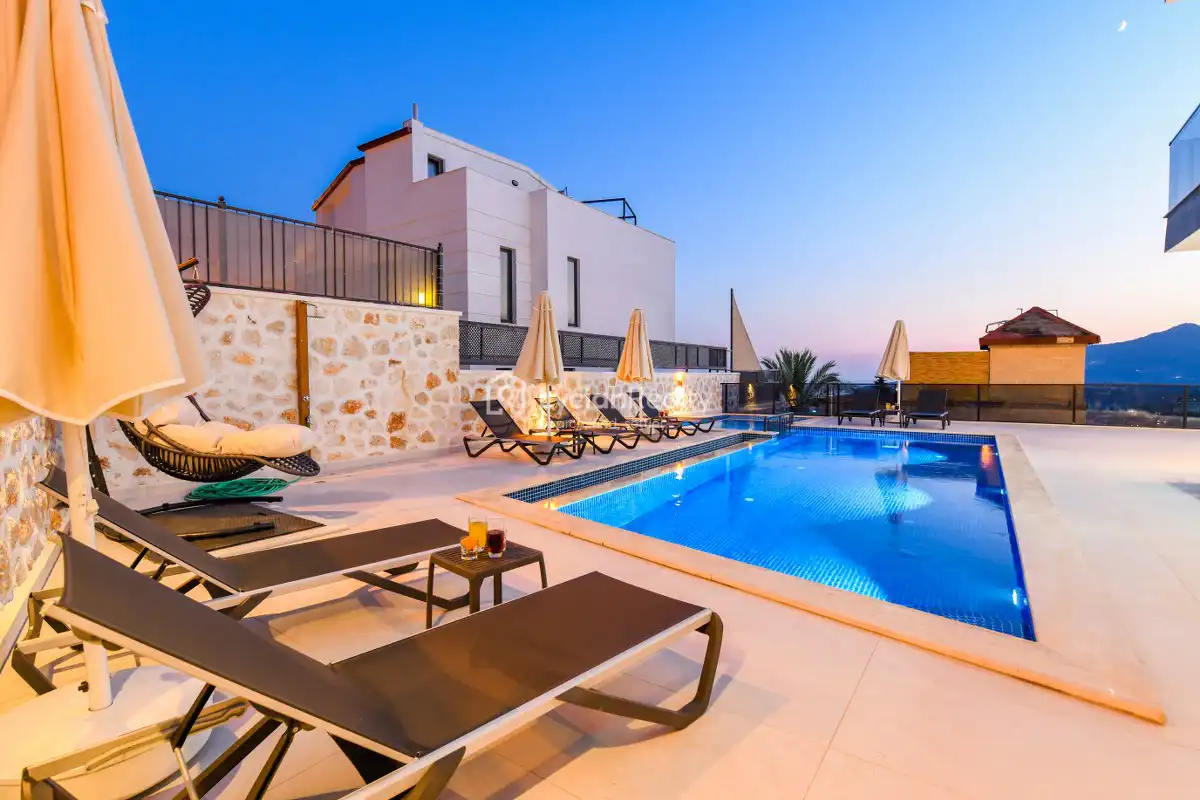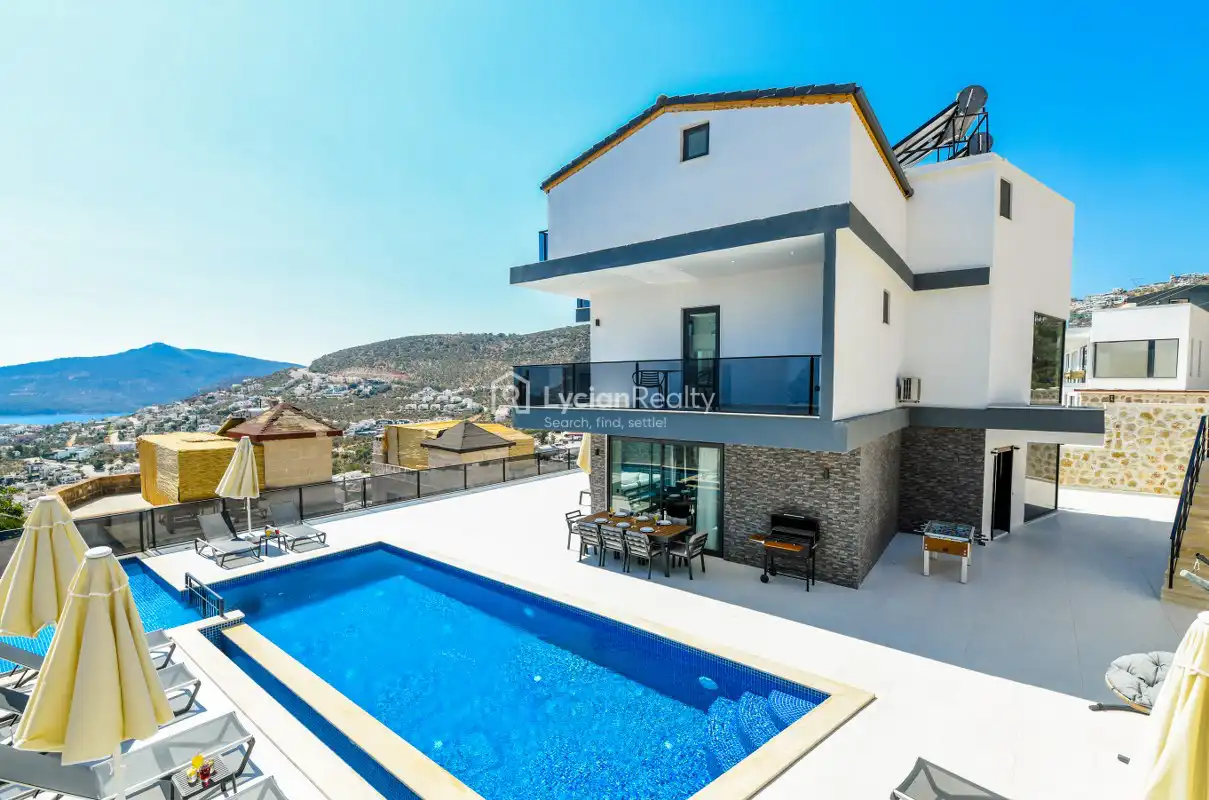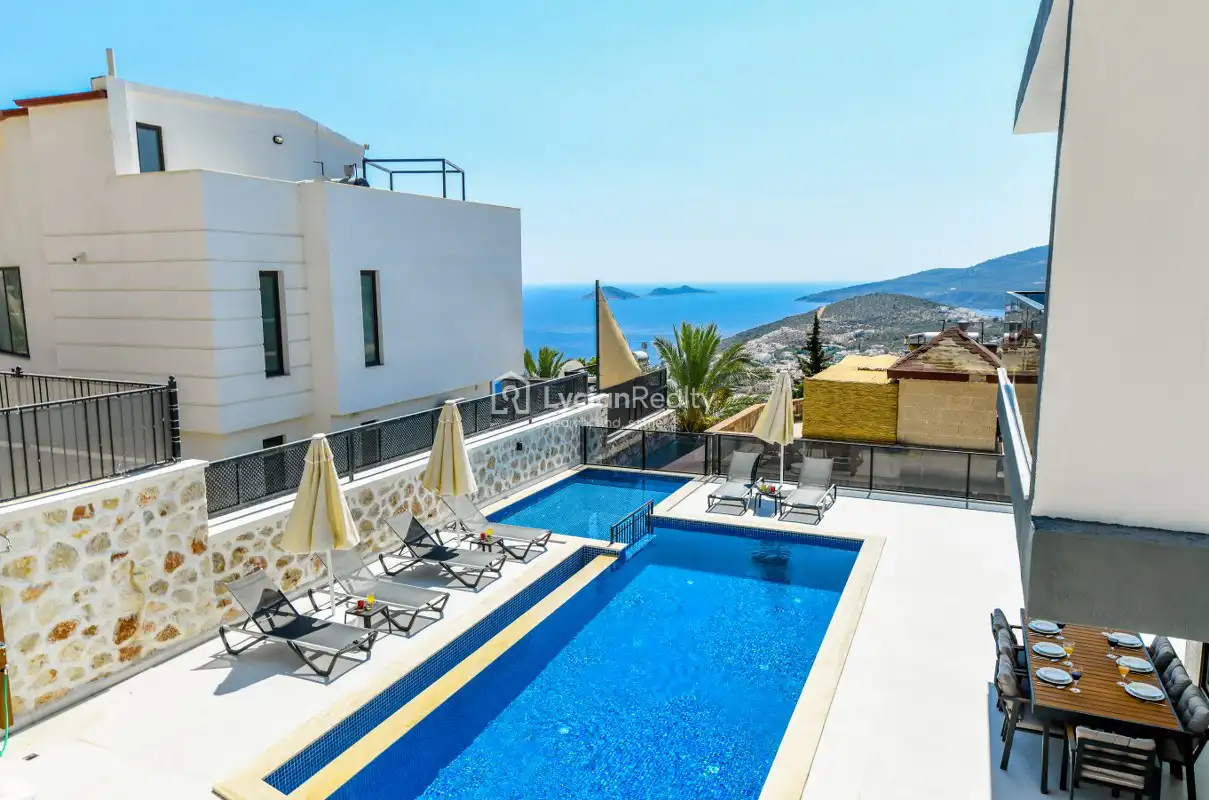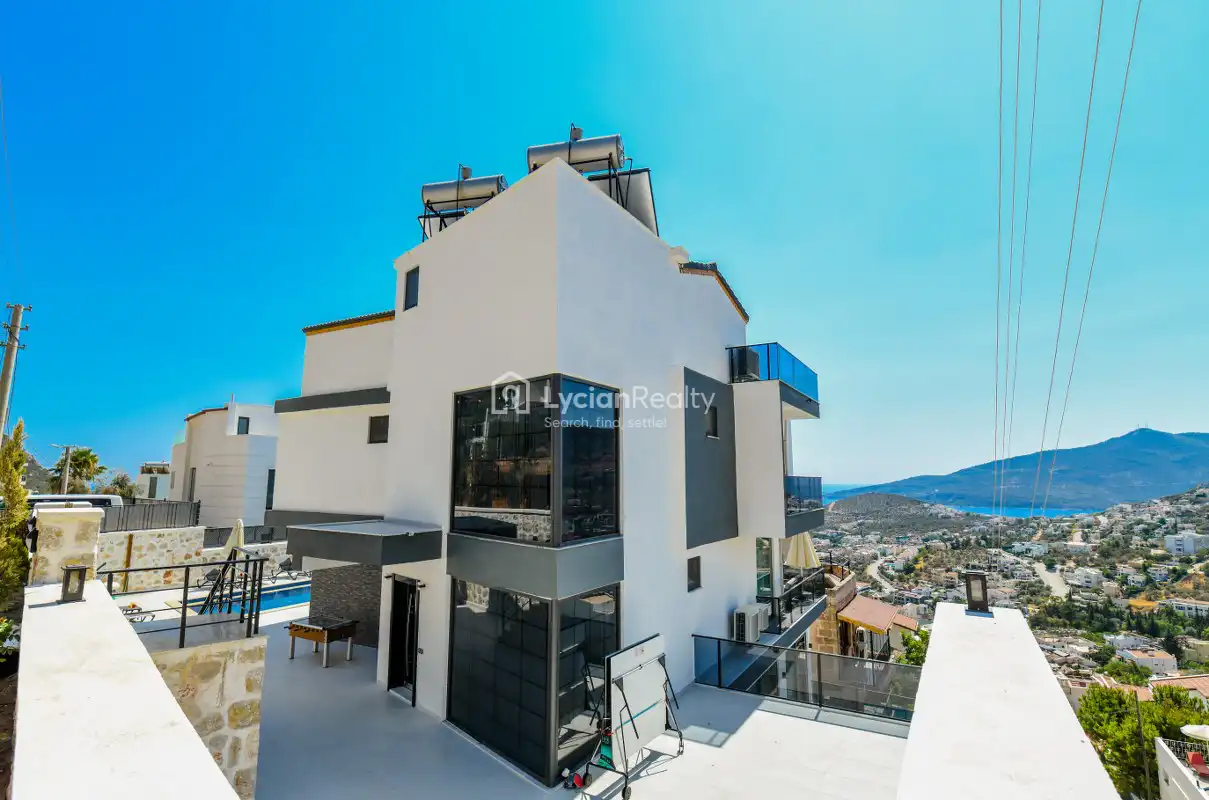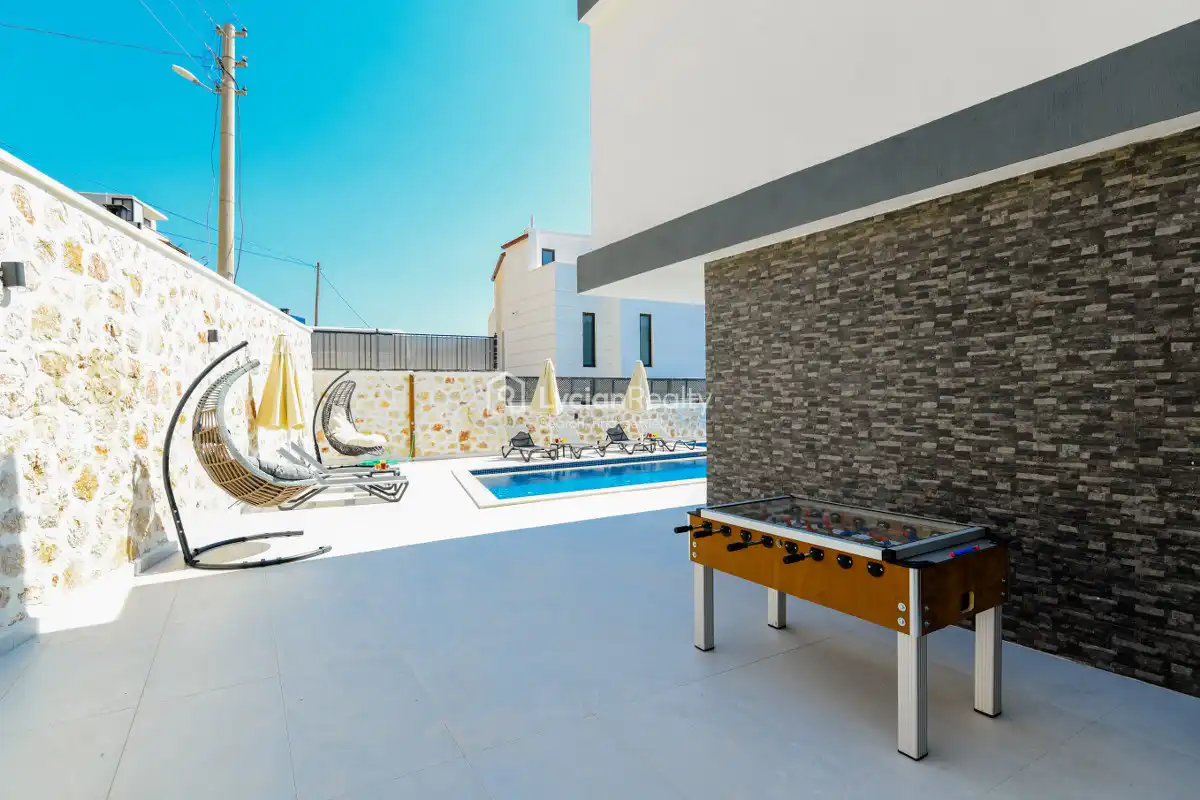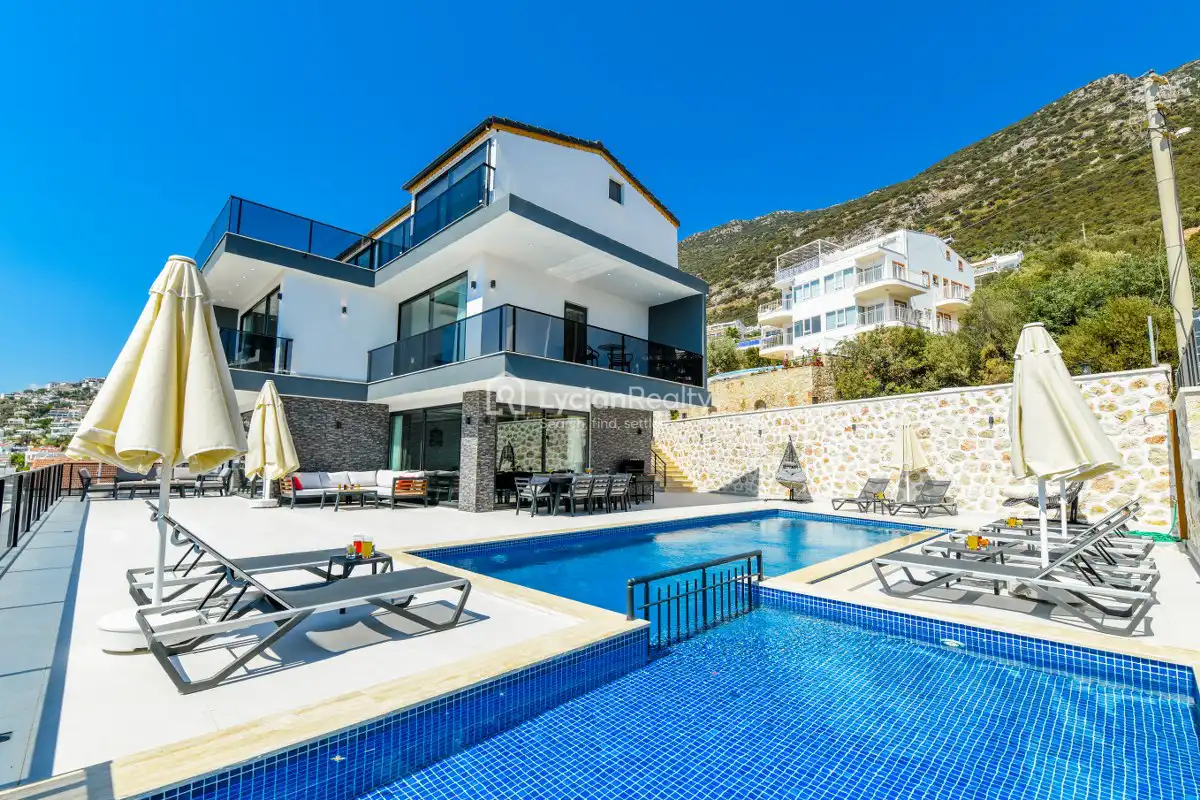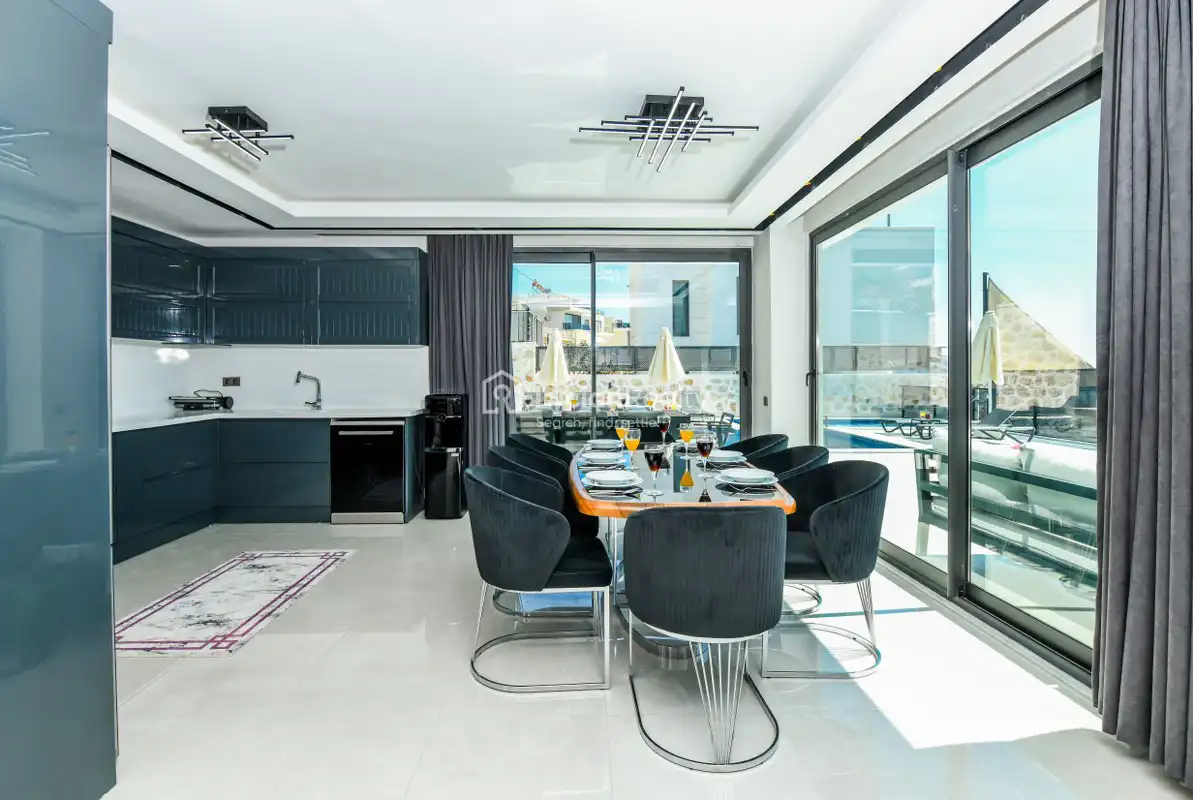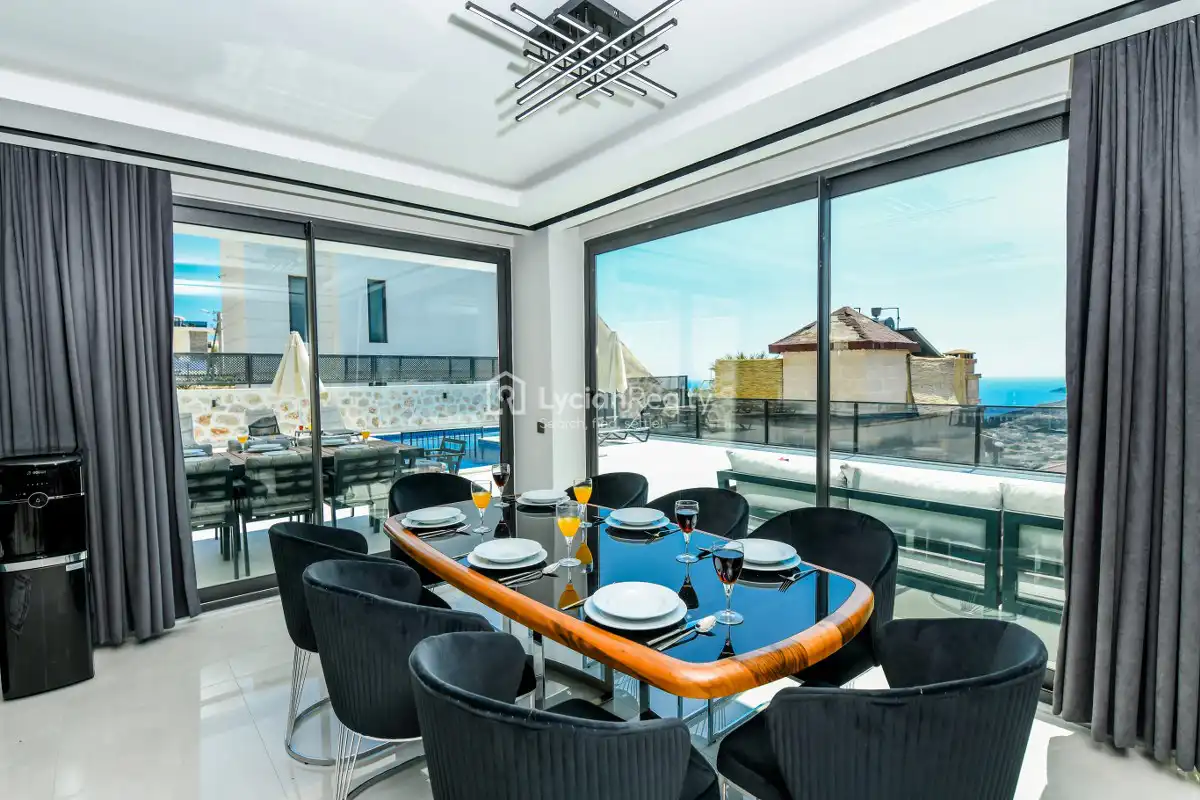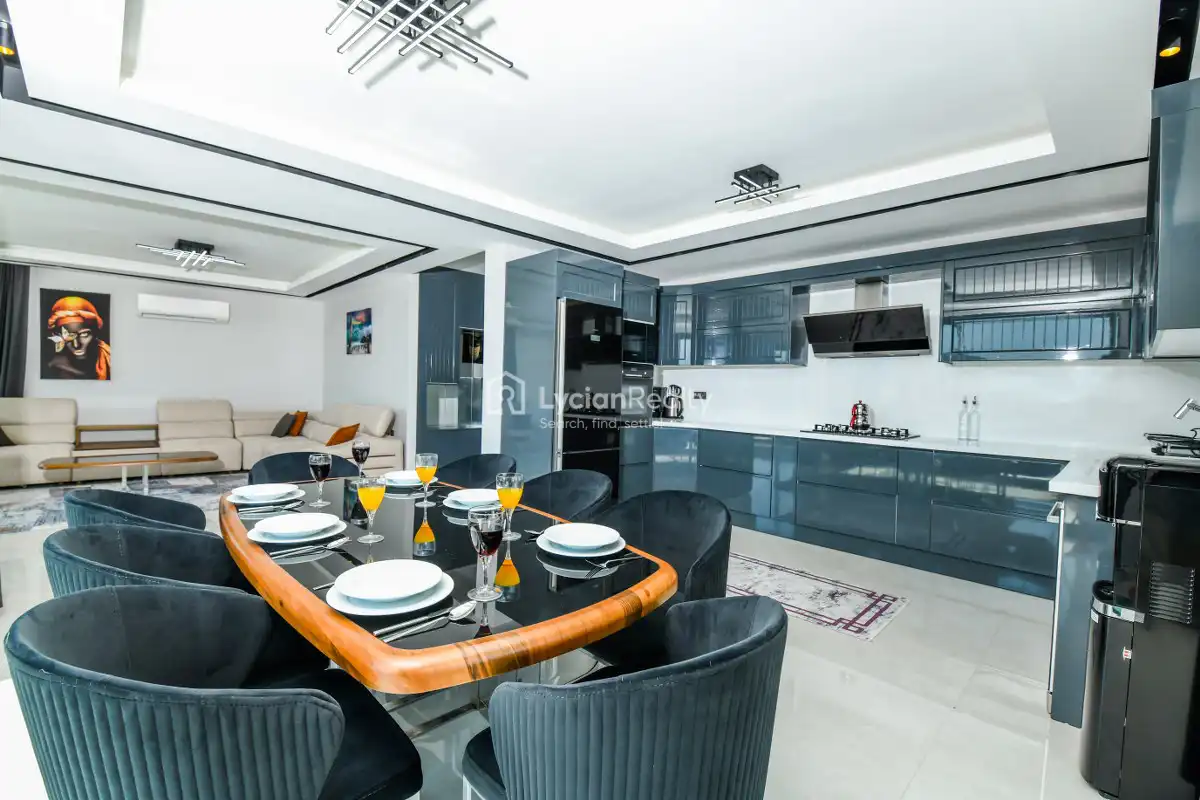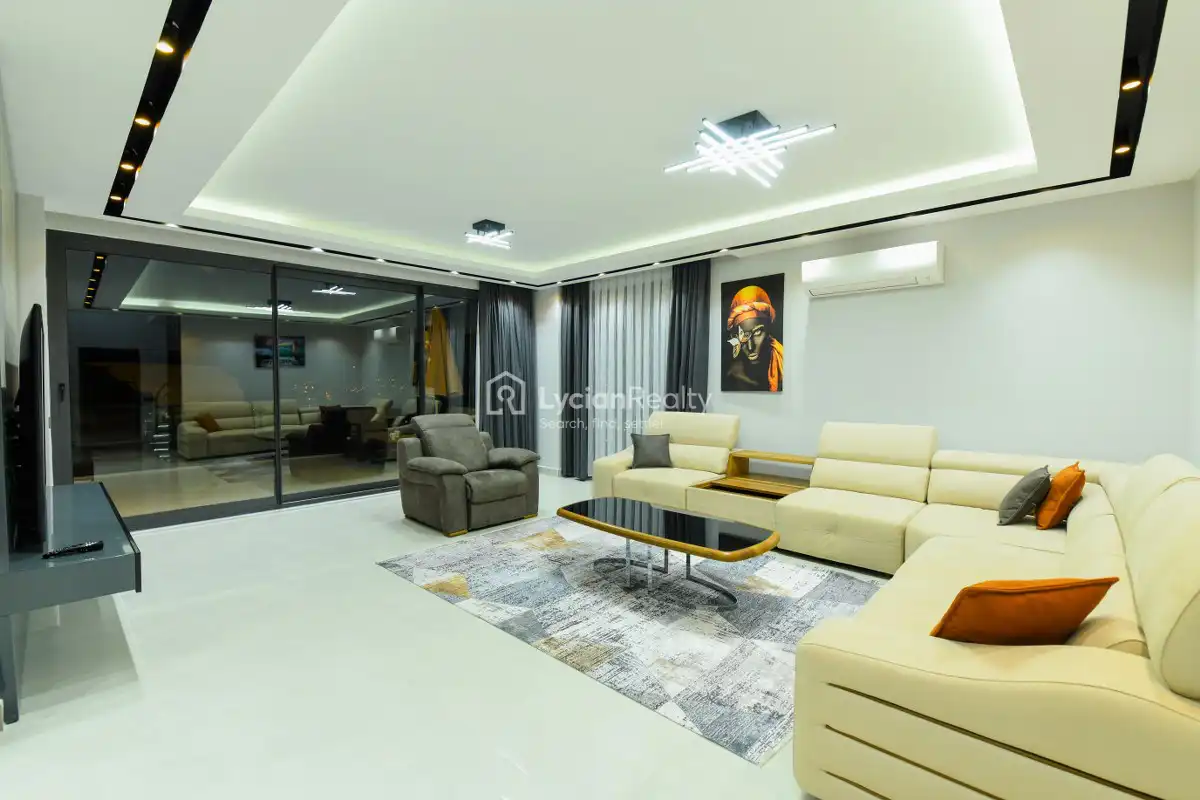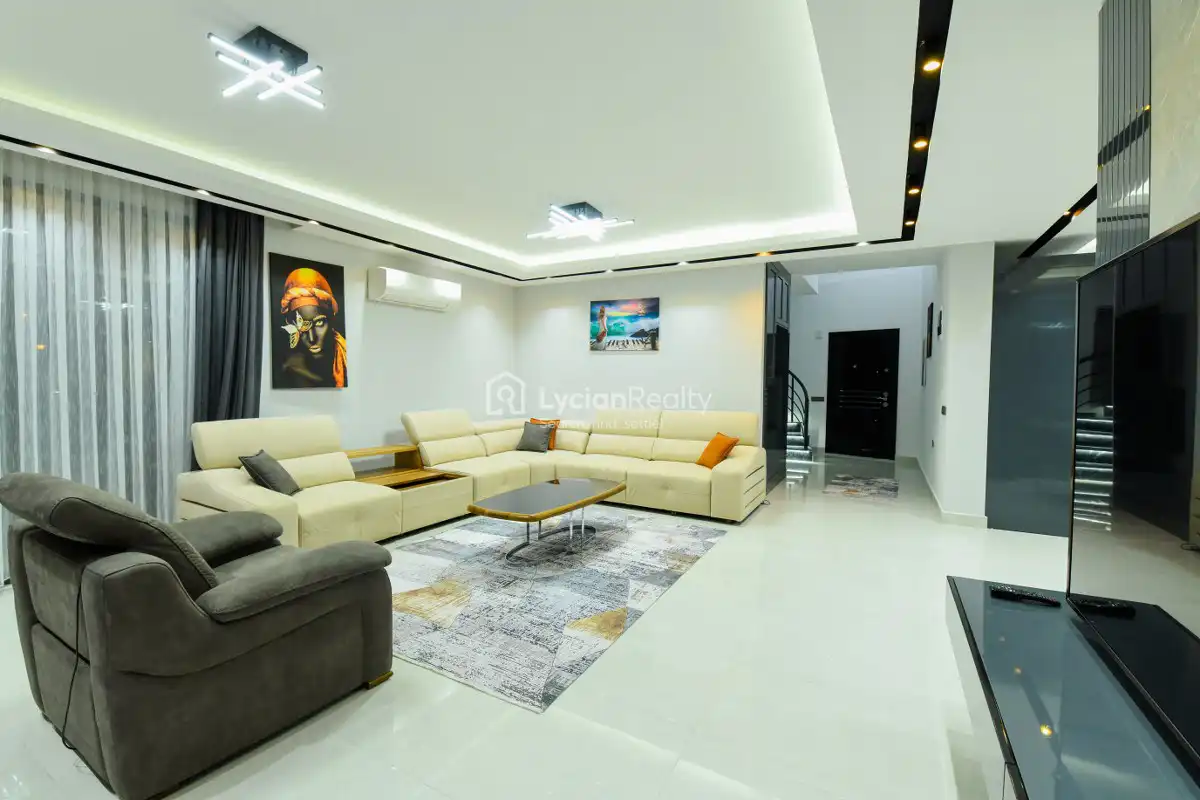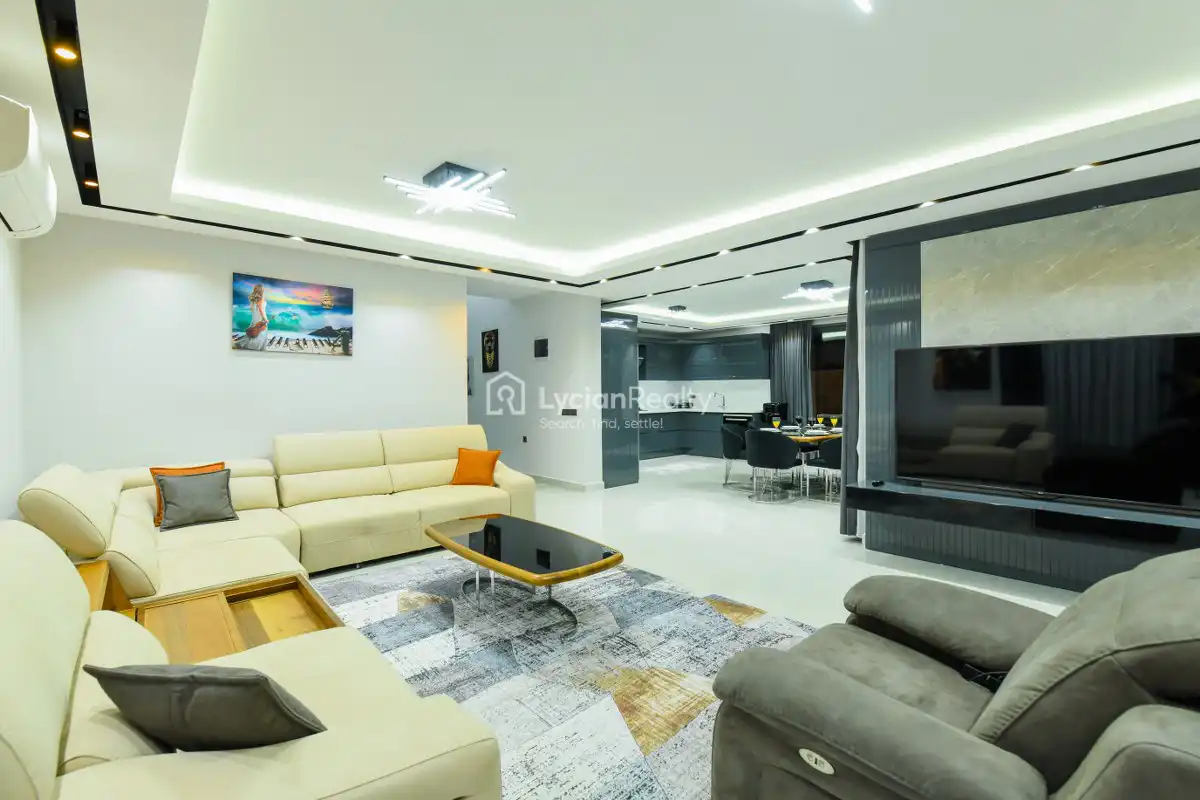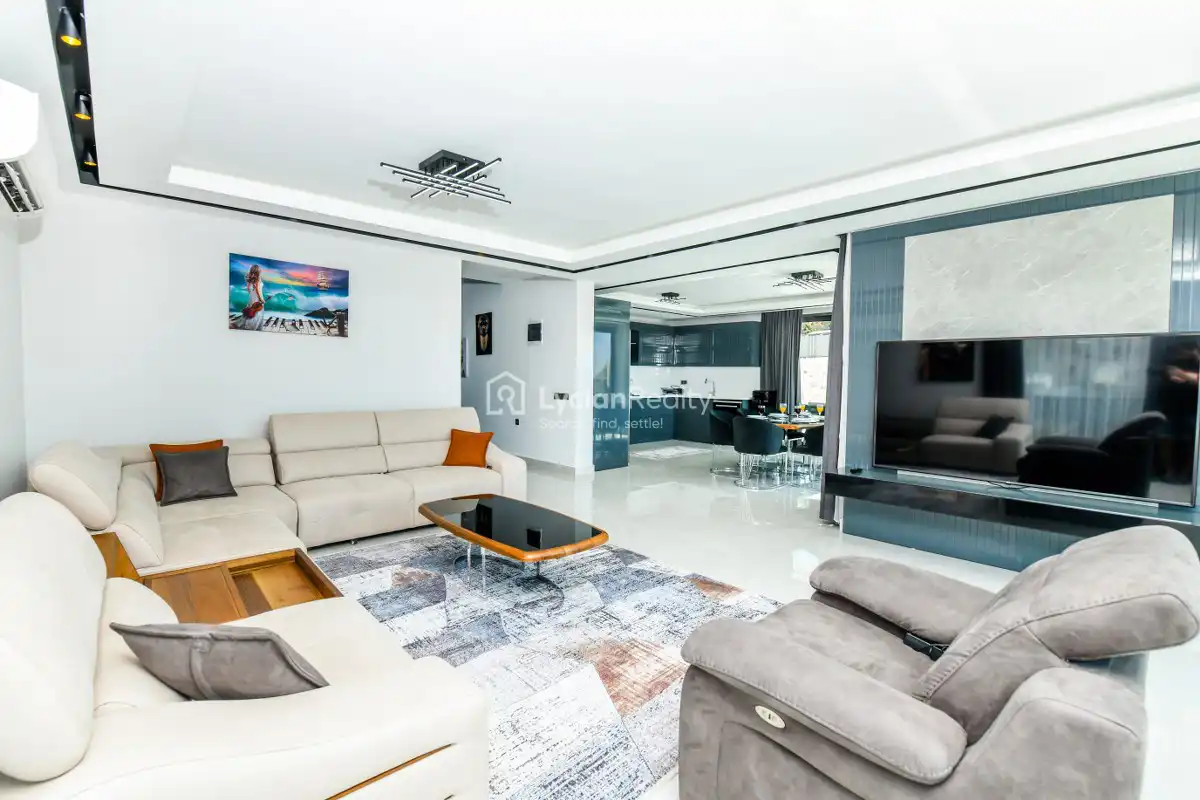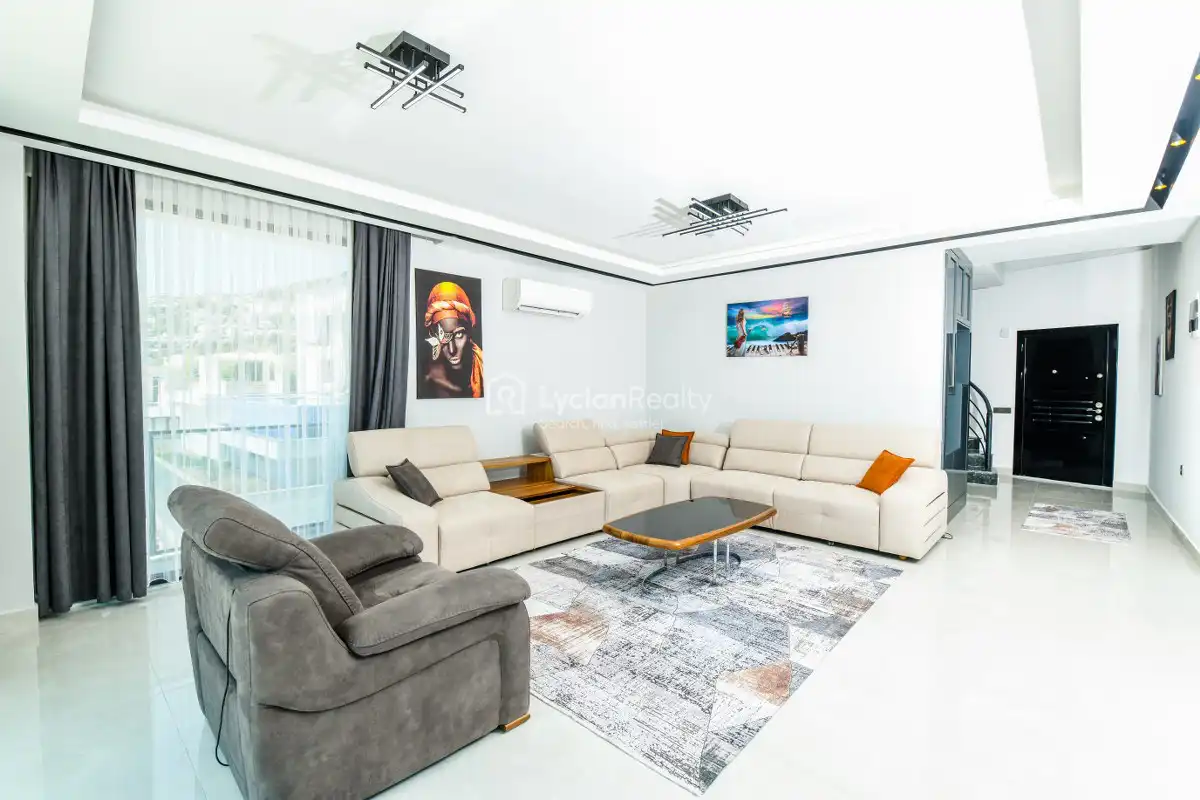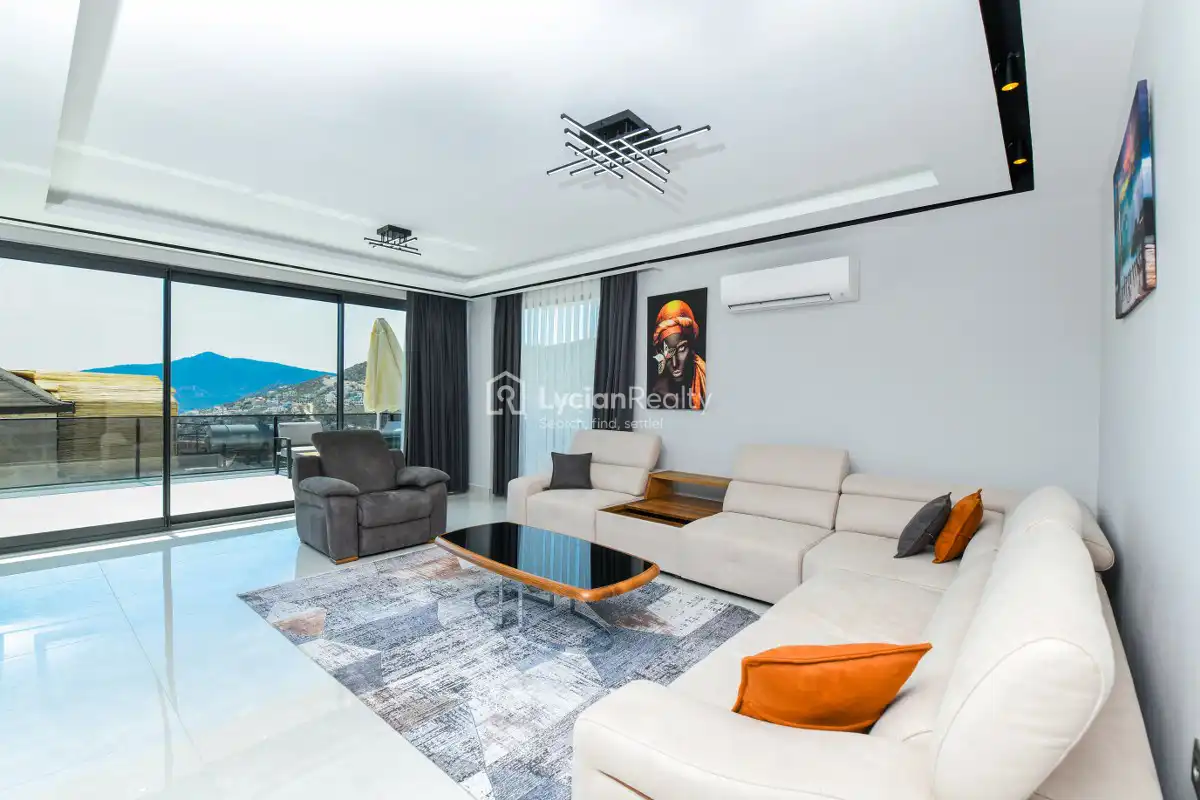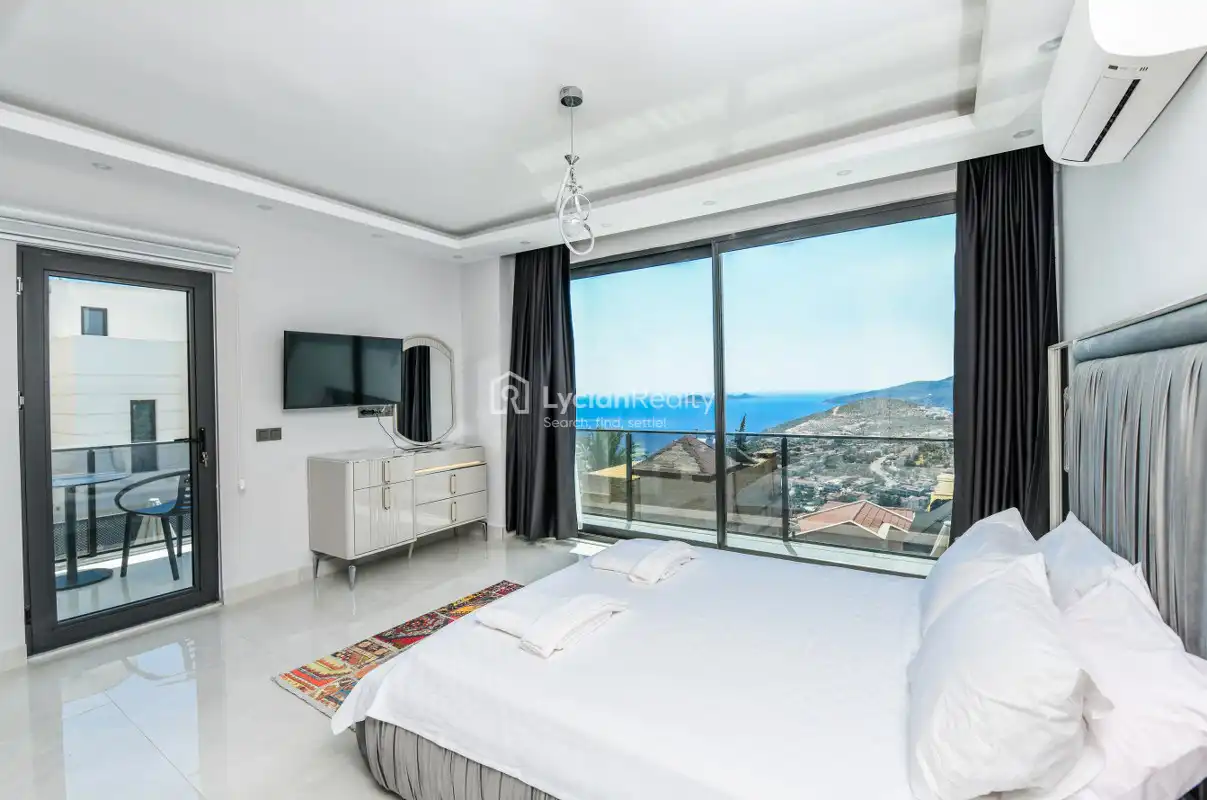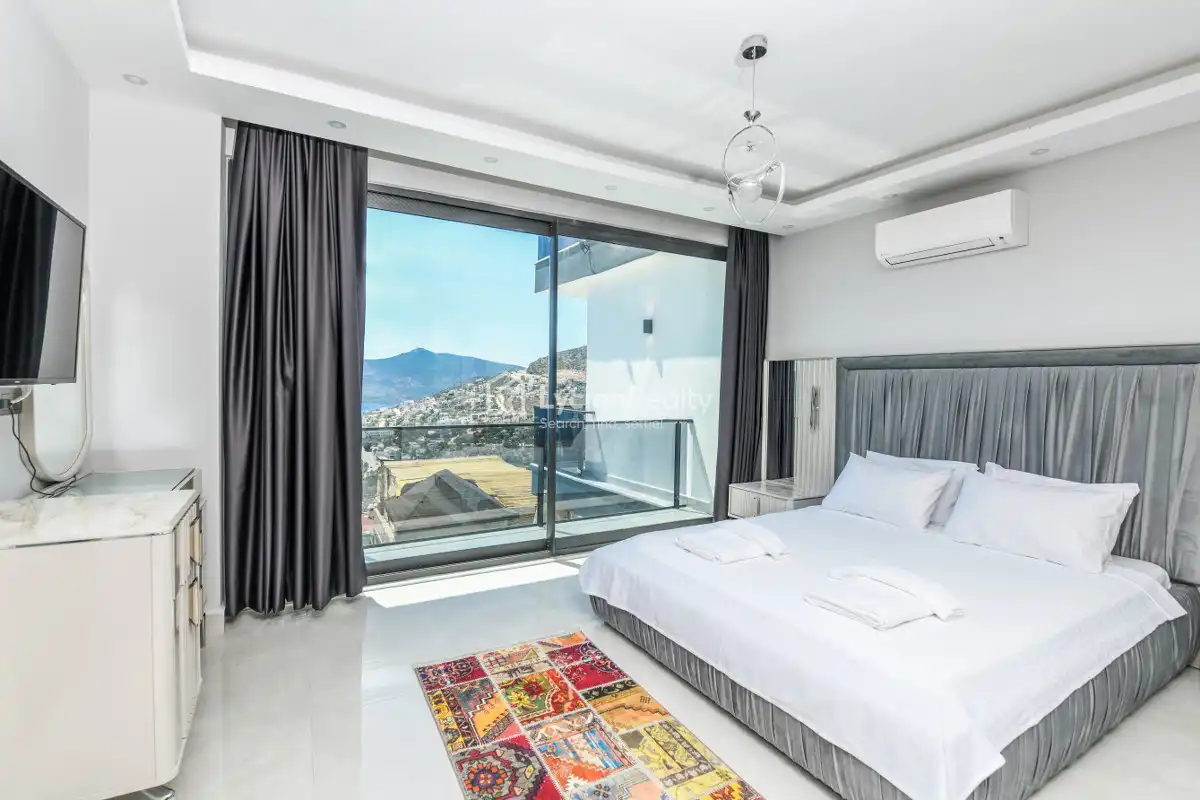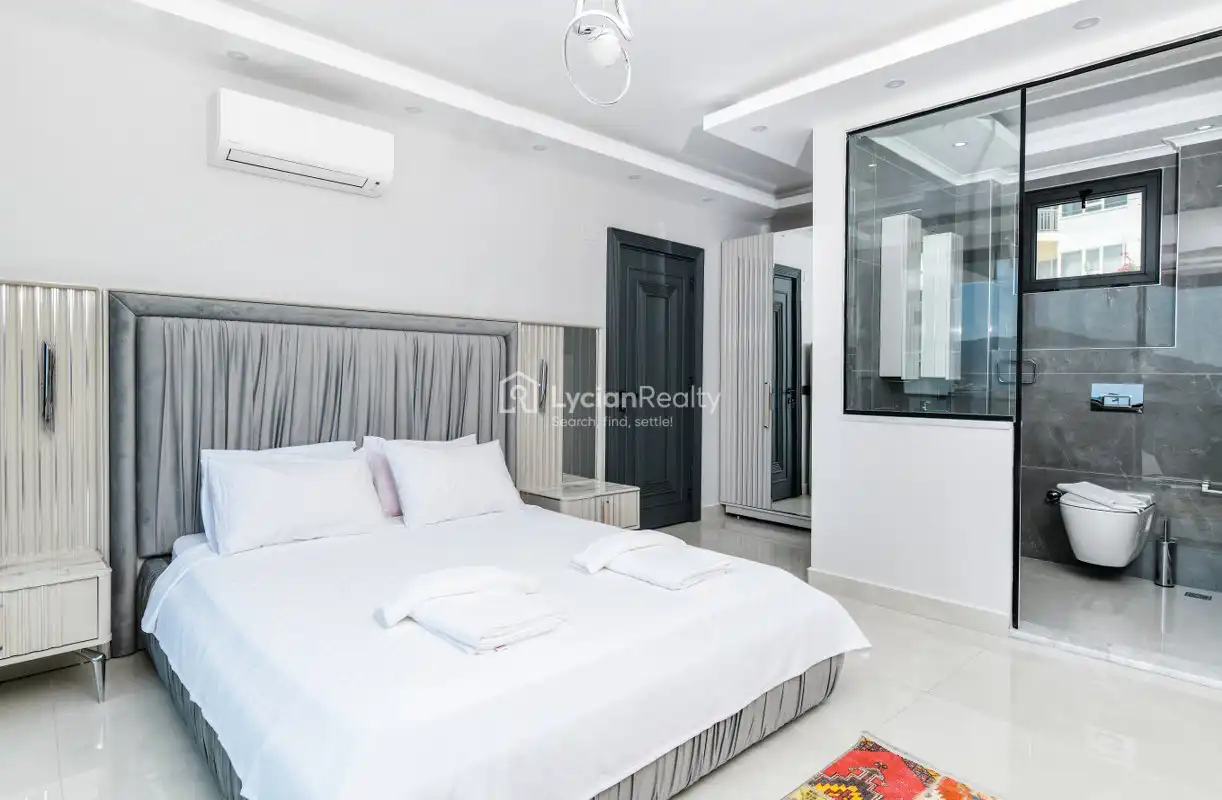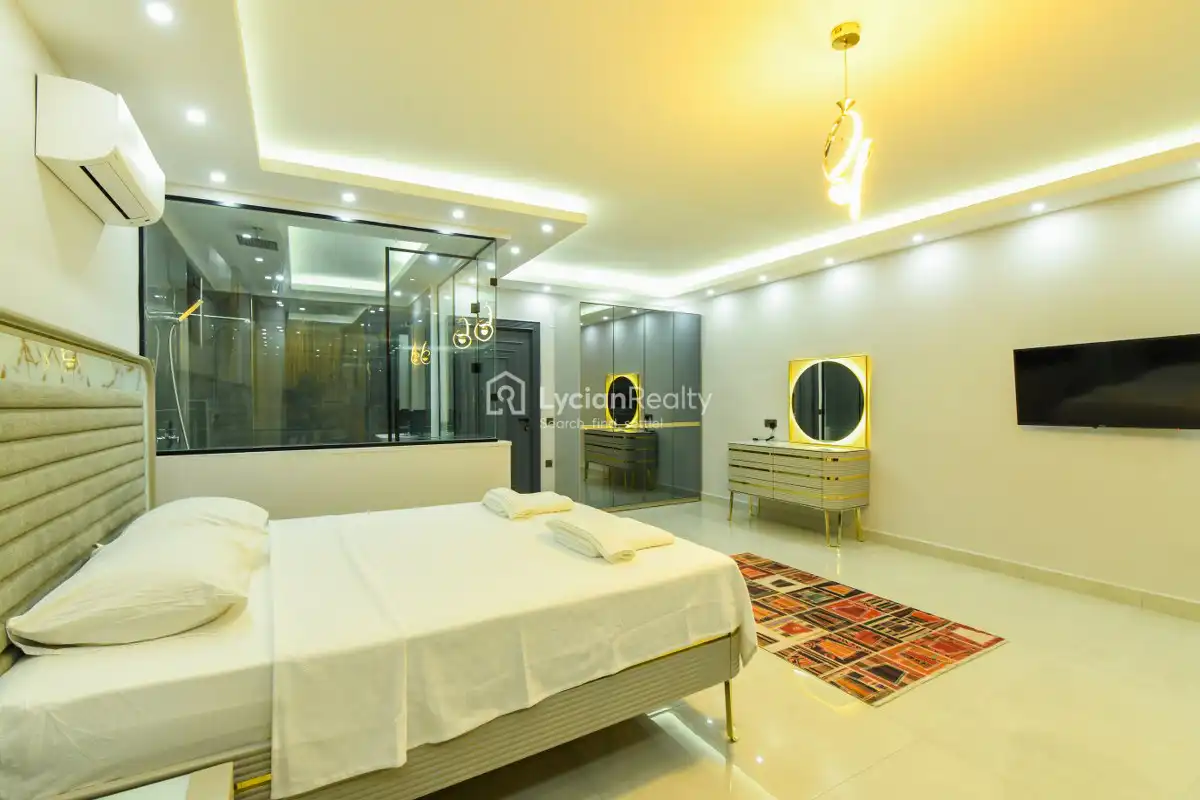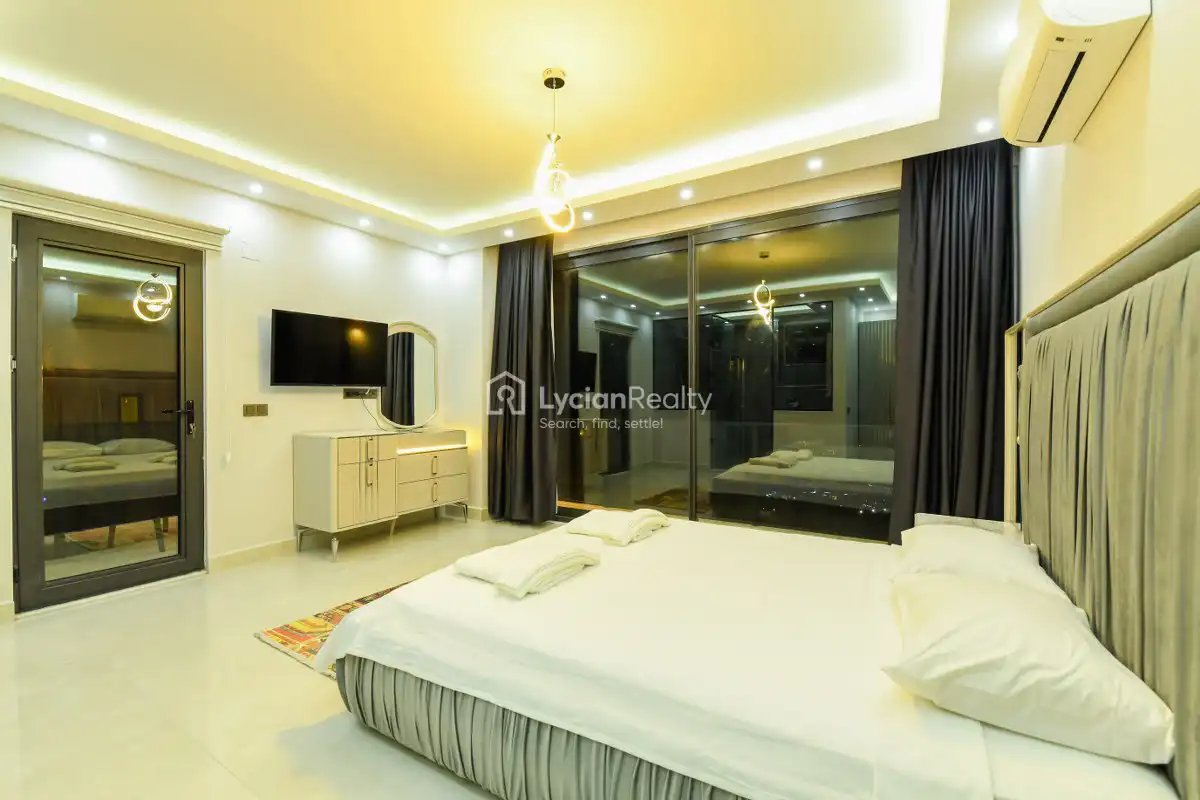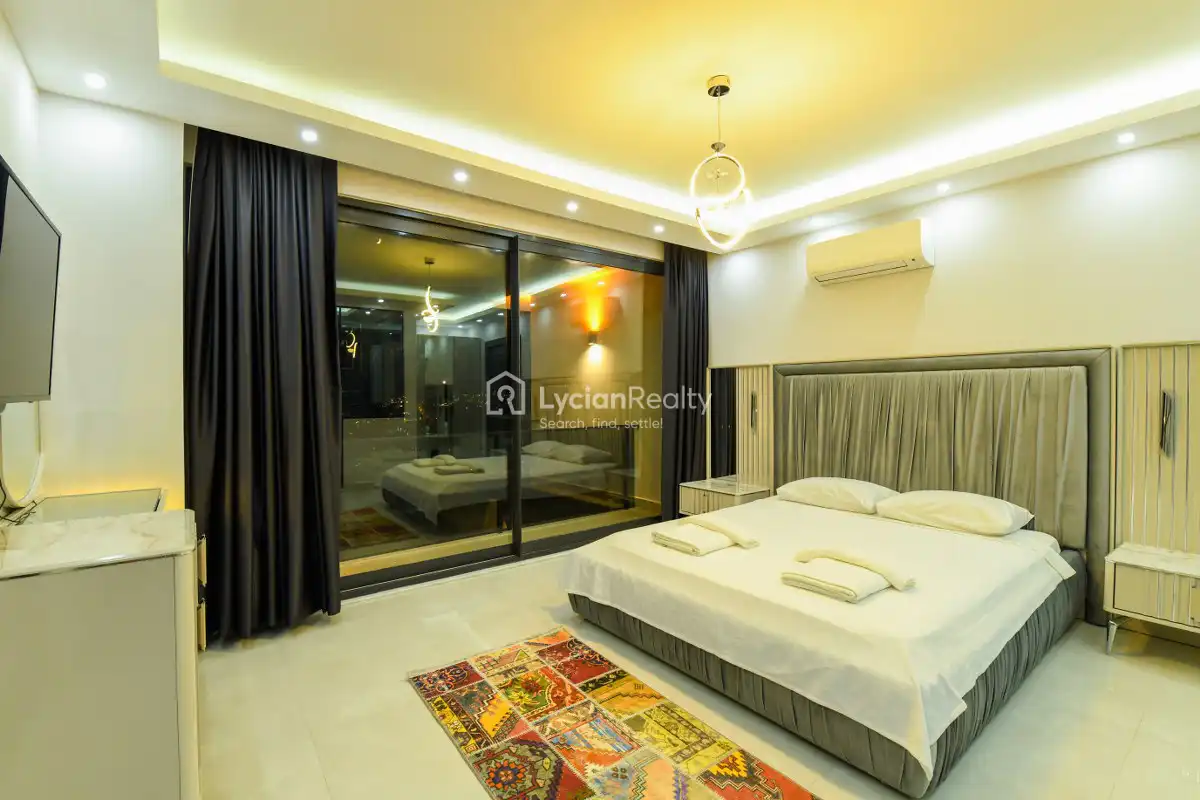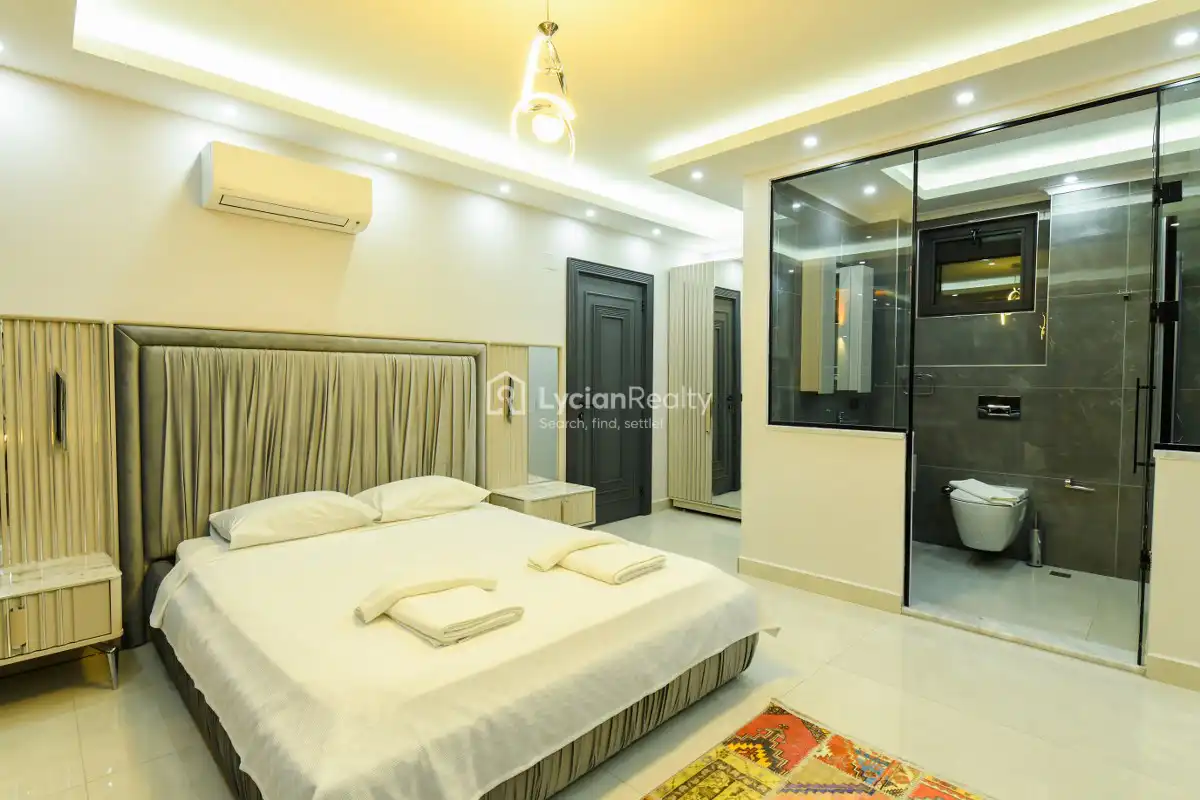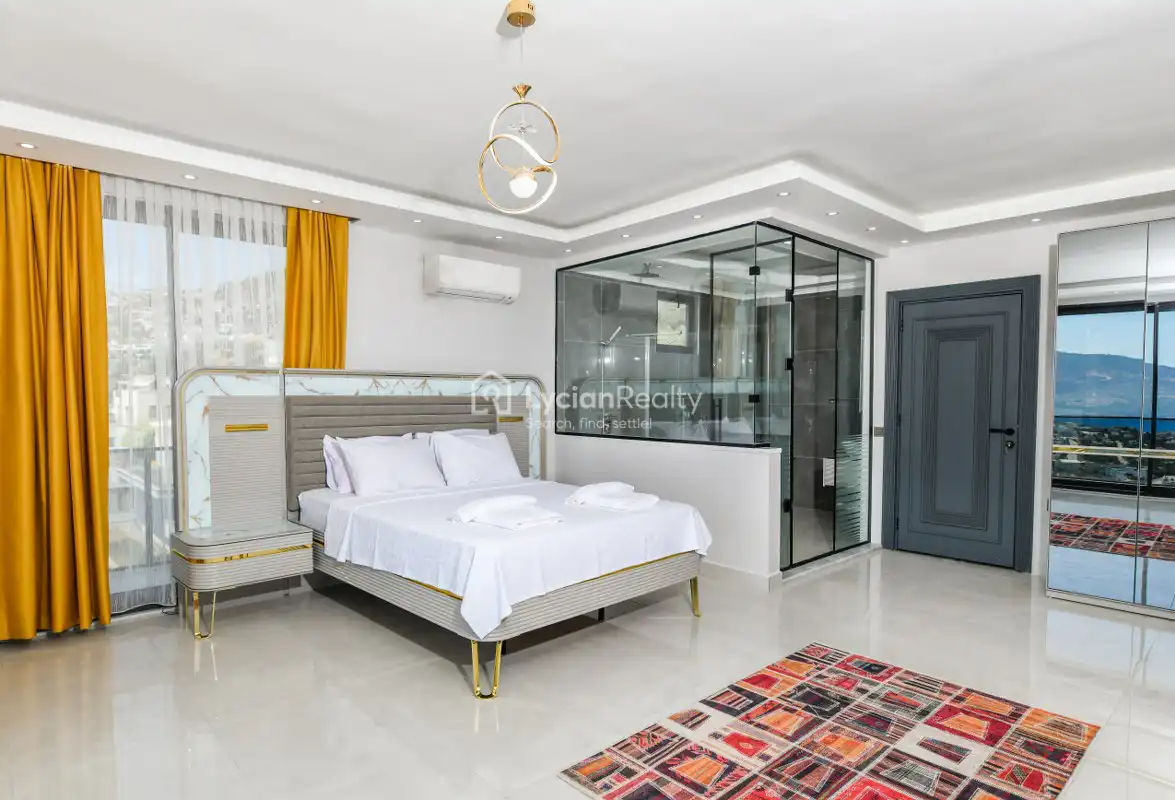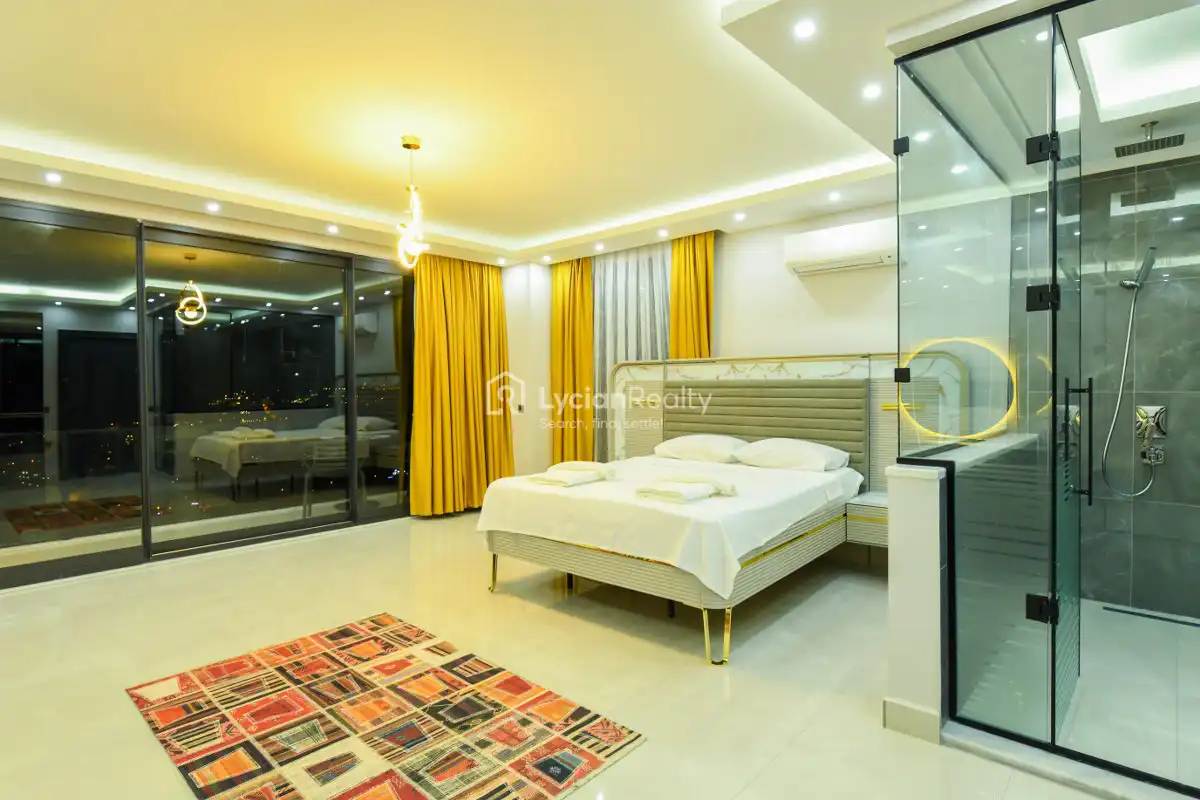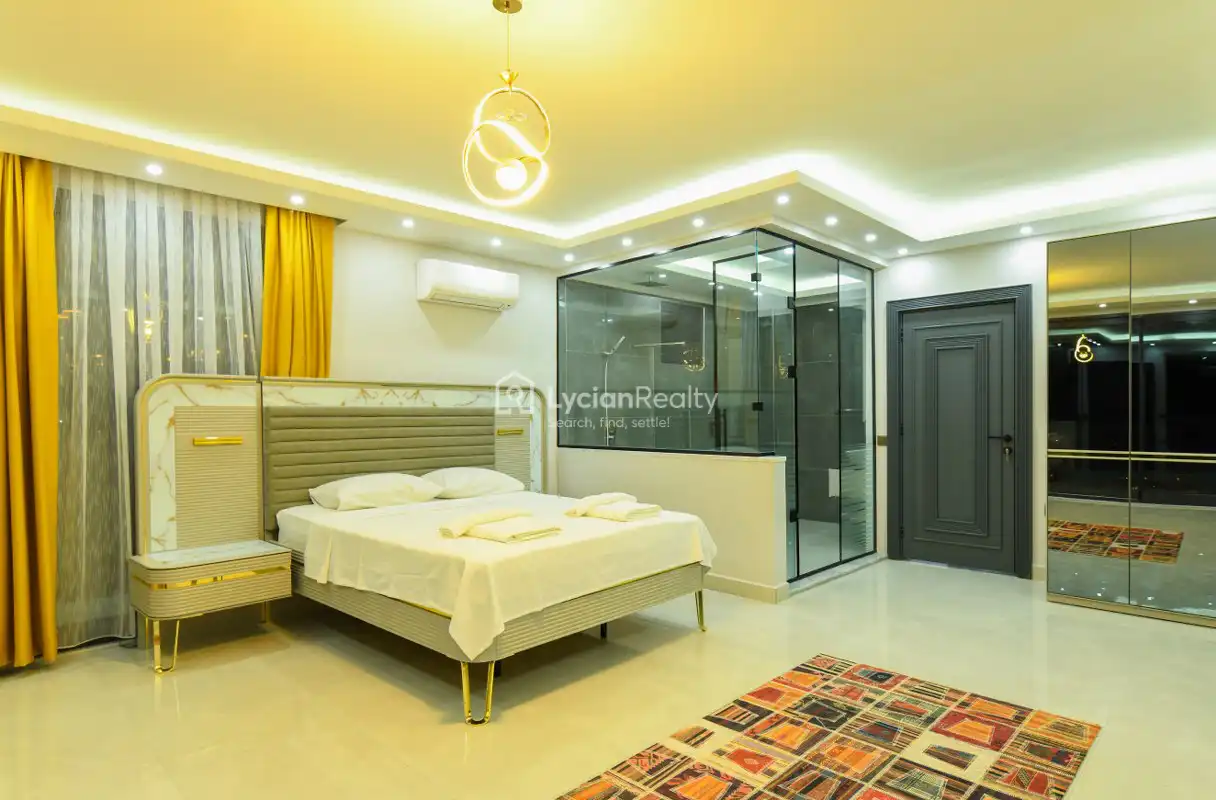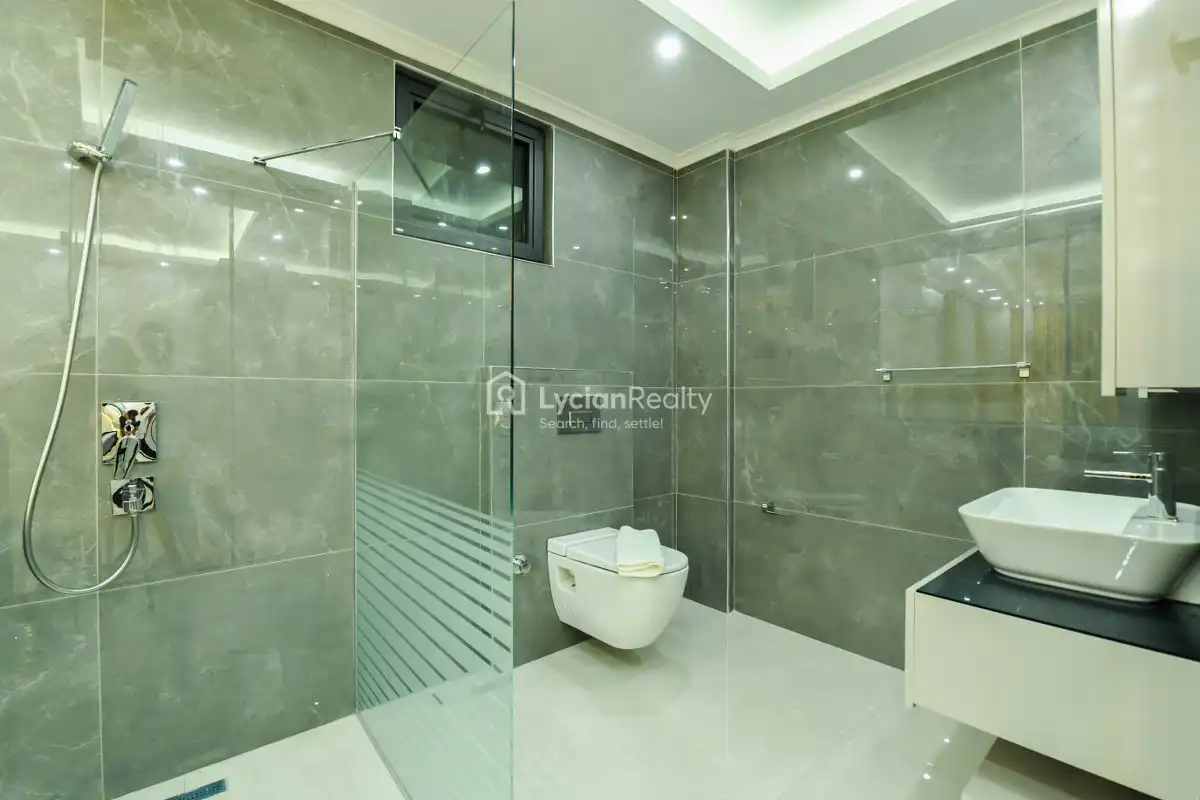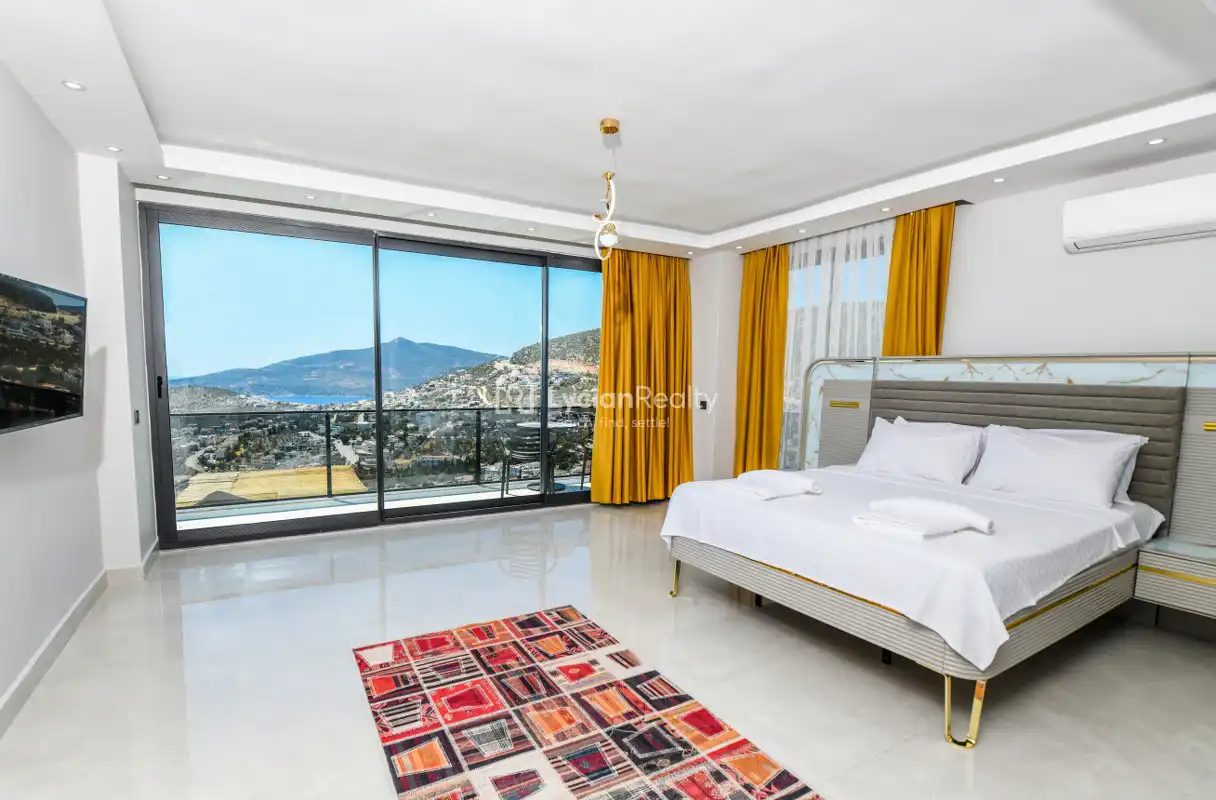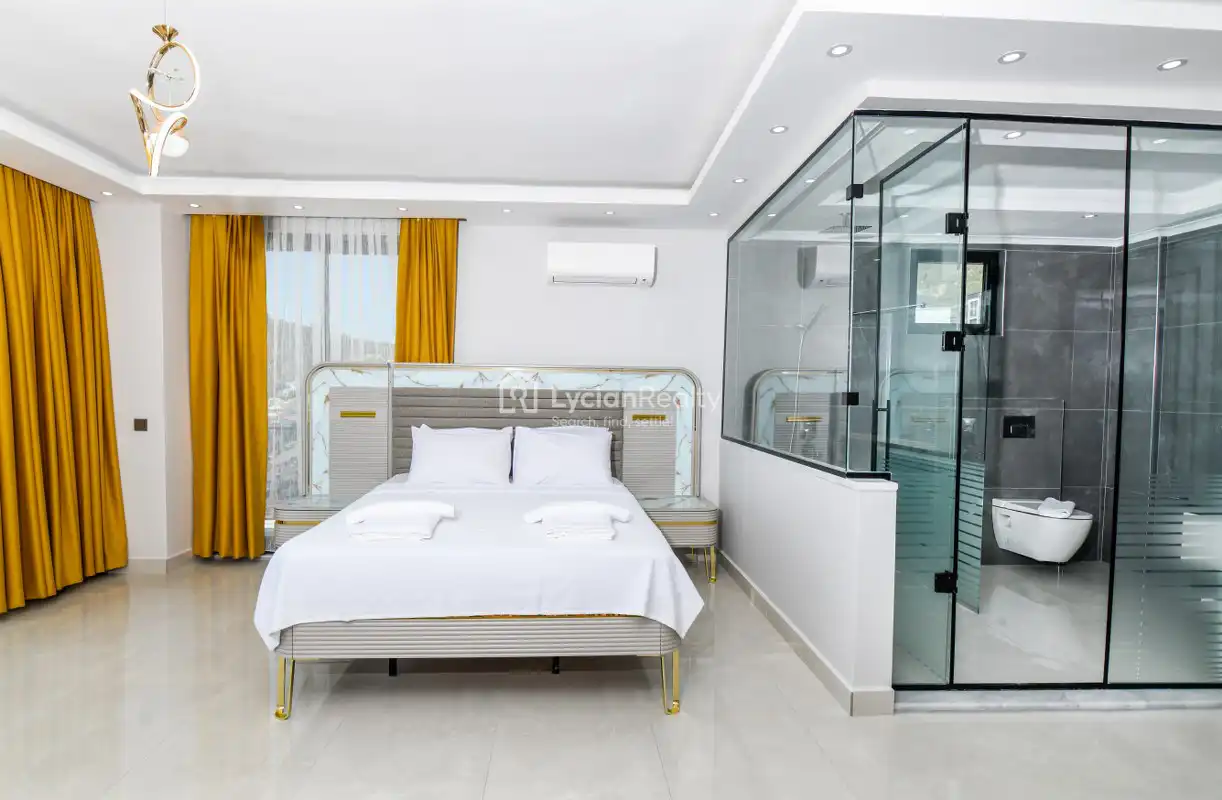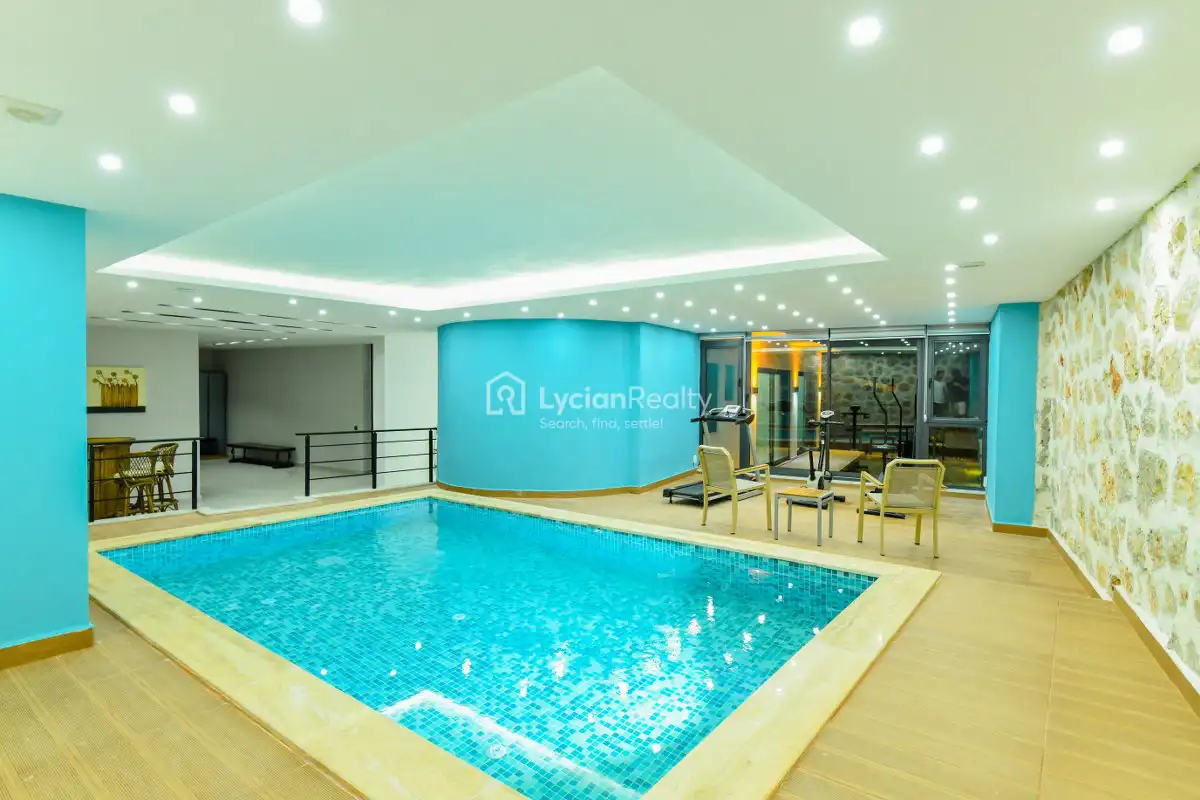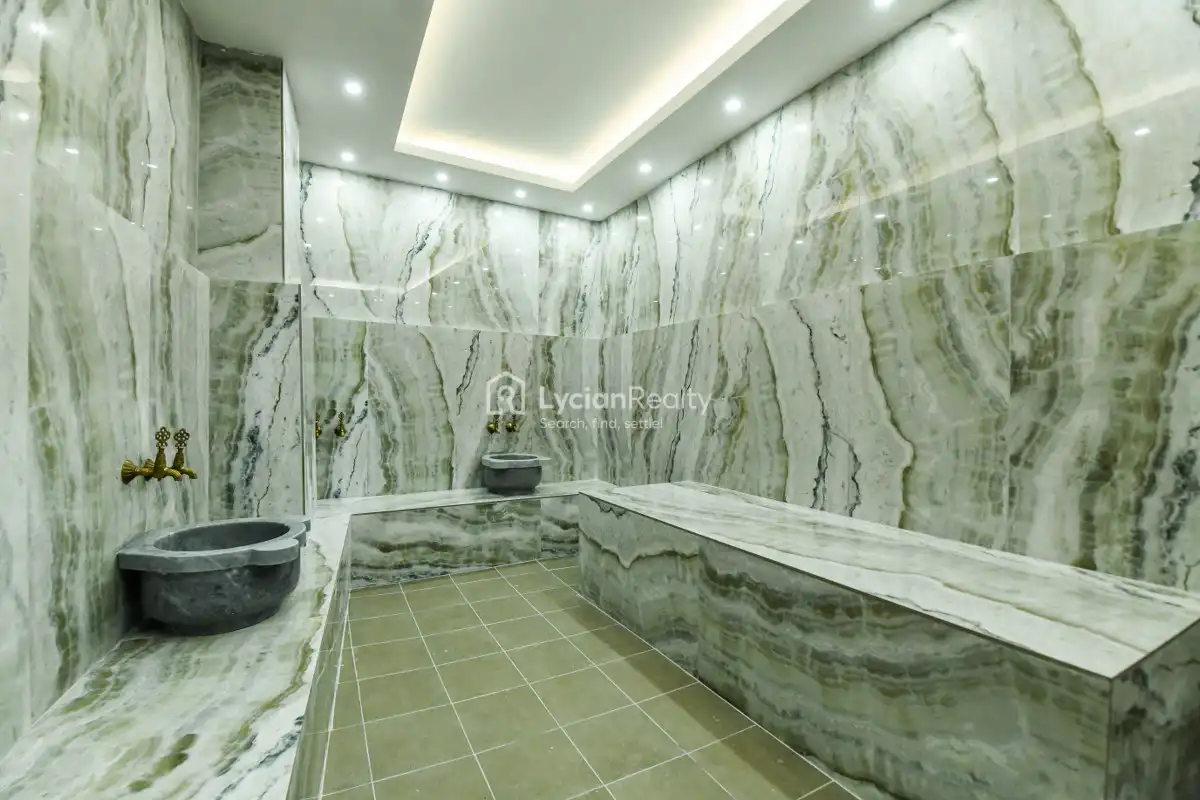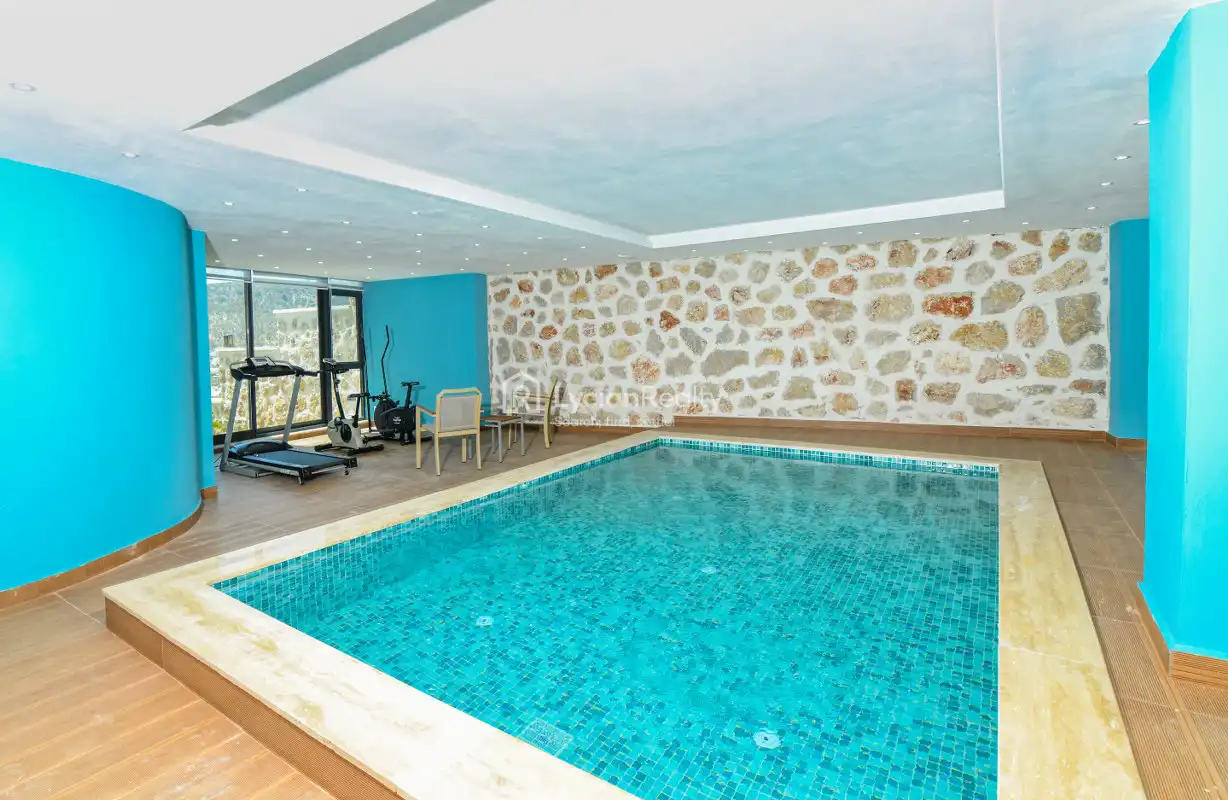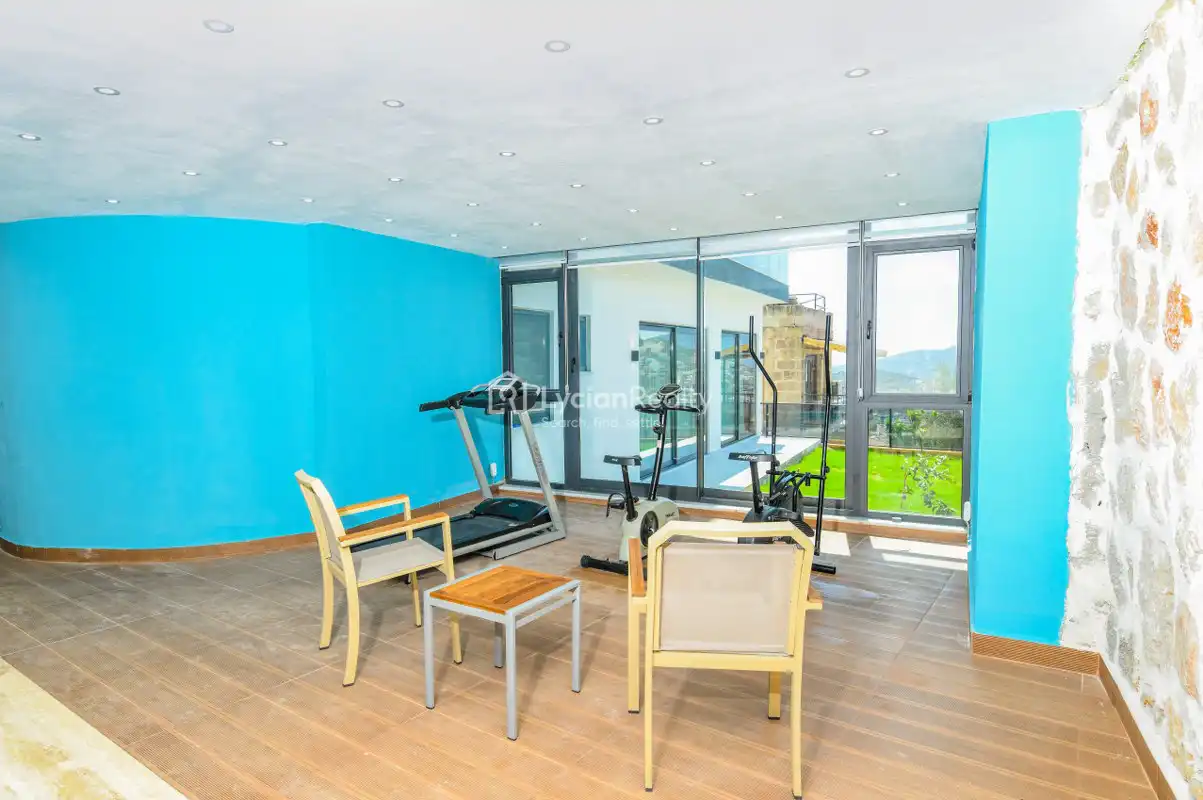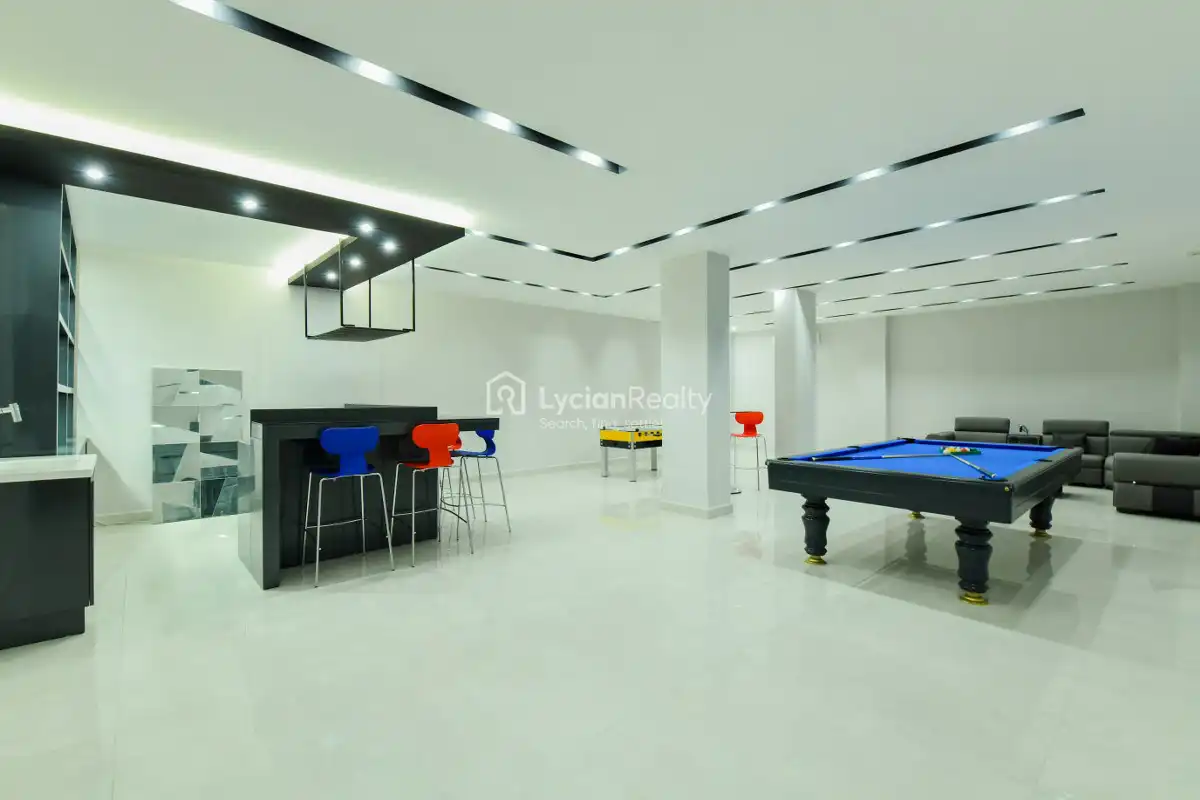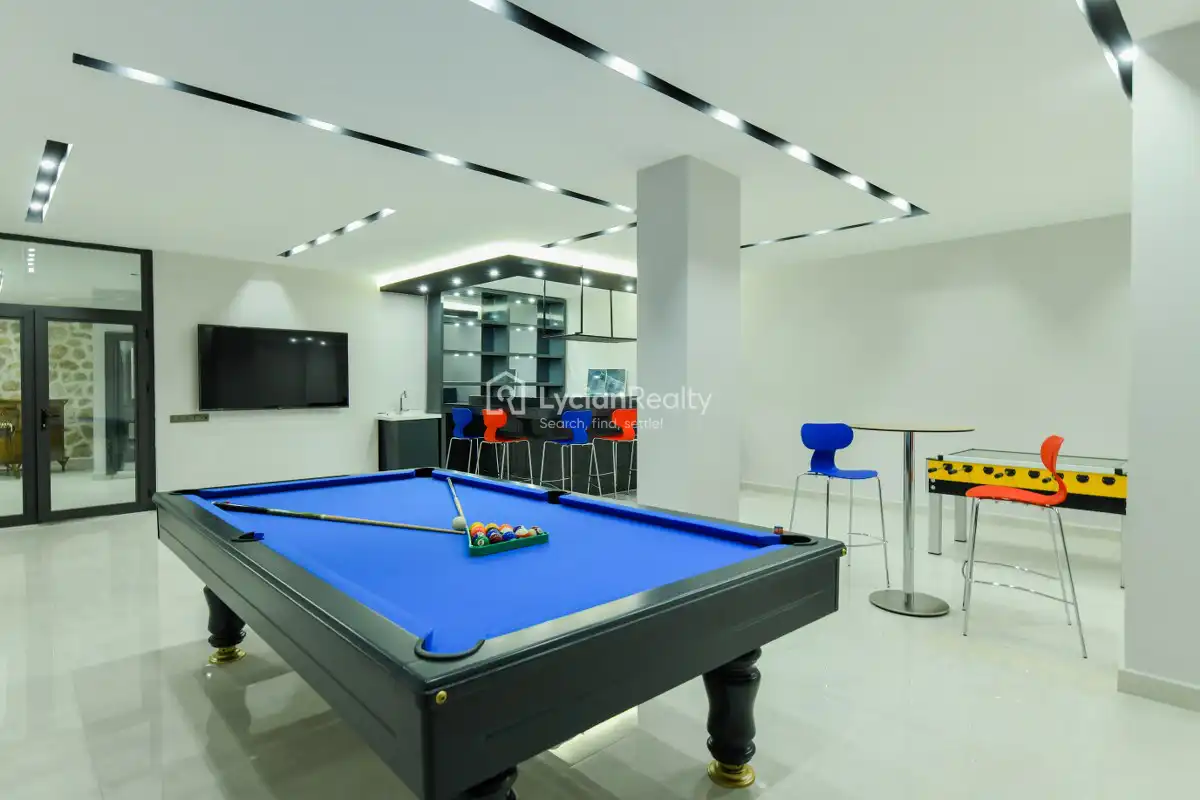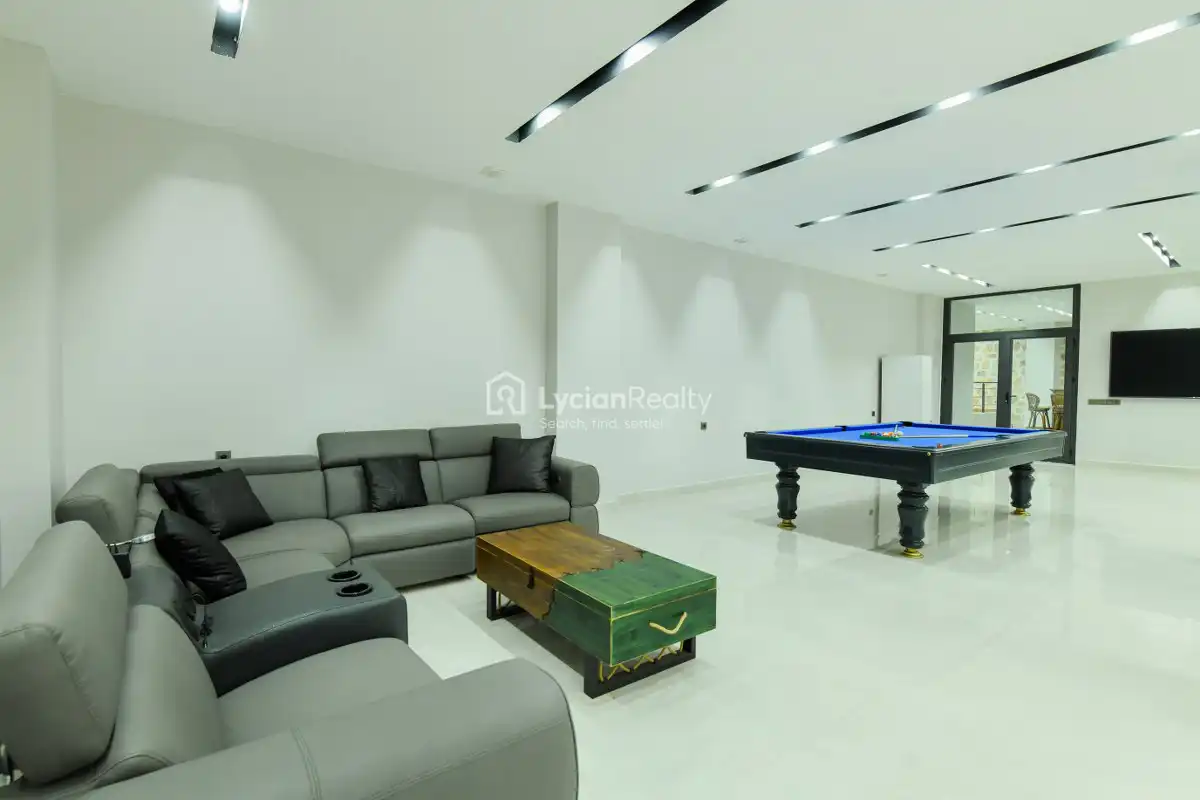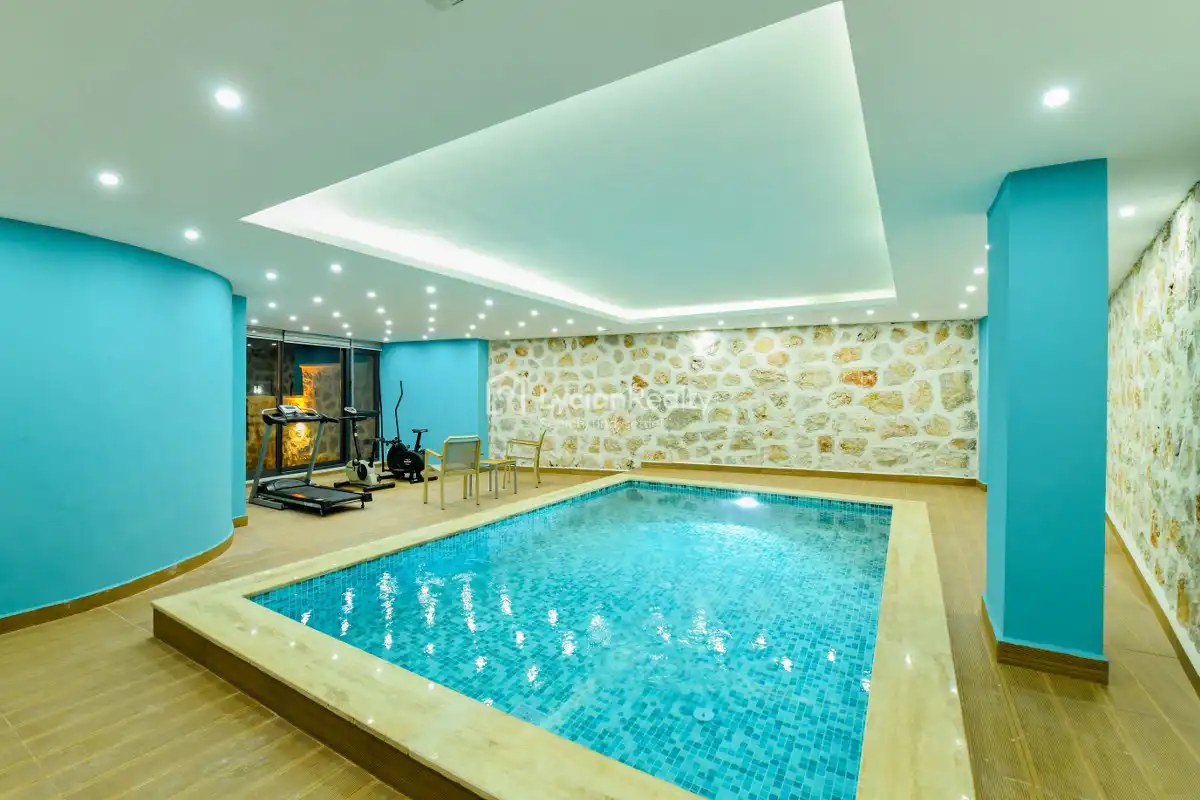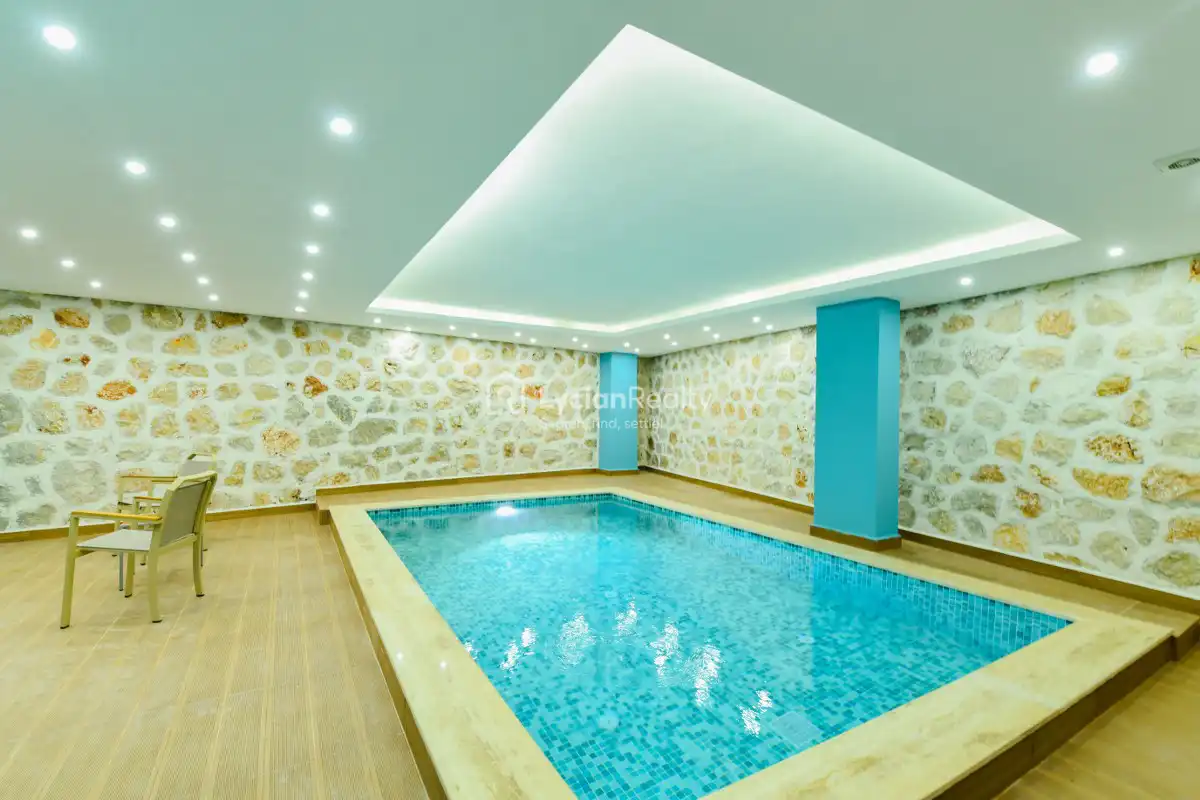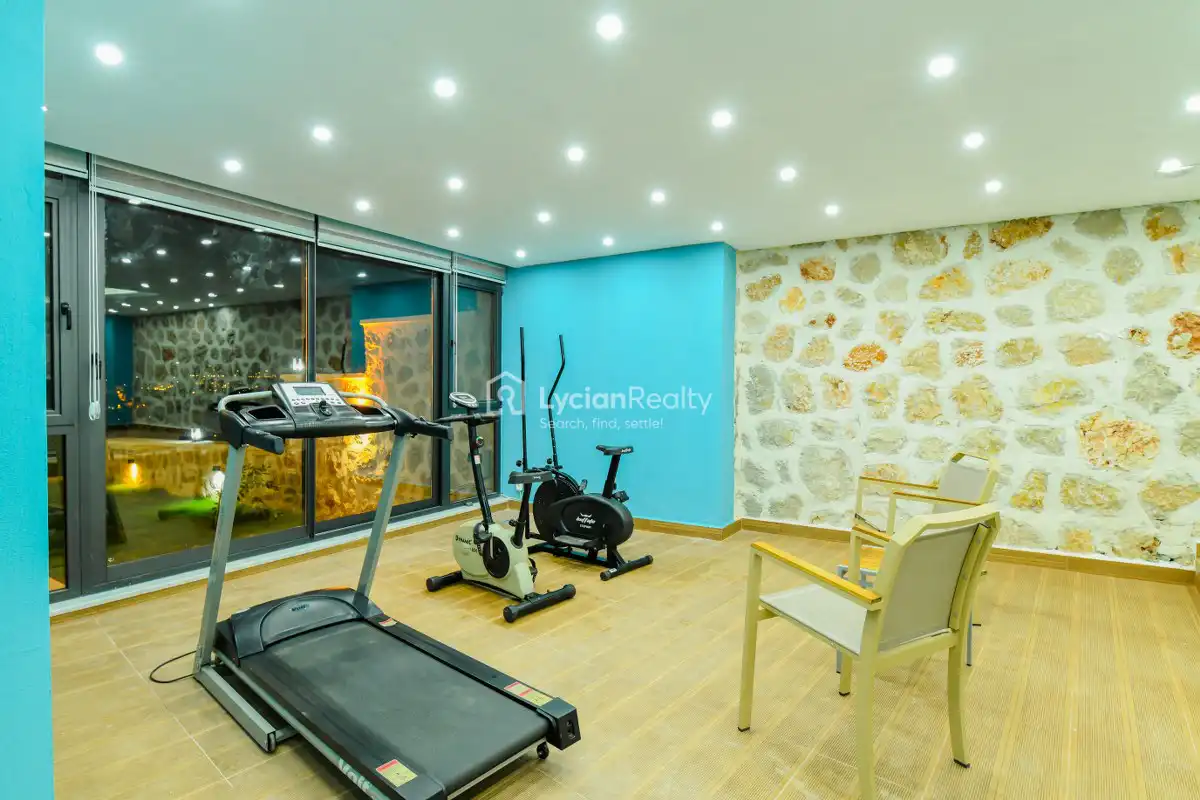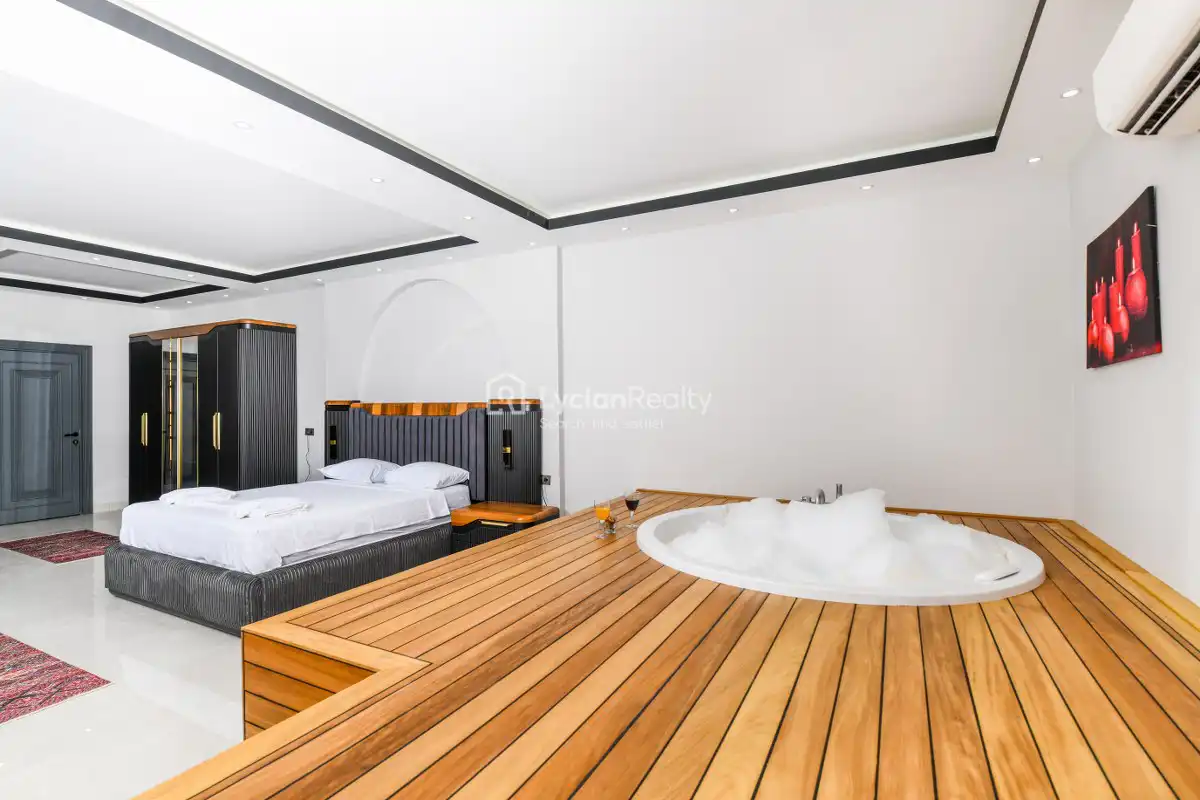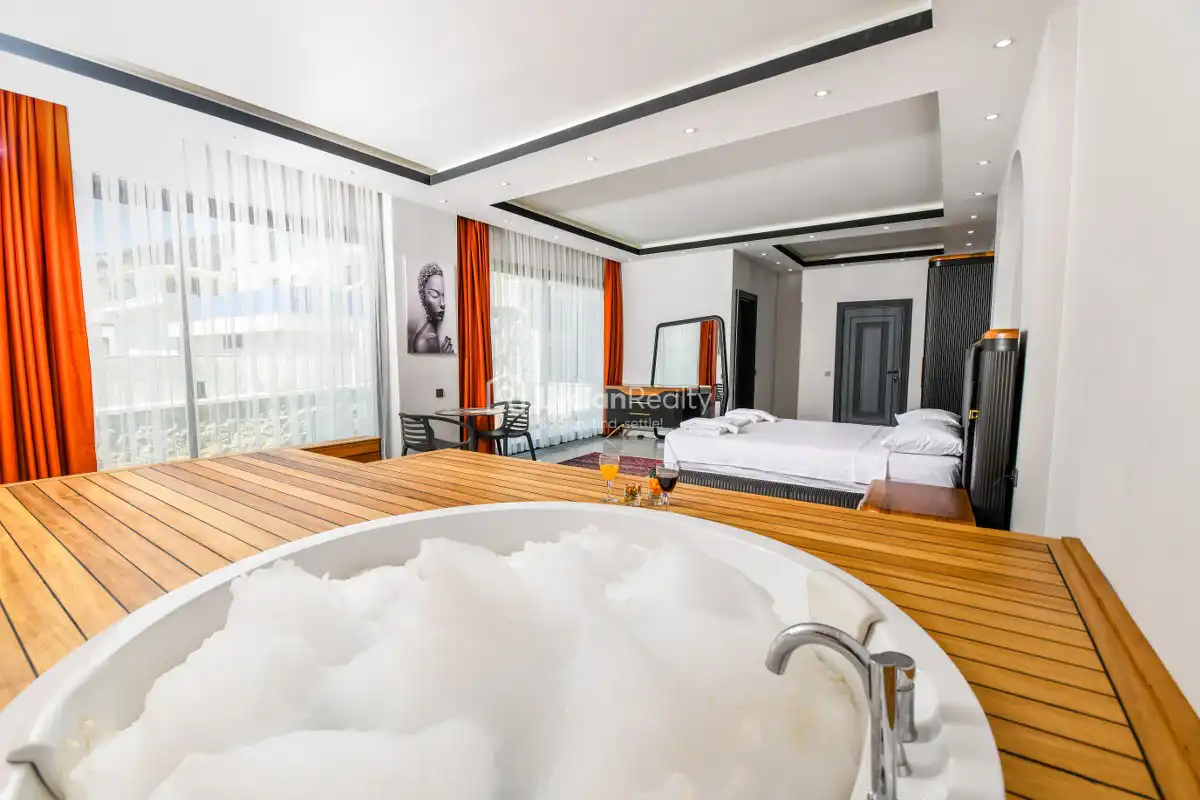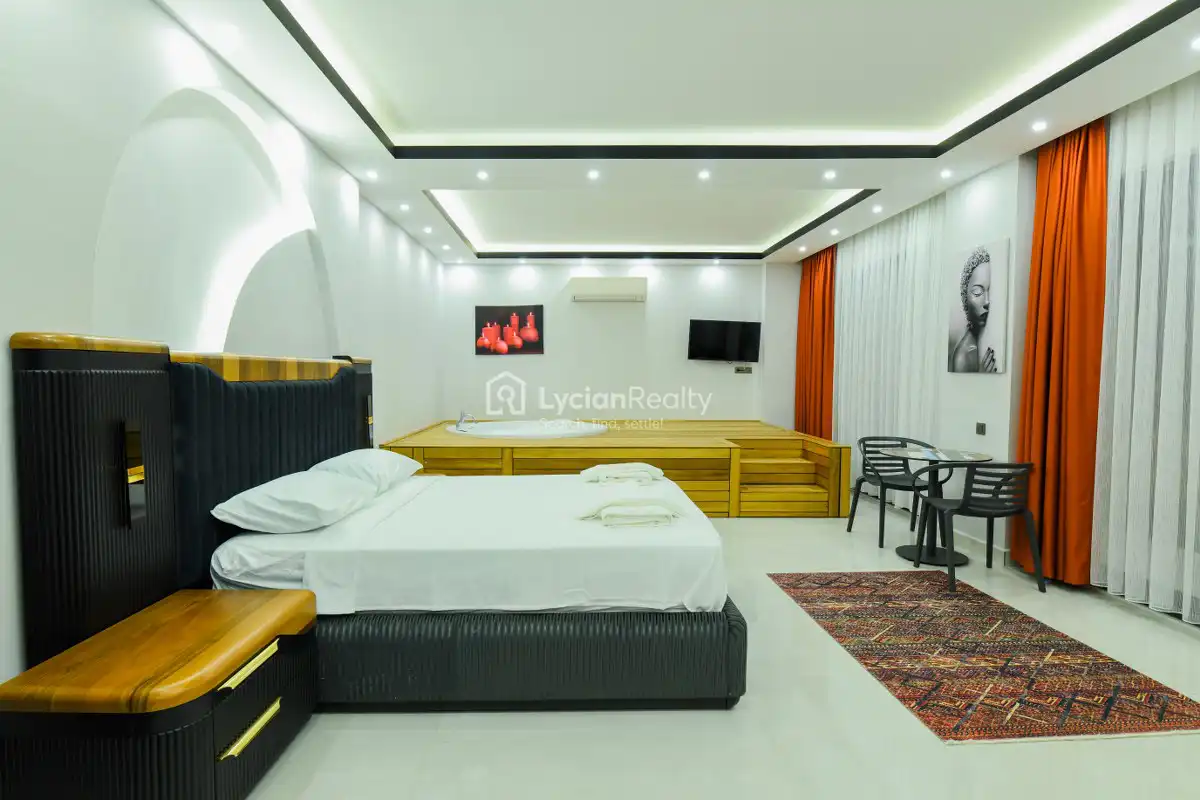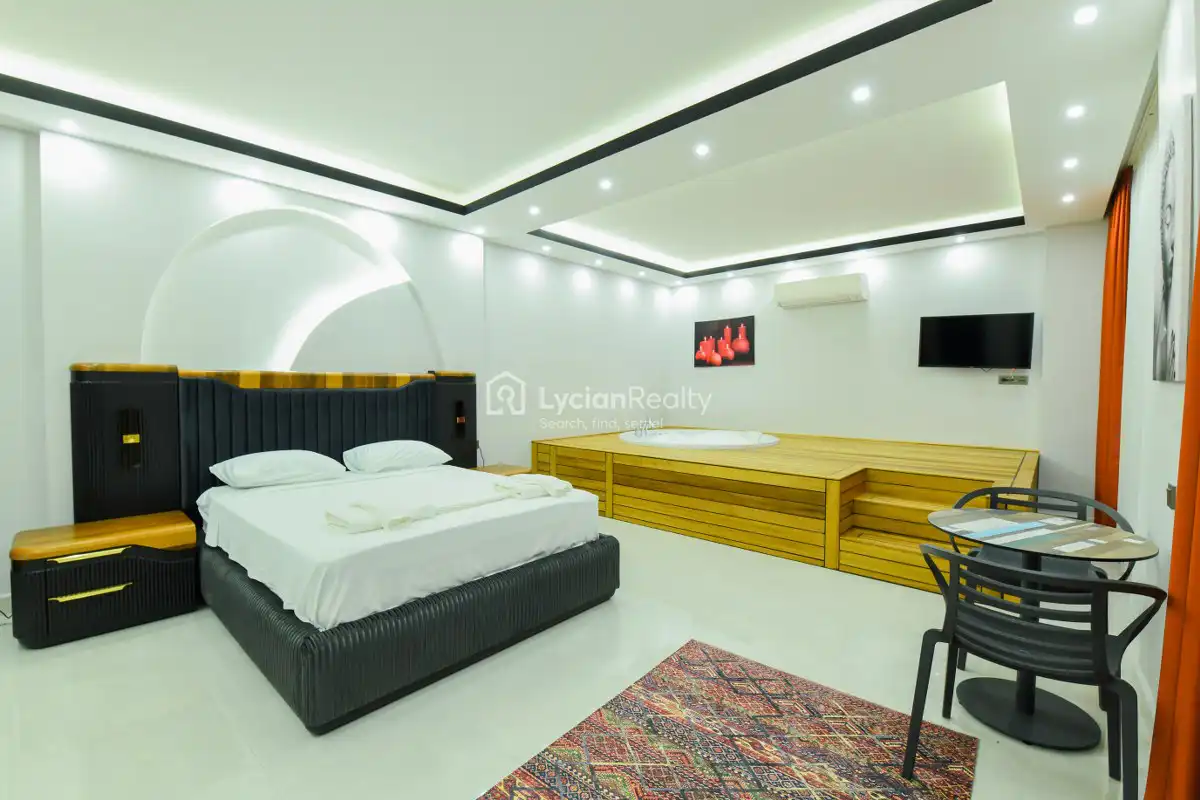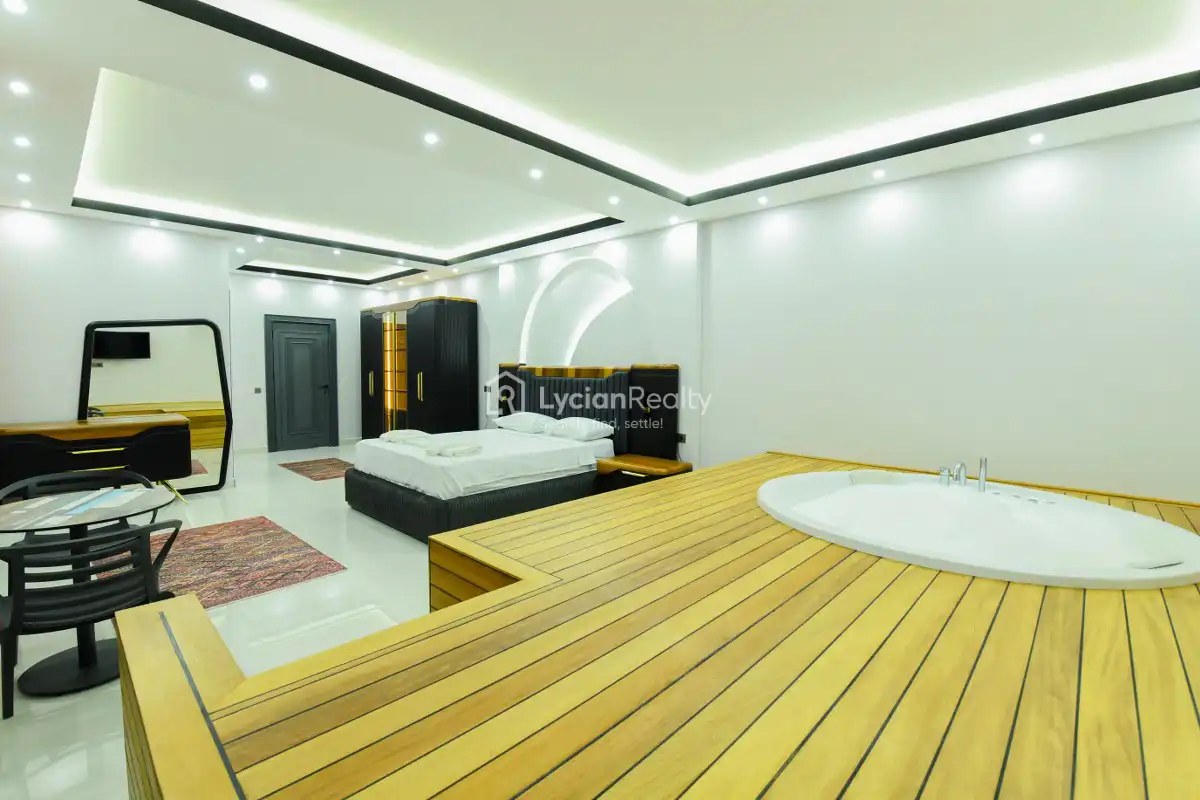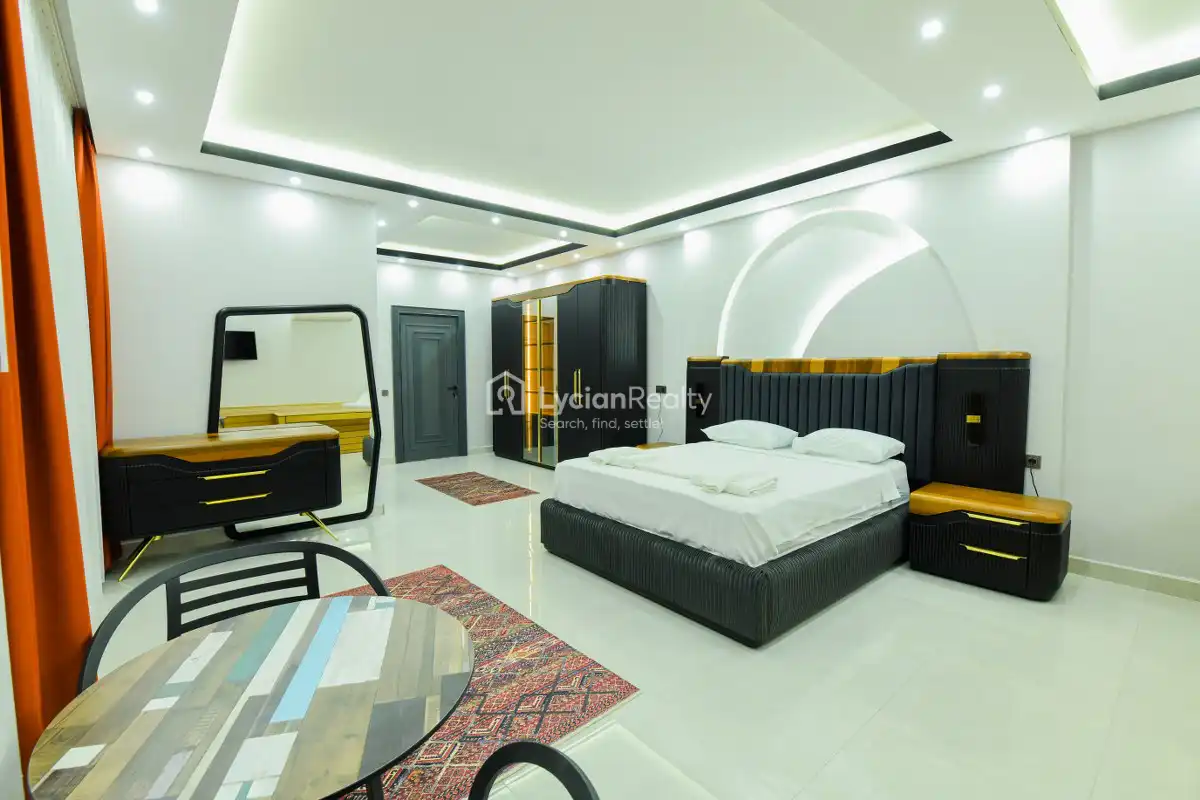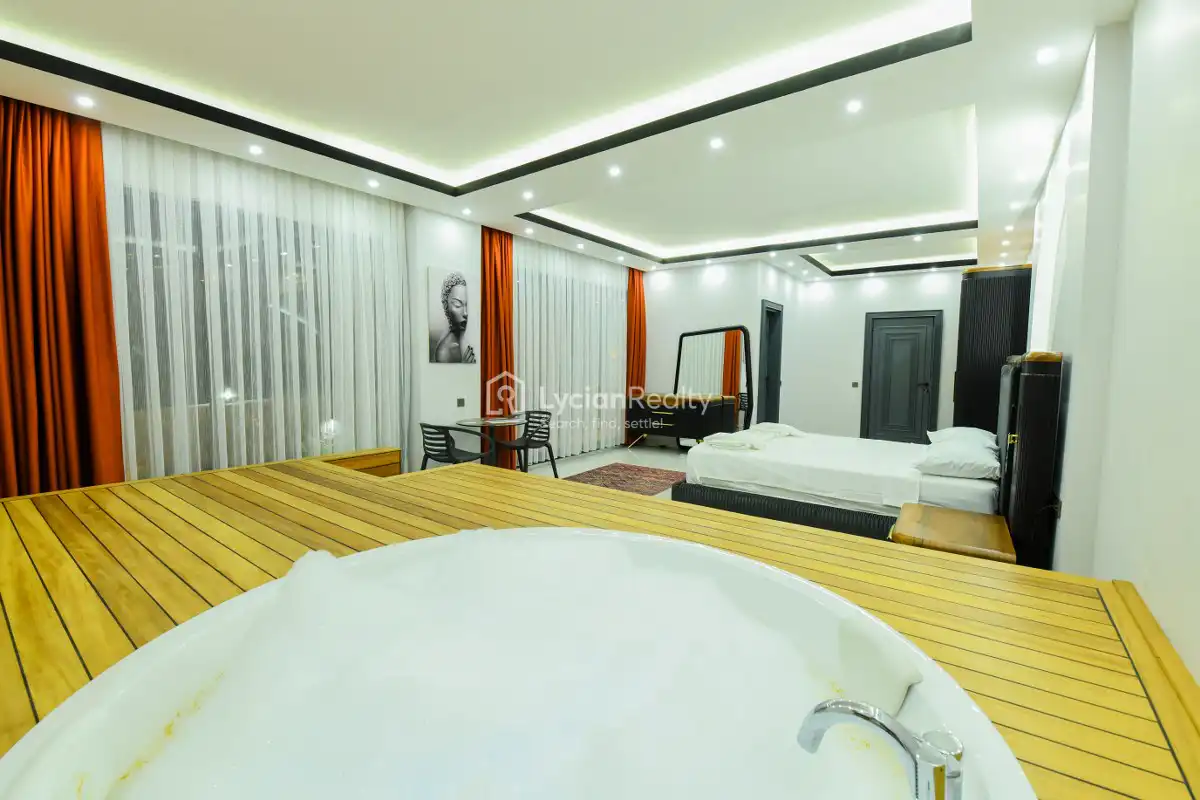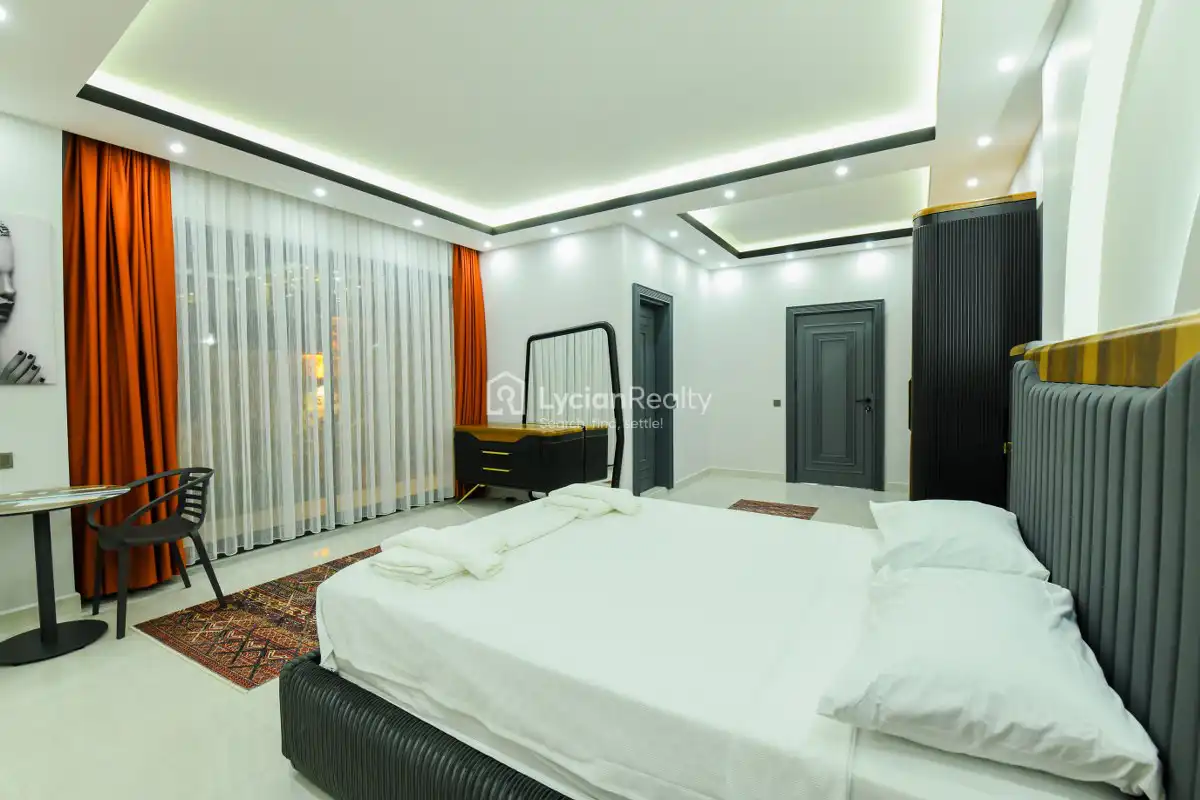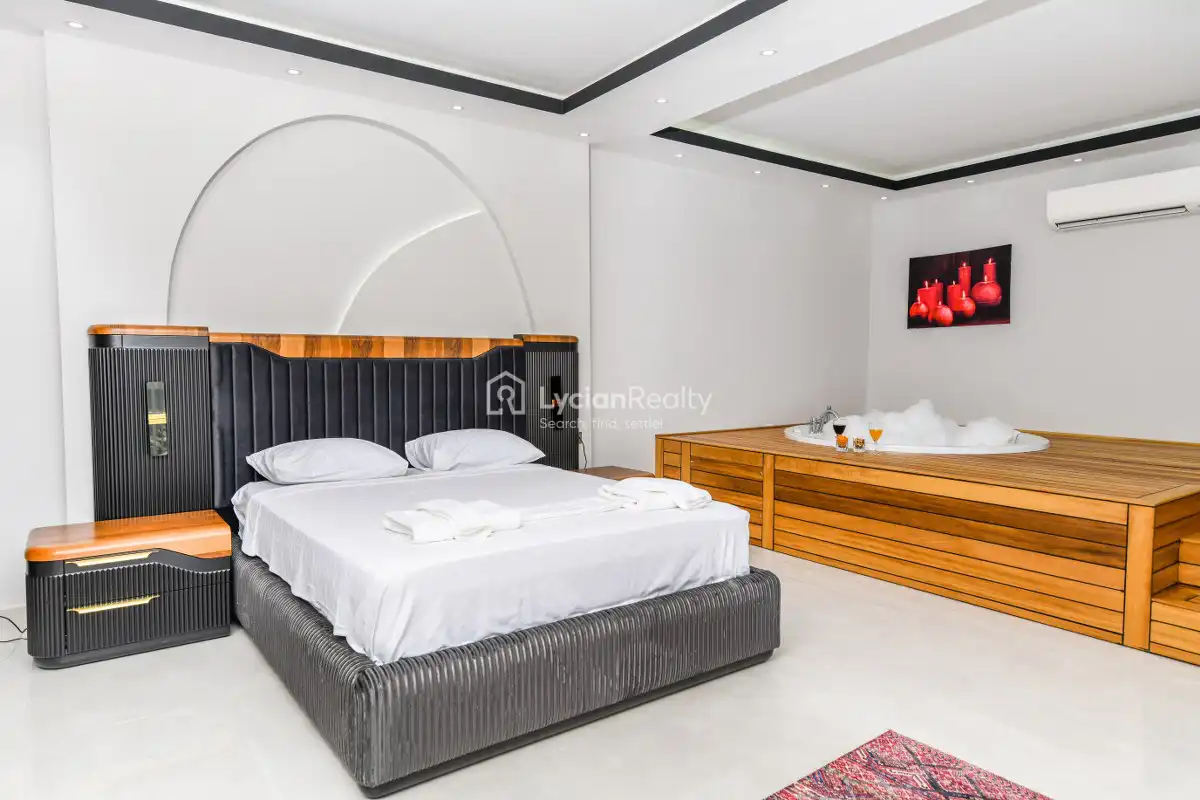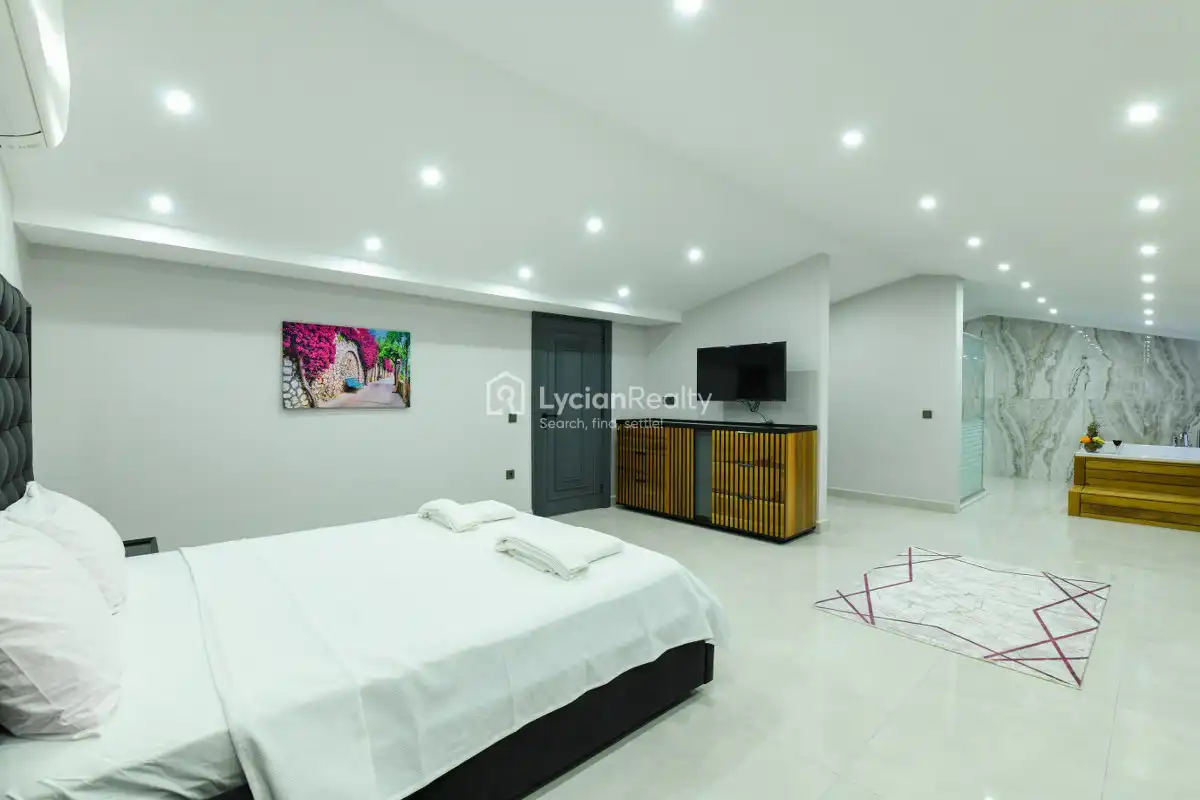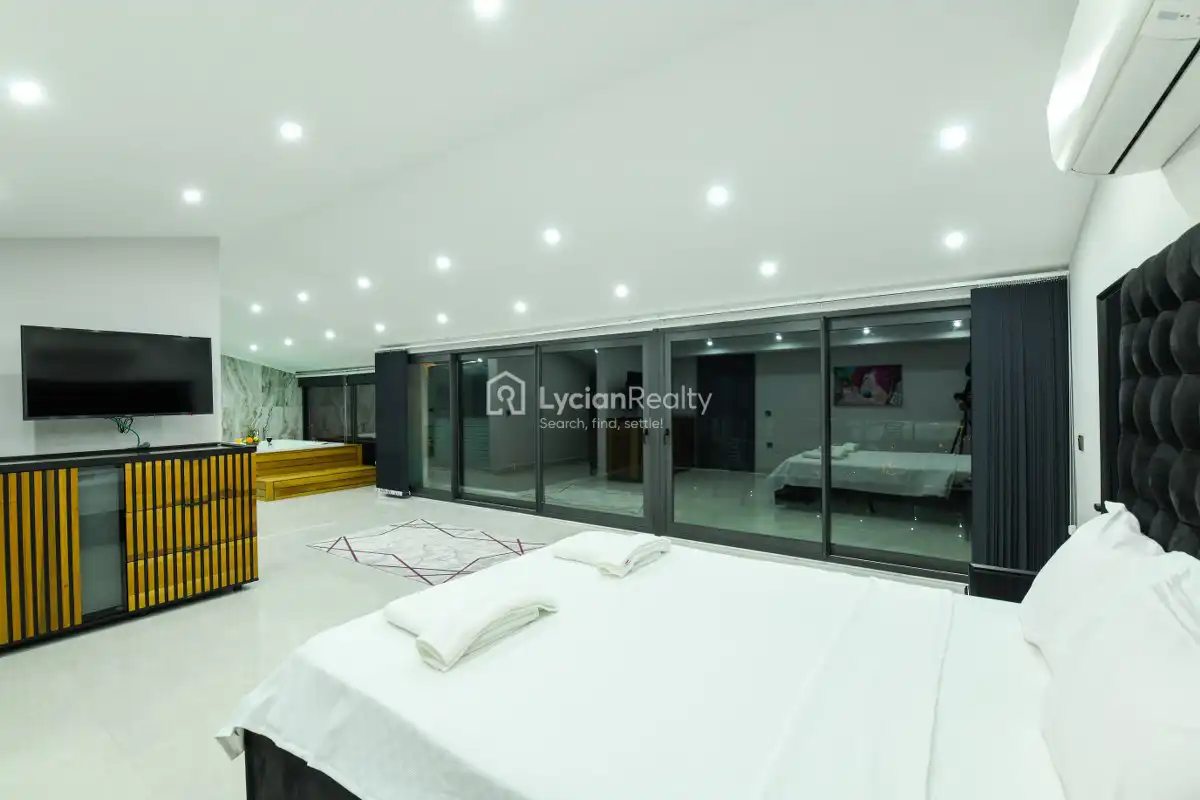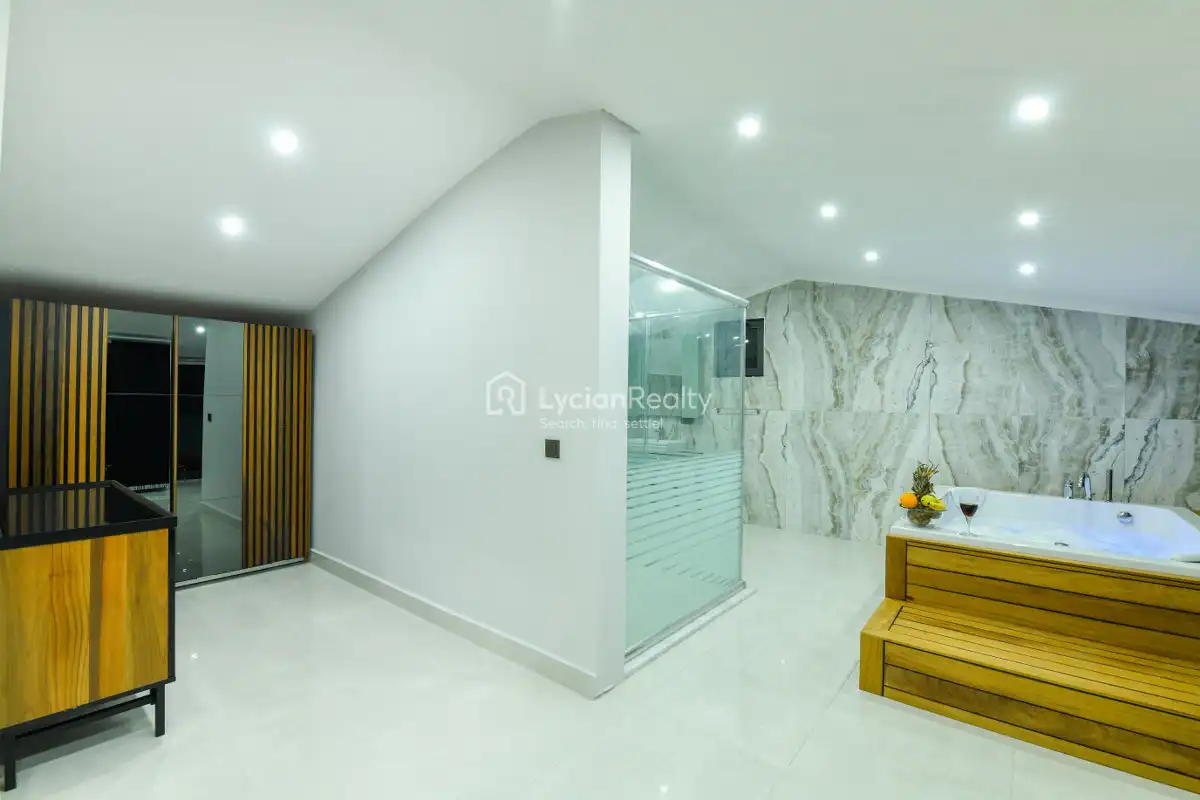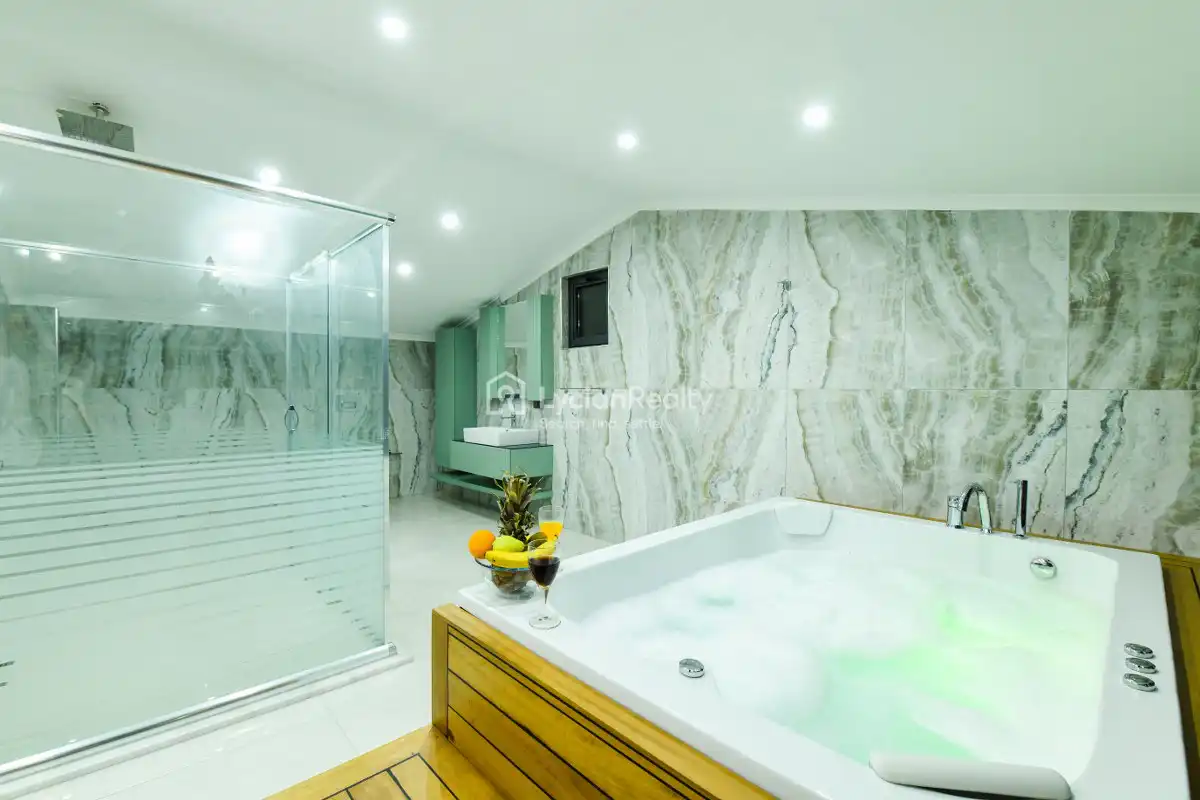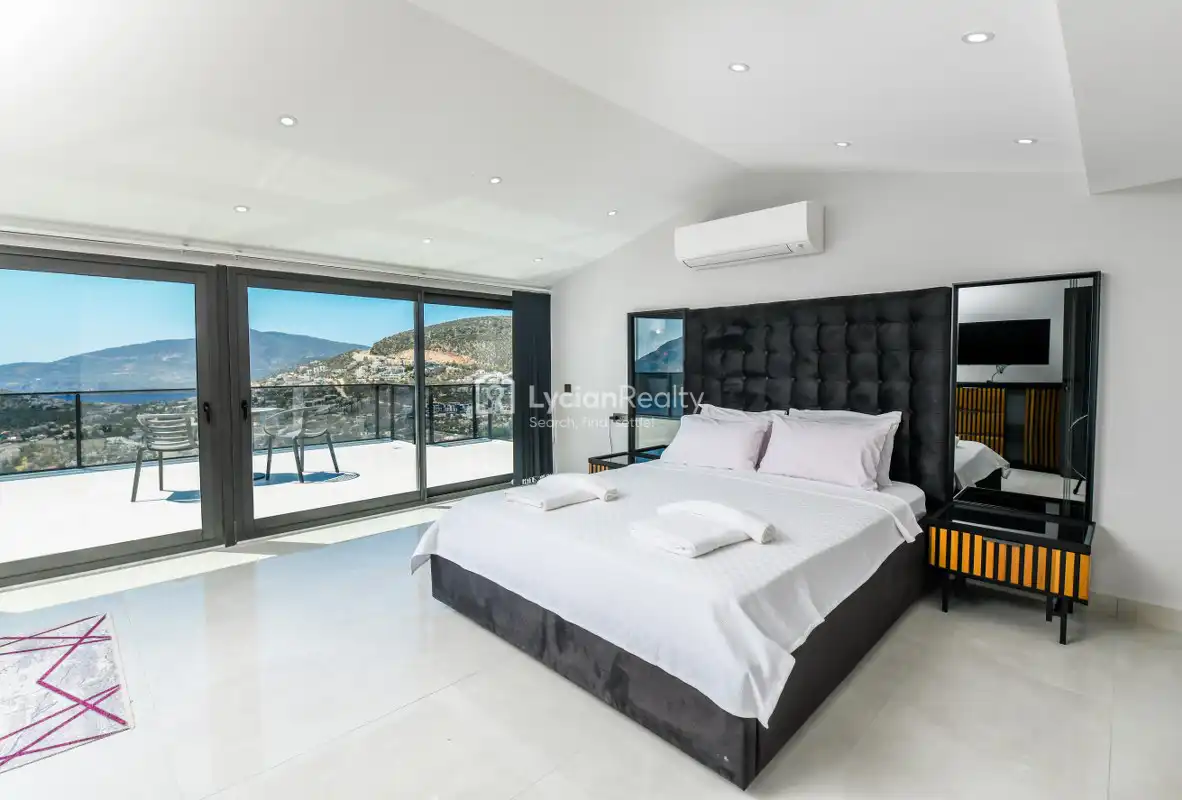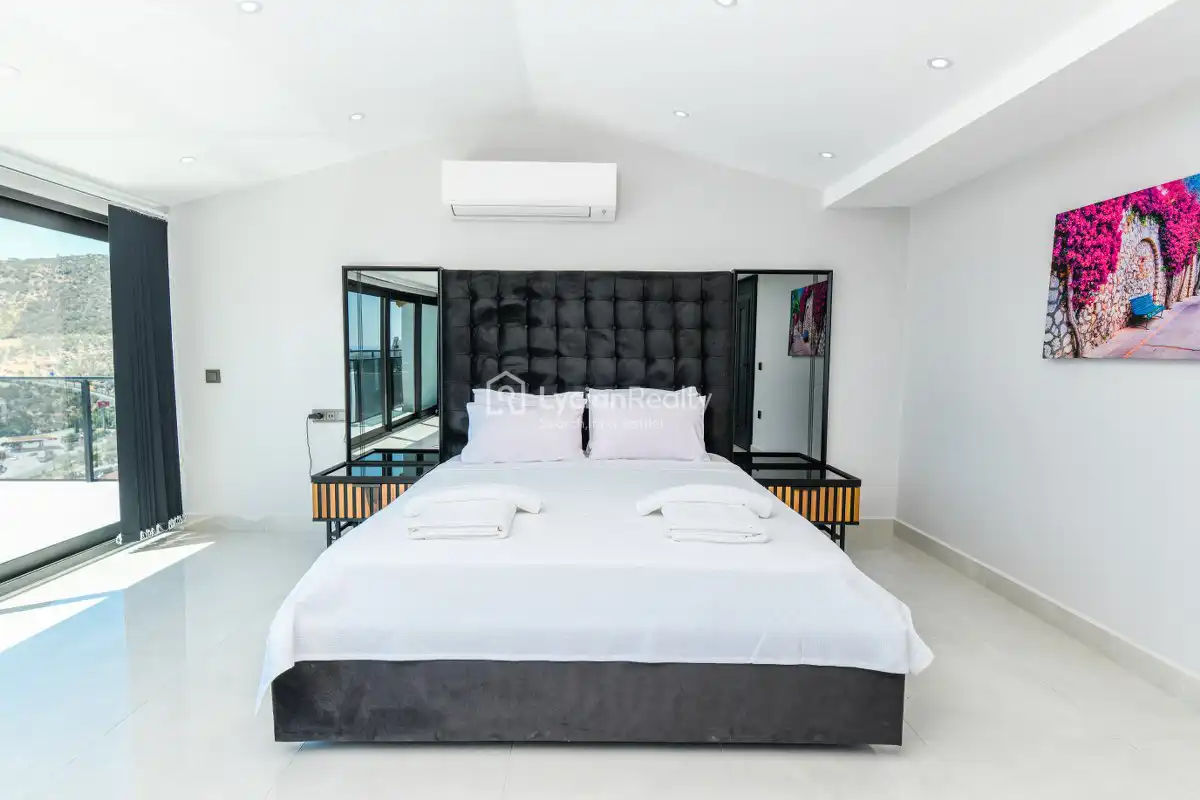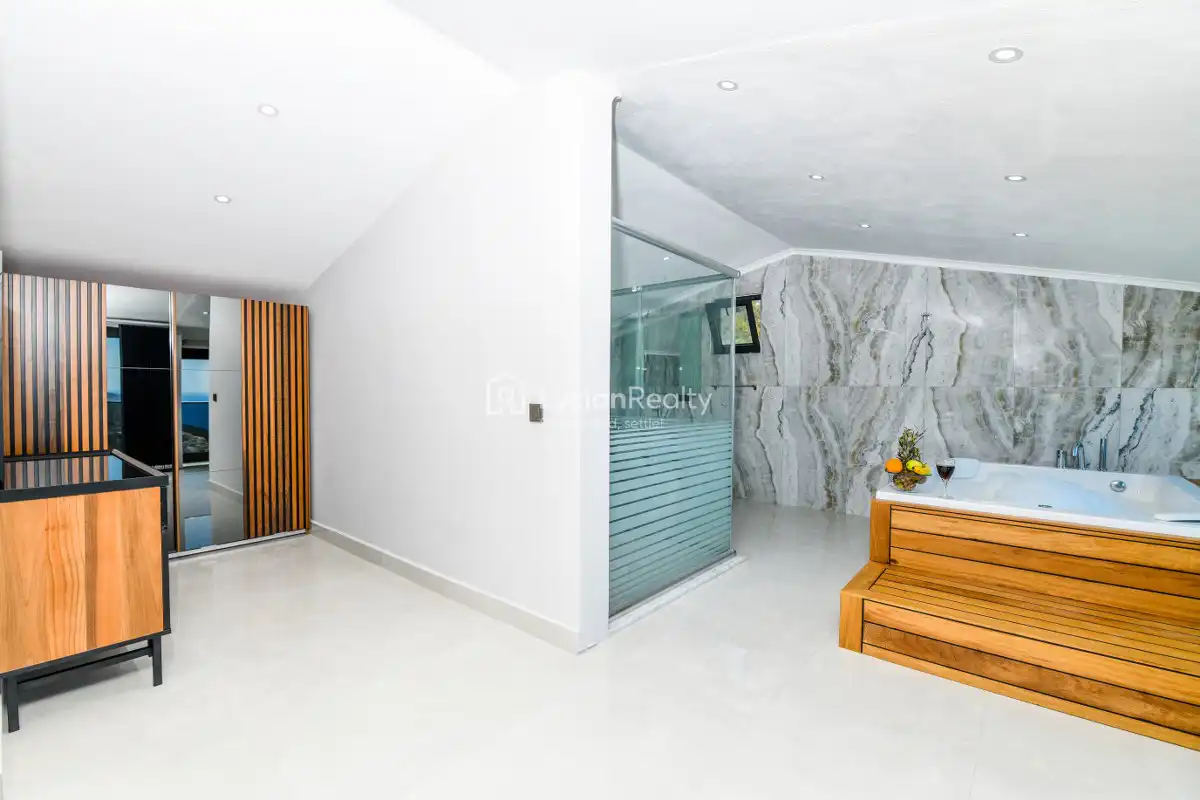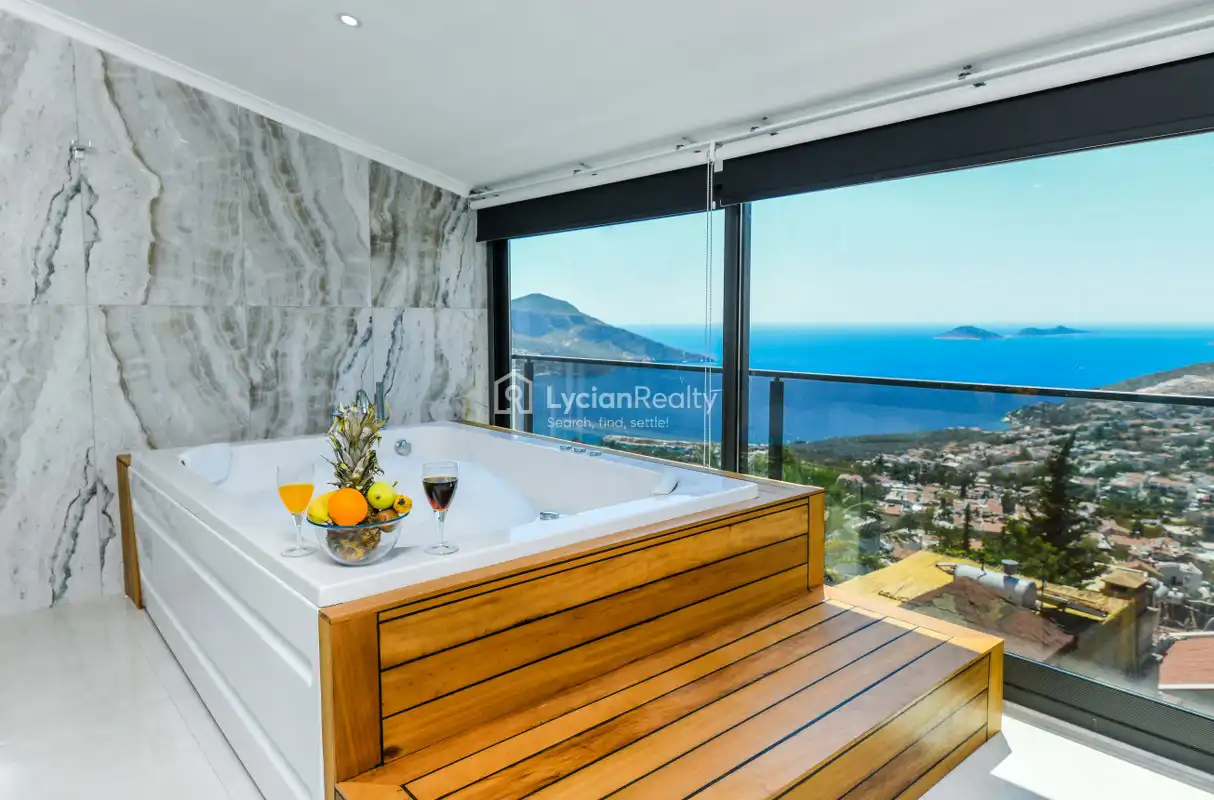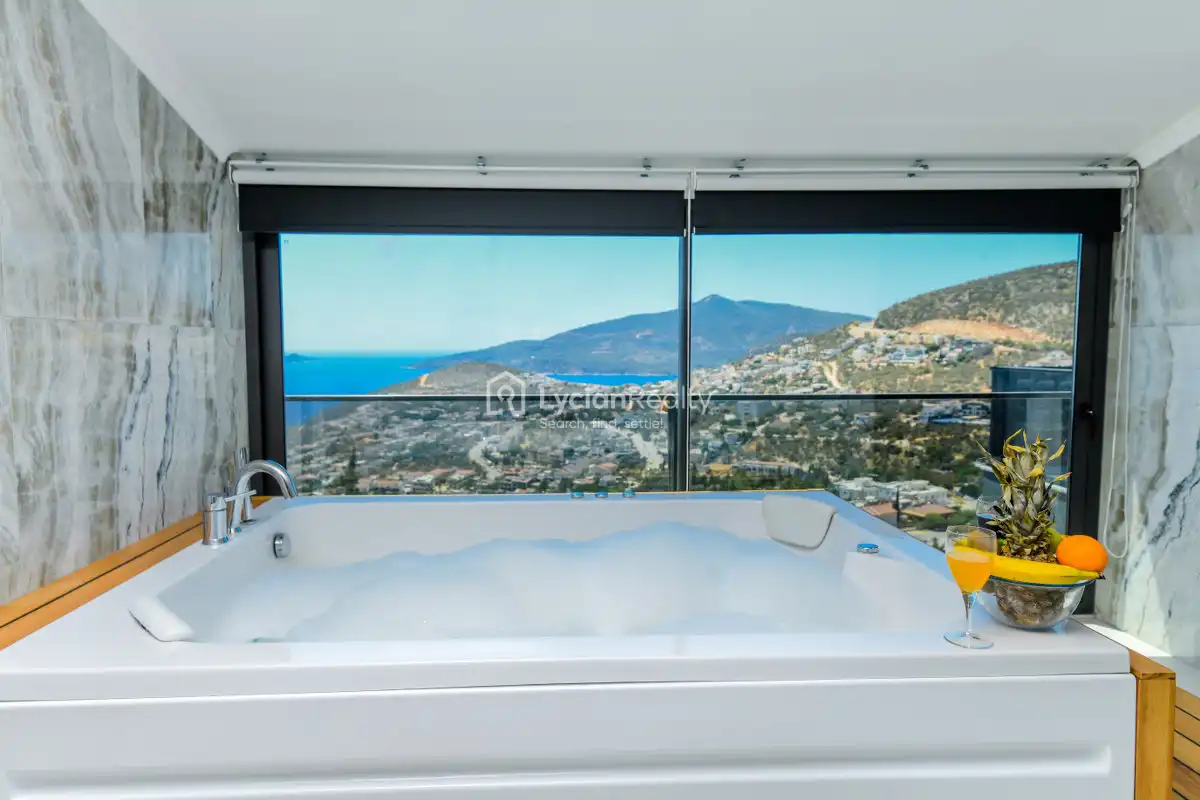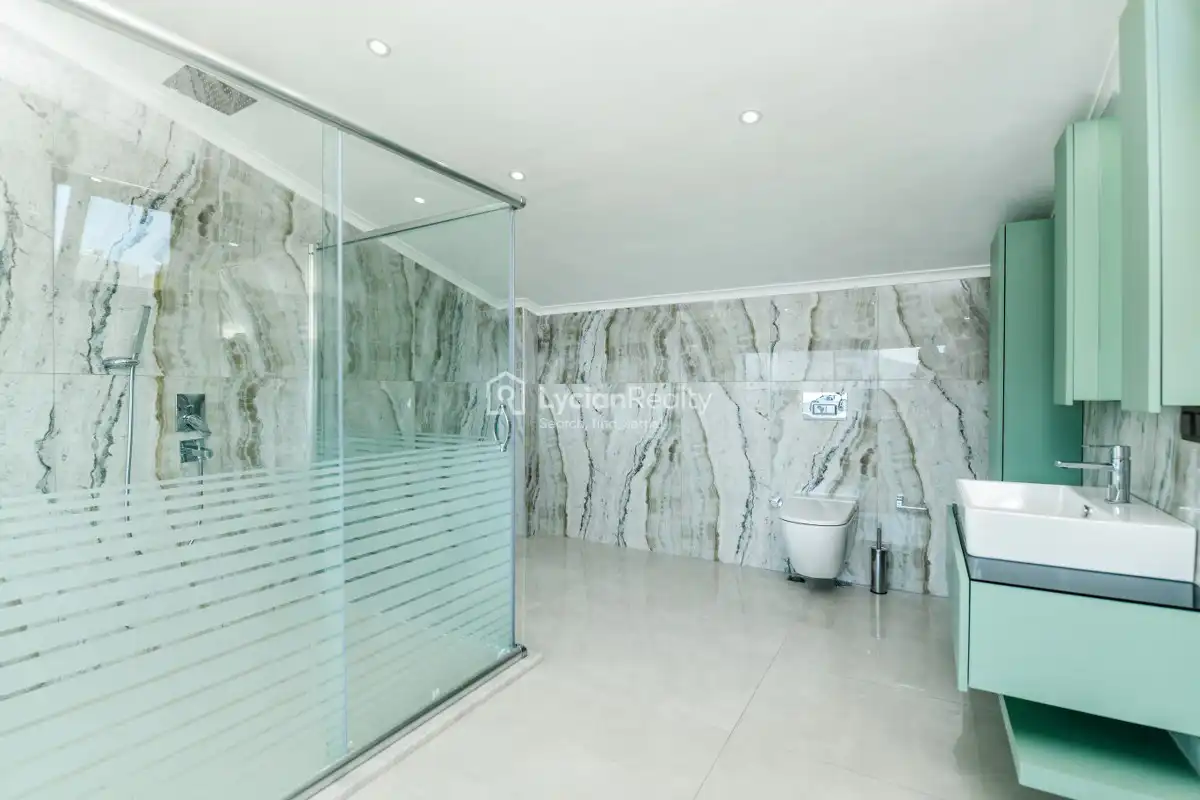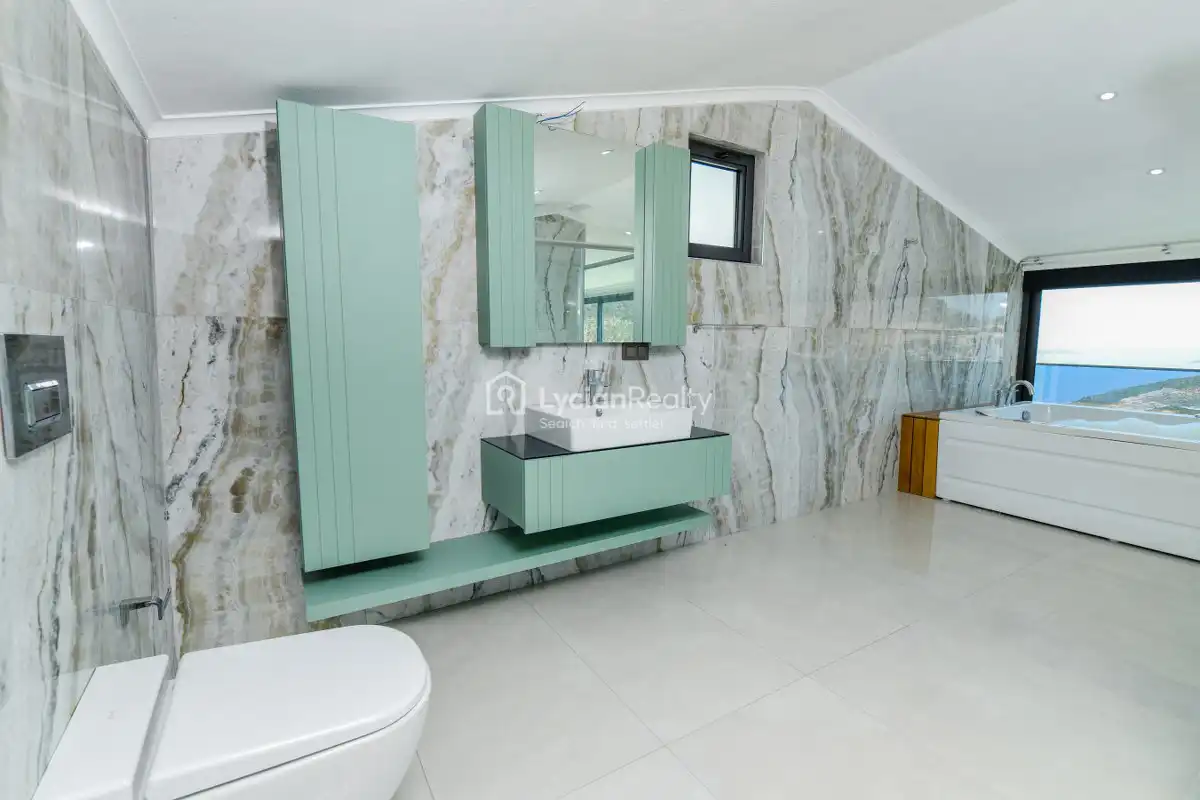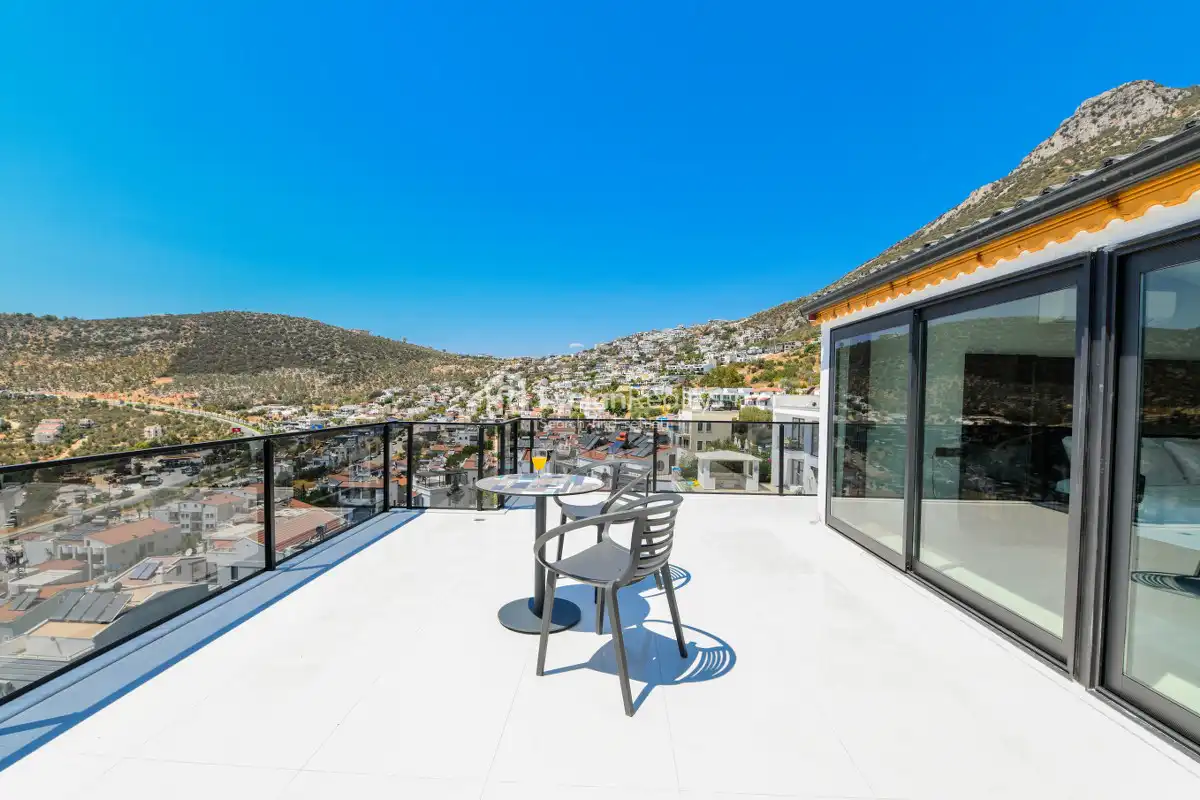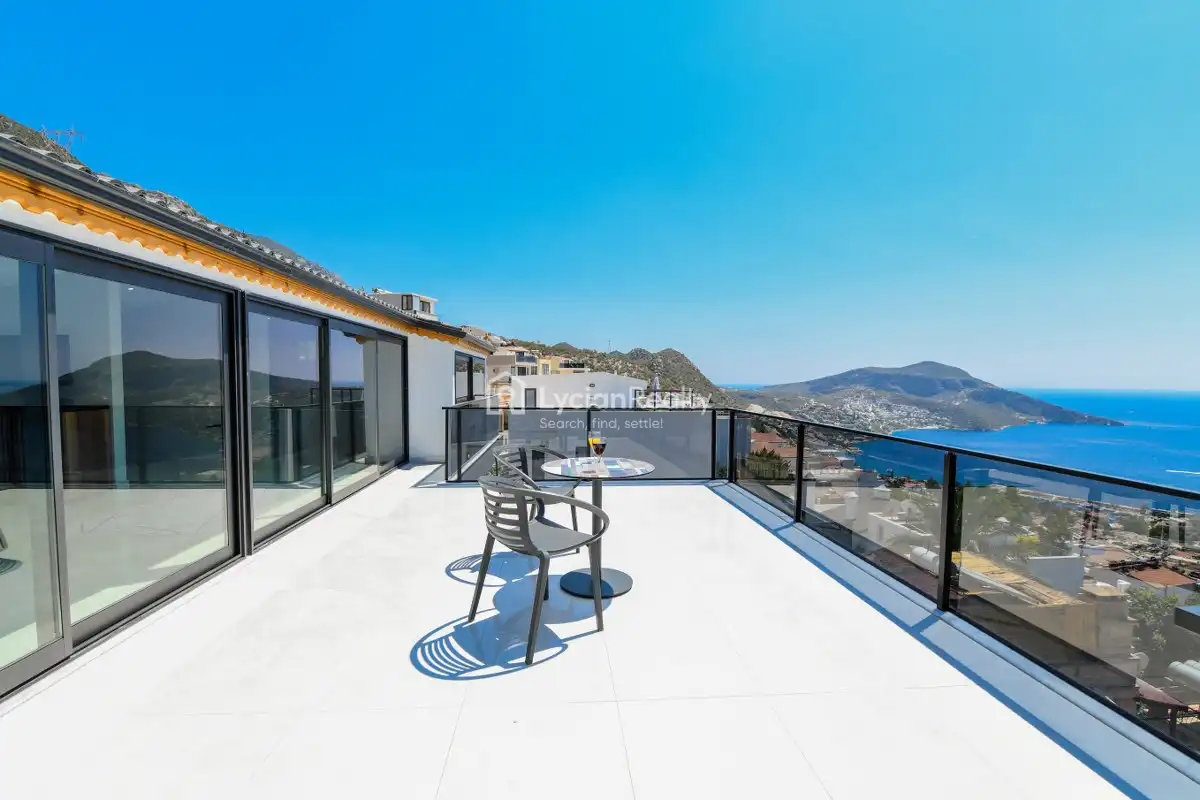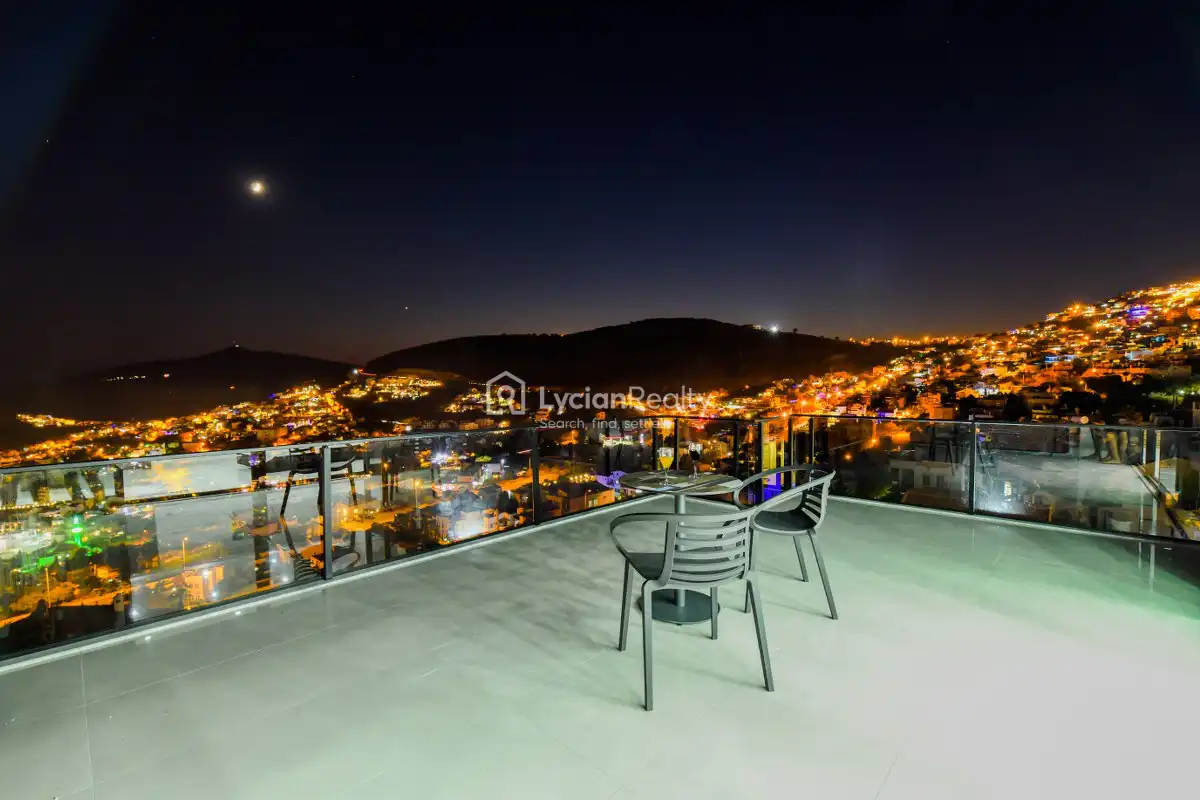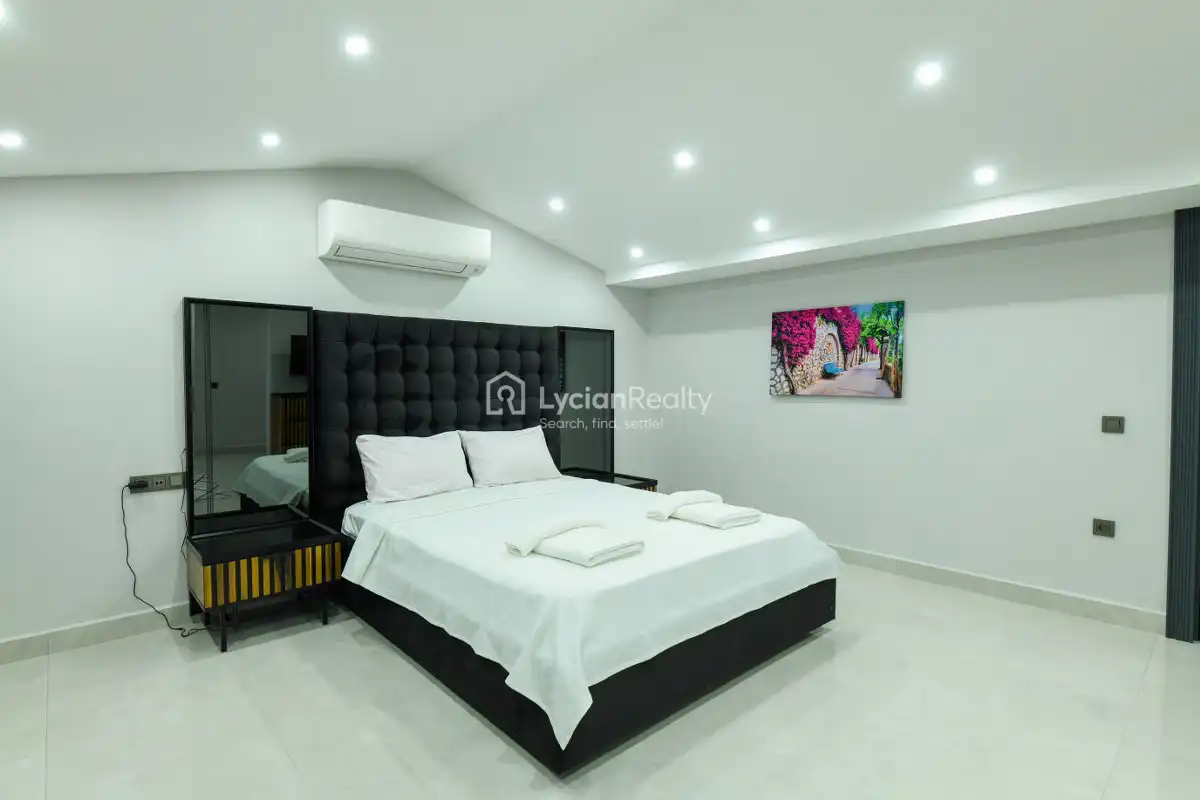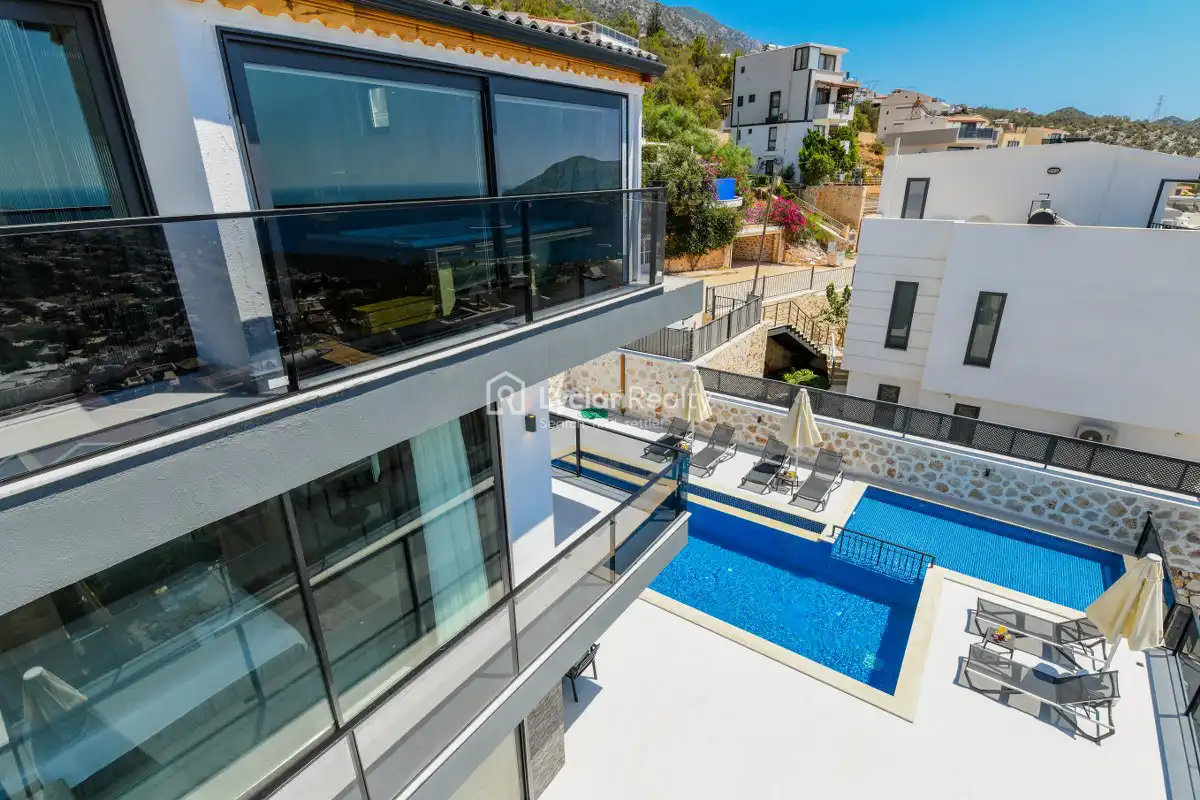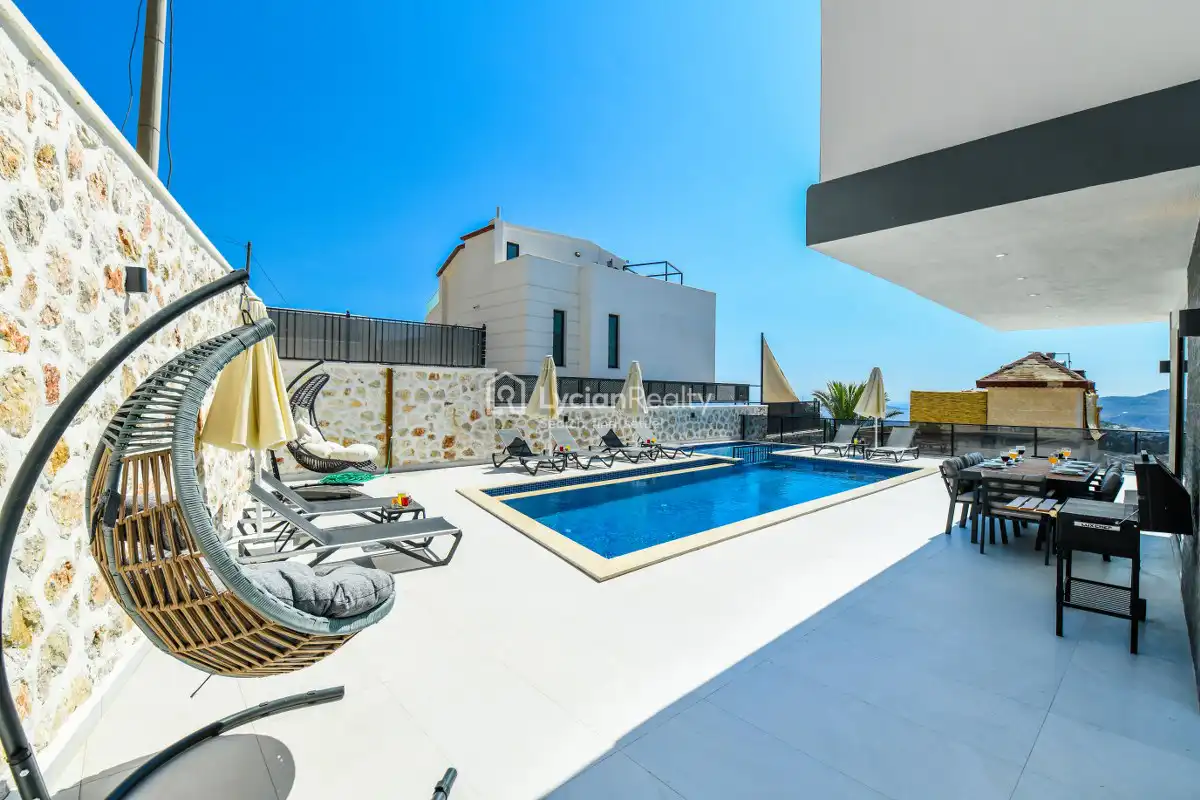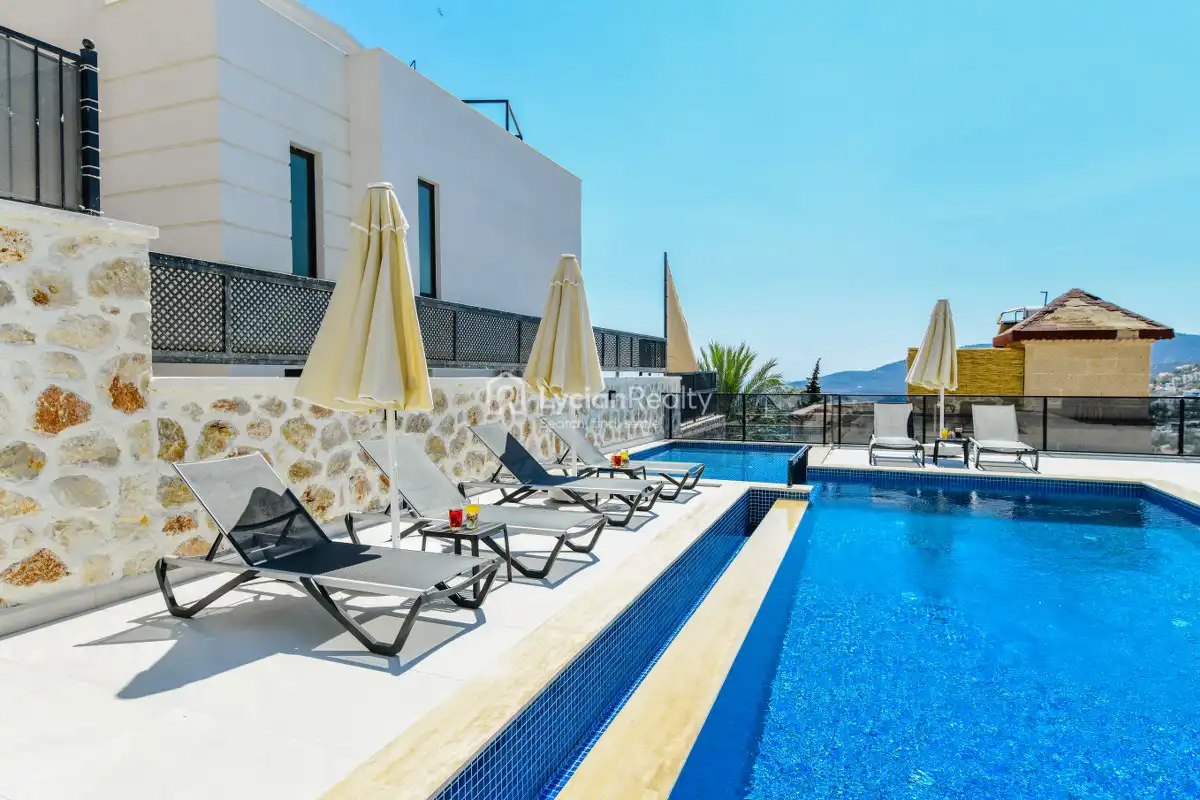 Overview
Villa
Kaş / Kalkan

4

1

Description
In 612 Square Meters Land
4 Bedrooms with En-Suite
6 Bathrooms In Total
Balconies
Jacuzzies,Sauna and Turkish Bath
Inside and Outside Swimming Pools
OVERVIEW
Everything in this villa located in Kalkan, the pearl of the Mediterranean, has been developed with state-of-the-art technology with expert architects and engineers. This house has a characteristic feature different from the houses in the sector. It's located here in a section that caters to a sophisticated crowd with high-budget tastes. It is in a magnificent location with uninterrupted sea views from all levels. This villa, which welcomes you with very different angles day and night, has a lighting system that can be seen from the whole city. The villa, where the sea can be easily seen from its terrace and rooms, is located in an area very close to social facilities and entertainment venues. It contains a separate living space. Your living spaces, whose value is increasing day by day, are not only a comfort zone for you, but also a very strong investment. In the villa, which has its own swimming pool and car park, much attention was paid to the architectural and aesthetic structure in the exterior as well as the interior spaces. It has 4 rooms and 6 bathrooms, each with an en-suite bathroom. In this villa, which has an indoor swimming pool as well as a sauna and a Turkish bath, everything has been prepared according to your taste and quality, keeping up with the latest class and modern age. The taste of your villa is even more different thanks to the jacuzzis in the two rooms on the ground floor and the upper floor. In Kalkan, which is one of the decent places, you create a very powerful investment tool. Let the lights of the city and lush nature accompany your azure pool in the infinity pools designed for you.
BASEMENT
There is an area for everyone who does not want to compromise on their form in the social area we have designed for you, such as the playground, gym and bar on the bottom floor. Forget all the gyms you've been to, because this one was specially designed for you. Everything is registered in accordance with your comfort. Top class, modern and contemporary. The indoor pool is designed in such a way that you can use it in summer and winter. Time will pass even more than you think in the basement of our villa, which also houses the Turkish bath and sauna in this area.
GROUND FLOOR
Thanks to the floor-to-ceiling windows that welcome you at the first entrance, it is wonderful to pass into the area with your deep blue pool and a large garden. Here, the open-plan living room and sitting group were arranged with modern lines. A wonderful living plan has been designed from this area, which reflects the minimalist and futuristic trend in the best way, where you can go out to the garden and your pool. Every appliance in the kitchen is top class, cabinets are prepared with new generation MDF kitchen cabinets. The area, which has stylish and luxurious details in each area, is very spacious and uses the advantage of being on the south side to the fullest. Like many buildings in Kalkan, this structure is ultra wide and ultra high.
SECOND FLOOR
There are 3 bedrooms with en-suite bathrooms here. Two of the bedrooms, each with an en-suite bathroom, have a balcony and a TV, while the other has a jacuzzi, a bathroom and a TV. In this place, where you can watch the magnificent view of Kalkan from its balconies, all the furniture and the structure of the house defy time.
ATTIC FLOOR
The bedroom on the top floor has a jacuzzi and its own en-suite bathroom. Here, too, you will not be able to get enough of the magnificent view of Kalkan and the blend of the magnificence of nature and the deep blue sea from this villa, which has a very large balcony. Thanks to this terrace coming out of the bedroom, you will experience the combination of wonderful city and nature life. If you wish, this is a terrace that can bring you together with a view close enough to blend into the crowd of the city.
EXTERIOR
We have designed a wonderful children's pool for the little ones besides the deep blue pool we designed for you on the outside. Thanks to the playground in its garden, you can enjoy the sun while having fun. Thanks to this area where we have designed another dining corner, your morning breakfasts or your evening meals will be so different if you wish... The sitting group in this area is one of the most beautiful areas of this house. It was designed in a very modern and timeless style.
LOCATION
In this place, which is seen as one of the most decent areas of the Kalkan region, which is a place that is developing and being eaten every day, city and nature life awaken at the same time. The distance to social areas is only 10 minutes. You can make one of the strongest investment and life plans in this place. In addition to its green nature and deep blue sea, houses prepared with ultra-high quality and craftsmanship are in an area that is increasing in popularity day by day. As a locality, natural beauties such as Fethiye, Calis, Butterfly Valley and Faralya are only within a driving distance of every place famous for business. This is a wonderful place where the most beautiful shades of green and blue can meet you whichever road you take.
AD NO:
21
Support Center
RELATED PERSON
Lycian Realty
You have the right to live in dream-like houses. Reaching us is very simple
©LycianRealty 2023. All rights reserved
Contact
Akarca Mahallesi Adnan Menderes Bulvarı No: 205/C 1-2-3 Fethiye/Muğla

[email protected]

+90 533 581 0548

+90 252 606 05 05